Summer Film Series Updates: Cinema East, Sound and Cinema, Cinema 41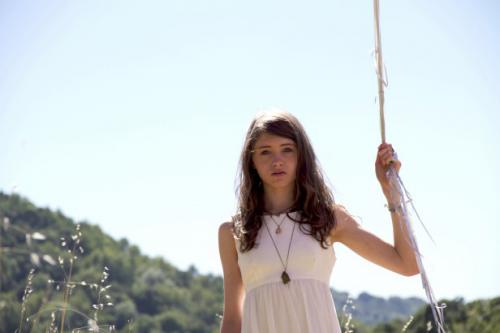 The lineup for this year's Cinema East series has been announced, and once again the programmers have selected a solid slate of indie films to fill a few summer Sunday evenings. The outdoor screenings begin around 9 pm at the French Legation, admission is $3-$5, and food and drinks are available to buy. Also important: The BYOB policy is once again in effect this year.
We've seen a few of the scheduled movies and are excited about the rest, and filmmakers are scheduled to attend five of the seven screenings. If you're not one to let the Texas heat get you down (it's not so bad after the sun sets and you have a beer in your hand), this is the perfect chance to stretch your weekend to the fullest while checking out a few recent independent films.
Here's the schedule:
I Believe in Unicorns (6/22) -- This fantasy-tinged coming-of-age story (pictured above) explores an imaginative young girl's first encounter with troubled love. Director Leah Meyerhoff will be in attendance for a Q&A following the screening.
Approaching the Elephant (6/29) -- What happens when elementary school students are allowed to have a say in their own education? This black-and-white documentary explores this question and countless others about the "free school" method and American schools in general.
Wild Canaries (7/6) -- This screwball caper comedy combines classic mystery plot points with a Brooklyn aesthetic and stars indie regulars Sophia Takal, Alia Shawkat and Kevin Corrigan (who will also be on hand for an AFS Moviemaker Dialogue on June 23). I caught this one during SXSW and found it pretty damn charming. Director/writer/star Lawrence Michael Levine will be in attendance.
Joy Kevin (7/20) -- A creative couple (she's a dancer, he's a comedian) struggle to make their art while living in close quarters in this darkly funny romantic comedy. Writer/director Caleb Johnson will be on hand to discuss the film and answer questions after the screening.
The Foxy Merkins (8/3) -- Described as a buddy comedy featuring two lesbian hookers trying to grift their way to success, this quirky movie comes from Madeleine Olnek, the director of Codependent Lesbian Space Alien Seeks Same.
Above All Else (8/17) -- Shot in East Texas, this documentary follows the conflict between free-spirited landowners and corporate oil pipeline builders. Don called the story arc "captivating and often poignant" in his SXSW review. Filmmaker John Fiege will be in attendance.
The Heart Machine (8/31) -- Romance mixed with social media can be fun and convenient or horrible and paranoia-inducing, and this last screening shows how both realities are often the case. Starring Kate Lyn Sheil and John Gallagher, Jr. as Facebook-crossed lovers, this timely drama gained positive attention at this year's SXSW. Filmmaker Zachary Wigon is scheduled to attend the screening.
In similar news, Cinema 41 has also released its latest lineup (see the video below). These free, BYOB screenings take place at the Salvage Vanguard Theater and details tend to be announced via Facebook.
That's not all! The lineup for Austin Sound and Cinema has just been revealed, as well. This series is presented by the Alamo Drafthouse and Do512 and pairs live music with classic movies on the lawn of the Long Center. The six planned screenings take place every other Wednesday evening from June 18 to August 20 and include favorites like Pee Wee's Big Adventure, E.T. and The Pink Panther. Admission is free and several food trucks will be on hand to sell dinner and drinks. See the full lineup and all the details here.
Finally, in case you need a recap, here's Marcie's recent round-up of additional cheap and free summer movie opportunities in Austin.