2014 Guide to Free (and Cheap) Summer Movies in Austin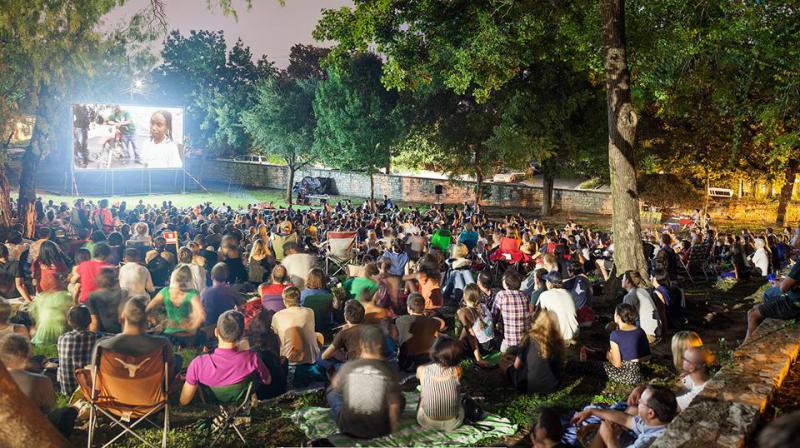 We here at Slackerwood are already busting out the lawn chairs and cold beverages because summer is upon us. This can only mean one thing: free and cheap summer movies around Austin! We're revisiting old favorites and looking into some new ones to give you and your family plenty of activities to do together over summer break.
As usual, some programs are specifically for children, such as the Alamo Kids Camp and Regal Summer Movie Express, and some series are adults-only. Be sure to check out our links for more information on the screenings, and be mindful of what you can and cannot bring with you (such as pets and alcoholic beverages).
We will be on the hunt for new free movie opportunities this year, so if you know of any (or if you don't see a specific one here) let us know in the comments. This page will also be updated as we receive updates on specific events. Happy watching!
Alamo Kids Camp
Location: Alamo Drafthouse Lakeline and Slaughter Lane
Cost: Free
Dates: May 24 - June 27
Details: The Alamo Drafthouse is once again bringing back its ever-popular Alamo Kids Camp. These free screenings happen every Friday (and sometimes Saturday) mornings at 10 am. It looks like Mouse Hunt will kick off the series at both the Alamo Lakeline and Slaughter Lane locations, and will then stay at Lakeline for the rest of the summer. The lineup features both old and new classics such as Mary Poppins, Legend of the Guardians and Space Jam.
101X Summer Cinema Series
Location: Central Park by Central Market
Cost: Free
Dates: TBA
Details: 101X is bringing its Summer Cinema series back for the ninth year. The poll is now open to vote on the first screening of the series, and it's between Independence Day and Men In Black. Check back on their website for voting results and announcements as other films are added to the lineup.
Austin School of Film "Cinemaker Manifesto" Series
Location: Austin School of Film
Cost: Free
Dates: April 27 - June 8
Details: ASoF is showcasing films of the Dogme 95 movement. Inspired by filmmakers Lars von Trier and Thomas Vinterberg, the films in this series all fall into this category of vérité filmmaking. Although the series is almost done, there are still a few more dates on the calendar for you to catch. Screenings start at 9 pm, and beverages and light snacks will be provided. You must be 16 or older to attend, and bring a blanket or chair as the films will be shown outside.
Movies in the Park
Location: Republic Square Park
Cost: Free
Dates: April 10 - November 13
Details: The Austin Parks Foundation is bringing back its Movies in the Park series, featuring free screenings of films presented by the Alamo Drafthouse. Although it doesn't seem like there is a theme to this year's series, APF are bringing some great films to the park, including Escape from New York, Monty Python and the Holy Grail and Raising Arizona. The website says to keep checking their page for potential add-on screenings. Dogs, picnics and lawn chairs are welcome, but remember that alcoholic beverages, glass and styrofoam are not permitted in the park.
Austin Film Society
Location: The Marchesa Theater
Cost: Varies from free to $8-10
Dates: Throughout the year
Details: The Austin Film Society has a stellar lineup throughout the summer and into the rest of the year. Screening both unsung classics as well as advanced screenings of independent cinema, AFS is utilizing the Marchesa Theatre. Here are a couple to be on the lookout for:
Free Member Fridays -- Holly Herrick let me know that AFS is about to start up a series for its members that screens a free film one Friday a month. Their next free member screening in June is Emma Mae, which is also a part of the "Rebel, Rebel" series. Check out the AFS membership page for more information on how to be a part of these screenings as well as the other great benefits and perks that come with being an AFS member.
Essential Cinema Series -- One thing I've always loved about AFS is the unique series that they bring to the film community. Their current series is "After 8 1/2: The Creative in Crisis," a group of films influenced by Fellini's powerful film and focused on the struggle to be a filmmaker. Woody Allen's Stardust Memories and Fosse's All The Jazz are just two of the works featured in this series. Tickets are $8 for the general public.
Friday Movie Nights at Top Notch
Location: Top Notch Hamburgers on Burnet Rd.
Cost: Free
Dates: June 7 - August 23
Details: Top Notch is once again bringing back its Summer Movie Series. Movies start at 8 pm sharp every Friday night, but come early for some great burgers and live music before the show. Coming early also means getting a good parking spot, as the setup will be similar to a drive-in. Most films are family-friendly, though there are a few in the series that might require some parental guidance. With a lineup that features Beetlejuice, Troop Beverly Hills and Uncle Buck (among many others), your Friday nights are sure to be entertaining. Check out their Facebook page for more information.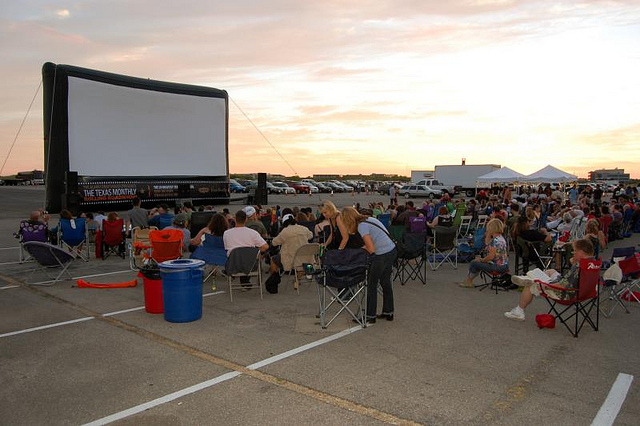 Austin Sound & Cinema
Location: The lawn of the Long Center
Cost: Free
Dates: June 18 - August 27
Details: Do512 and Alamo Drafthouse have teamed up for free evening outdoor movies and live music -- local bands performing "tributes" to the music in the films you're about to see. The series kicks off on Wednesday, June 18 with Dazed and Confused and features music from the band Scorpion Child. Food trailers will be set up on the Long Center's City Terrace and the Long Center will sell beverages.
Austin Film Festival Summer Film Series
Location: Texas Spirit Theater at the Bob Bullock Texas State History and Alamo Drafthouse Village
Cost: Varies from free to $5 (see details below)
Dates: June - August (check website for specific dates)
Details: Austin Film Festival hosts several film series throughout the year as well as during the summer, including audience award winners and family favorites. Some screenings are accompanied by a guest artist or filmmaker. AFF also occasionally offers its members tickets to free preview screenings. This summer's film series include:
Family Film Series -- AFF is bringing its free Family Film Series back to the Bob Bullock this summer. They are kicking it off with a screening of Toy Story 2 on Sunday, June 1st. Screenwriter Rita Hsaio will be in attendance for a post-screening Q&A about the making of the film. July's selection is Homeward Bound, followed by an August showing of Hook with screenwriter Jim Hook and actor Dante Basco (Rufio!) in attendance. Screenings will take place the first Sunday of each month and are on a first come, first served basis. (This is also when the Bullock offers free admission, so come early to check out the museum!)
Made In Texas Film Series -- This program of movies made by Texas-based filmmakers or filmed in Texas is co-sponsored by the Texas Film Commission. Screenings are held in the Texas Spirit Theater at 7:30 pm on the third Wednesday of each month from April through August. Tickets are $5 for the general public and free for AFF members and Texas State History Museum (TSHM) patrons. Coming this summer will be Futureworld, The Three Burials of Melquiades Estrada, Logan's Run and Henry: Portrait of a Serial Killer.
Austin Public Library
Location: Various branches (see below)
Cost: Free
Dates: May 16 - November 16
Details: Austin Public Library continues its free screenings of films this summer for the whole family. There are a few different categories to choose from, and films start at various times (some are matinees and some are in the evenings). Check the APL website for specific details and updates, especially since each branch has a calendar of events that features films throughout the summer. Some branches post their movie info in the library itself, so you might have to check there.
Round Rock Public Library Summer Screenings
Location: Round Rock Public Library
Cost: Free
Dates: June - August
Details: Their Tween Book 2 Movie Club will host a screening once a month of books that have been turned into films. Screenings are the second Thursday of each month at 2 pm, with films such as The Lightning Thief and How To Train Your Dragon 2 on the lineup (be sure to check the calendar for other screenings). The library is also bringing back its Summer Film Series at 2:30 pm most Fridays. They're once again not revealing titles, but you can have fun guessing what the films are based on their descriptions.
Movie Night at Tom's Roasting Company
Location: Tom's on South Congress (across from Perla's)
Cost: Free
Dates: May - December
Details: They may be the new kid in town, but Tom's Roasting Company has already got a month filled with events. This includes their Movie Nights, which will take place on the last Monday night of each month. This month will start the series off with A Weekend at Bernie's, and will be a combination of family-friendly and adult-only movies throughout the year. June will feature Singin' in the Rain, followed by Footloose in July. The screenings will take place on the patio, and guests can bring their own snacks and beverages (alcohol is allowed). Be sure to follow them on Instagram for their monthly schedule.
Cinemark Summer Movie Clubhouse
Location: Cinemark Tinseltown 17
Cost: $1 per show or $5 for 10 movies
Dates: June 10 - August 13
Details: This summer program offers up both classic kids movies and sequels, with a different film screened twice each week. Films start at 9:30 am, and this year includes The Croods, Turbo, Smurfs 2, The Lego Movie and several other family films to choose from. All films are rated G or PG.
Regal Summer Movie Express
Location: Regal Arbor at Great Hills, Regal Westgate
Cost: $1
Dates: June 10 - August 12
Details: During this 9-week festival, select Regal Cinemas in Austin are offering a variety of family-friendly movies on Tuesday and Wednesday mornings at 10:00 am. A portion of the proceeds collected from the Summer Movie Express will be donated to the Will Rogers Institute. Films this year include Hotel Transylvania, Despicable Me 2, The Croods, Turbo, and many more.
Cinema East
Location: French Legation Museum
Cost: $2 - $5 (the website says to pay what you can)
Dates: June - August
Details: Cinema East returns this summer for some relaxed viewings of films you might have missed on the festival circuit. Returning again to the historically beautiful French Legation, the events start at 8 pm and will feature some great music from DJ sets prior to show time. Beer and wine will be sold on site this year, and guests are welcome to bring their own snacks, blankets and chairs (and can also BYOB). Be sure to check their Facebook page for their official opening-night announcement.
Splash Nights at Deep Eddy
Location: Deep Eddy Pool
Cost: Infants under 12 months = Free; Children 1 - 11 = $1; Juniors 12 - 17 = $2; Adults 18 - 61 = $3; Seniors 62 + = $1
Dates: Saturday nights July - August
Details: Cool off as you watch movies after dark in Deep Eddy Pool. The series will be kicking off in July, and their schedule is TBA.
Paramount 2014 Summer Classic Film Series
Location: Paramount Theatre and Stateside at the Paramount
Cost: $8 - $10 (Film Fan discounted to $6 or buy Flix-Tix discounted to $5)
Dates: Every week throughout the summer starting May 22 (check the schedule for specifics)
Details: This is perhaps my favorite series of the summer, particularly if you are a fan of classic cinema. With a different theme each week, many films are double features, giving you two films for the price of one. Watch for the Slackerwood contributors' picks from the lineup on Thursday if you need some recommendations.
Blue Starlite Urban Mini Drive-In
Location: Austin Studios (behind the National Guard building)
Cost: $25-30 depending on vehicle size; an additional $5-25 for speaker and concession packages (pedestrian prices also available; bring lawn chairs or a blanket)
Dates: Year-round
Details: Blue Starlite shows a variety of movies in a brand new central location at Austin Studios. The lineup is great for anyone looking for some good ol' 80s and 90s flicks. Their May lineup includes a Princess Bride/The Neverending Story double feature, a Marx Brothers double feature, Breakfast at Tiffany's and more. The rest of the summer includes an X Games movie week, National Drive-In Day and and more shows added weekly. Buying online lets you pick your car slot (large or small vehicle), movie tickets and concession add-ons.
[Photo credits: Audience members at Cinema East (photo by Ben Sklar); Rolling Roadshow presentation of Slacker for its 20th anniversary (photo courtesy of Austin Film Society.) Both photos used with permission.]