ATX TV Fest 2014: 'Orange Is The New Black' and Writing Lessons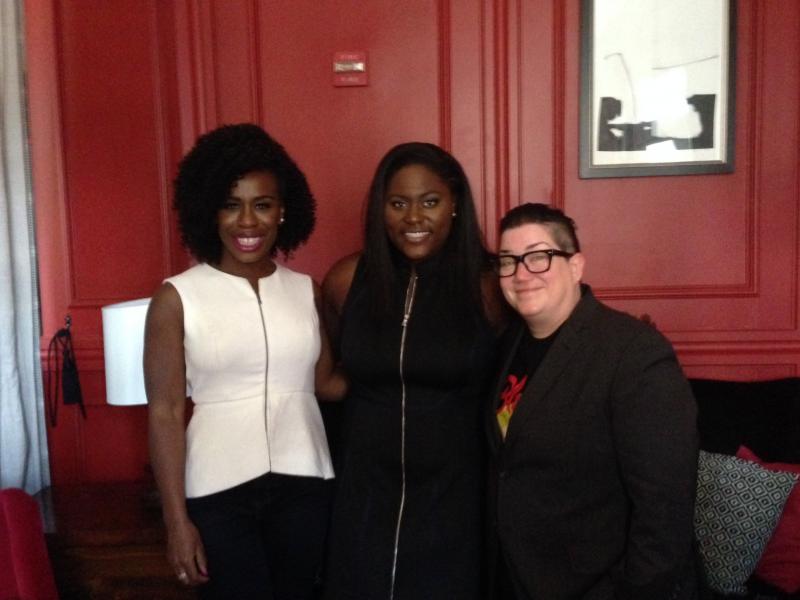 This weekend took me all over Season 3 of the ATX Television Festival. Don't worry: I may have heard or seen some show spoilers these past few days, but I won't post any of them here. It was my first time attending the fest, so I tried to make the most of my time as both a writer and an avid fan of television.
Friday quickly became "fangirl Friday" for me, as I had the opportunity to interview cast members from both Orange Is The New Black, and Archer cast members/writer (you can check out that full interview later on this week). OITNB had its Season 2 premiere episode at the Stateside Theater that morning, bringing Uzo Aduba (Crazy Eyes), Danielle Brooks (Taystee) and Lea DeLaria (Big Boo) in for a post-screening panel discussion.
I sat down with all three of these actresses after the panel, and quickly heard about what playing these roles has been like for them. Although I wasn't able to ask all of my questions, the main thing I wanted to know was what initially sold each of them on playing these specific characters. After DeLaria joked, "A steady paycheck," they walked us through the casting process and how they read for Jenji Kohan (the show's creator) and the casting department.
Brooks said the dialogue is what first caught her attention when she read for the role of Taystee, but in an intimidating way. Lines like "Get the @#$! out of my shower" and "Nice titties" (as many of you might remember from the pilot episode) really threw her off, and she wasn't sure how to approach them. But dialogue aside, she saw the light heartedness that the character had, not to mention that she would be required to sing.
"I just thought, 'That's me, all day every day. I know this girl,'" Brooks told me. She was sold after that.
Aduba says she inititally didn't audition for the role of Crazy Eyes, but was approached by the casting team with the role.
"When I read it, it (the relationship between Piper and Crazy Eyes) felt like a love story to me. She may do these over-the-top crazy things, but her only objective is to be loved," Aduba explained. "In the script, Crazy Eyes is described as 'Innocent and child-like, except children aren't this terrifying.' After I read that, I thought, 'How can someone be both childlike and terrifying?' So I've tried to find the balance between both worlds with her." We all assured her that she had, without a doubt, found that balance in her performance.

Saturday took me to the Stephen F. Austin for back-to-back panels. The day kicked off with an amazing session about being a writer's assistant, which I quickly realized was comprised of all women. Not sure whether the ATX Team planned that, or if it was just a happy accident, but either way it made for a refreshing conversation about what it means to be a working female writer in the industry.
I sadly had to leave a bit early to make it to the "#SpoilerAlert" panel presented by Netflix. Several television writers and actors (all of course who have shows on Netflix) discussed how social media and the internet have increased not only discussions and greater interest in television, but how audiences have become so trained at avoiding spoilers from both peers and media. (This also was a great panel because Netflix provided everyone with free Amy's Ice Cream in the middle of the session!)
Saturday wrapped up with a panel about the evolution of the television drama. Panelists such as Lone Star creator (and Austinite) Kyle Killen and Breaking Bad producer Mark Johnson discussed how television writing has progressed over the years, and what audiences are looking for currently. I was incredibly impressed not only with the discussion, but also with the questions from the audience. Sometimes panel questions can be real eye-rollers, but each person had specific questions pertaining to the television industry and what each of these panelists thought about the shows they're currently working on. It made for an engaging afternoon, and several new pages of notes in my writing notebook.
[Photo credits: Uzo Aduba, Danielle Brooks and Lea DeLaria at ATX TV Fest by Marcelena Mayhorn, for use upon request with accreditation.]