Our Favorite Paramount Summer Classic Films, 2014 Edition
One of the best antidotes to a cruelly hot Austin summer is to partake of a show at the Paramount (or adjacent Stateside) Theatre. The air is cool, the Milk Duds are never melted and the movies are always great. The schedule for the Paramount Summer Classic Film Series has been released, and we are practically giddy with excitement over a number of the titles screening from late May through September.
The Paramount will be showing movies from various decades in 35mm, and Stateside will offer HD digitally projected titles. If you plan to see more than a couple of these, it's worth it to buy Flix-Tix (10 tickets for $50). Austin Film Society members get $5 off the ticket booklet if you buy at the box office. Becoming a Film Fan is also a great option for repeat customers, as it takes $5 off the GA ticket price -- a silver membership even gets you free garage parking during screenings.
Here are some of the standouts screening this summer:
May
The Wizard of Oz (1939) -- What better film to kick off this series than this beloved classic? No matter how many films I see in my life, this will always be my favorite film. The journey of Dorothy Gale to the enchanted land of Oz is one that both parents and kids can take a lesson from. Full of witty banter, classic songs and amazing Technicolor images, I can't wait to see this film on the big screen. (Thurs, 5/22 at 7pm and Fri, 5/23 at 7pm) -- Marcelena Mayhorn
The Women (1939) – Based on the play by Clare Boothe Luce, director George Cukor brought the biggest names in Hollywood together in this dramatic tale of women whose interconnected lives spark a powder keg of emotional drama. Norma Shearer, Joan Crawford, Rosalind Russell, Paulette Goddard, Joan Fontaine, Hedda Hopper and Cora Witherspoon form this Thirties A-list ensemble. Presented as a double feature with Wuthering Heights. (Sat, 5/24 at 6:05 pm and Sun, 5/25 at 2 pm, Stateside) –- Debbie Cerda
Destry Rides Again (1939) -- If you want to see the source for so many Western conventions, including a few spoofed in Blazing Saddles, check out this comedy/Western starring Jimmy Stewart and Marlene Dietrich. Worth it just for Marlene's musical numbers ... and a climactic fight scene involving some pretty kick-ass women. (Tues, 5/27 at 7 pm, Weds, 5/28 at 9:15 pm) -- Jette Kernion
Goodbye Mr. Chips (1939) -- Who won the Best Actor Oscar over Clark Gable, Jimmy Stewart, Laurence Olivier and Michey Rooney in the grand year of film that was 1939? Robert Donat for his performance in this tearjerker. Greer Garson co-stars as the woman who brings some vivacity to the life of British schoolteacher Chips (Donat). Child actor Terry Kilburn plays the Colley boy in four generations -- Paul Henreid and John Mills also make appearances. (Tues, 5/27 at 8:55 pm, Weds, 5/28 at 7 pm)
Dark Victory (1939) -- Bette Davis plays a socialite struck with a life-ending brain tumor. George Brent is the doctor who falls for her; Ronald Reagan and Humphrey Bogart are in supporting roles. Davis is, of course, impeccable in this "women's picture." (Thurs, 5/29 at 7 pm)
June
Sullivan's Travels (1941) -- Joel McCrea stars as a film director in this Preston Sturges masterpiece about the saving power of laughter in times of strife (particularly, the Great Depression during when this movie was made). Veronica Lake, with her trademark hairstyle, co-stars. (Tues, 6/3 at 9:30 pm, Weds, 6/4 at 7 pm)
Bachelor Mother (1939) -- This is the film I'm most excited about, as I've only watched it on a TV (a number of times). I chose this Ginger Rogers/David Niven comedy as a Holiday Favorite some months ago and now it's going to be shown at the Paramount! The TCM Film Festival is the reason this silly, lesser-known film is on the schedule, but I'll still accept your thanks for my recommendation after you see it in the theatre and are won over. Worth a drive up from San Antonio! Paired as a double feature with 1949's The Great Gatsby starring Alan Ladd and Ruth Hussey. (Sat, 6/7 at 4 pm, Sun, 6/8 at 3:50 pm)
Uncle Buck (1989) -- I'm so proud of Stephen Jannise for putting this on the line-up because I think it's such an underrated John Candy film. Candy plays Buck, a bachelor slob of a guy who has to suddenly care for his nieces and nephew when their parents have to leave town. Following the John Hughes formulaic equation of equal parts heart and humor, you'll wish you had an uncle like Buck. (Thurs, 6/12 at 7 pm and Fri, 6/13 at 9:45 pm) -- M.M.
Planes, Trains, And Automobiles (1987) – Road movies may seem to be a saturated genre, but pairing up Steve Martin as the straight guy with John Candy as an overly friendly bumbling salesman is the real article. I'll never hear Patsy Cline's "Back in Baby's Arms" without thinking of this great comedy. Presented as a double feature with Uncle Buck. (Thurs, 6/12 at 9 pm and Friday, 6/13 at 7 pm, Paramount) –- D.C.
National Lampoon's Vacation (1983) -- It's rare that a movie you found funny when you were 14 is still funny, maybe even more so, 30 years later (shut up). Directed by Harold Ramis, this is one of the few (maybe the only) movies involving John Hughes that I enjoy. (Sixteen Candles doesn't hold up nearly so well, but I digress.) Oh, Aunt Edna (Imogene Coca!). Oh, that speech Chevy Chase makes to his family near the end of the movie, which I occasionally use myself as a motivational tool. Presented as a double feature with Stripes, another fine Ramis comedy (well, the first half, anyway). (Thurs, 6/12 at 7:15 pm, Fri, 6/13 at 9:25 pm, Stateside) -- J.K.
Stripes (1981) – Of the cycle of Hollywood movies in the Eighties centered around military training, this comedy with Bill Murray, John Candy, Harold Ramis and a strong supporting cast was the funniest and most quotable. (Thurs, 6/12 at 9:15 pm and Fri, 6/13 at 7:15 pm, Stateside) –- D.C.
Jesus Christ Superstar (1973) – What started out as a concept album by Tim Rice and Andrew Lloyd Webber about the final days in the life of Jesus Christ became a critically acclaimed and internationally popular musical. This anachronistic rock opera stars Ted Neeley (Django Unchained) as Christ and Yvonne Elliman as Mary Magdalene. Presented as a double feature with Annie. (Wed, 6/18 at 7:15 pm and Thurs, 6/19 at 9:45 pm, Stateside) –- D.C.
Arthur (1981) -- We all go through a phase where we want to be Liza Minnelli, right? Just me? No matter; Liza shines on screen with Dudley Moore in this story of a wealthy man-child who falls for a sassy and charming waitress. The film features an array of hilariously quotable lines, as well as an oh-so-80s soundtrack by Burt Bacharach. Did I mention Liza Minnelli? Yeah... you shouldn't miss this one. (Fri, 6/27 at 7:15 pm and Sat, 6/28 at 6:30 pm) -- M.M.
Blow Out (1981) – Brian De Palma's captivating thriller pairs John Travolta and Nancy Allen in this slow burn whodunit mystery. Presented as a double feature with Carrie. (Mon, 6/30 at 7:15 pm and Tues, 7/1 at 9:15 pm, Stateside) –- D.C.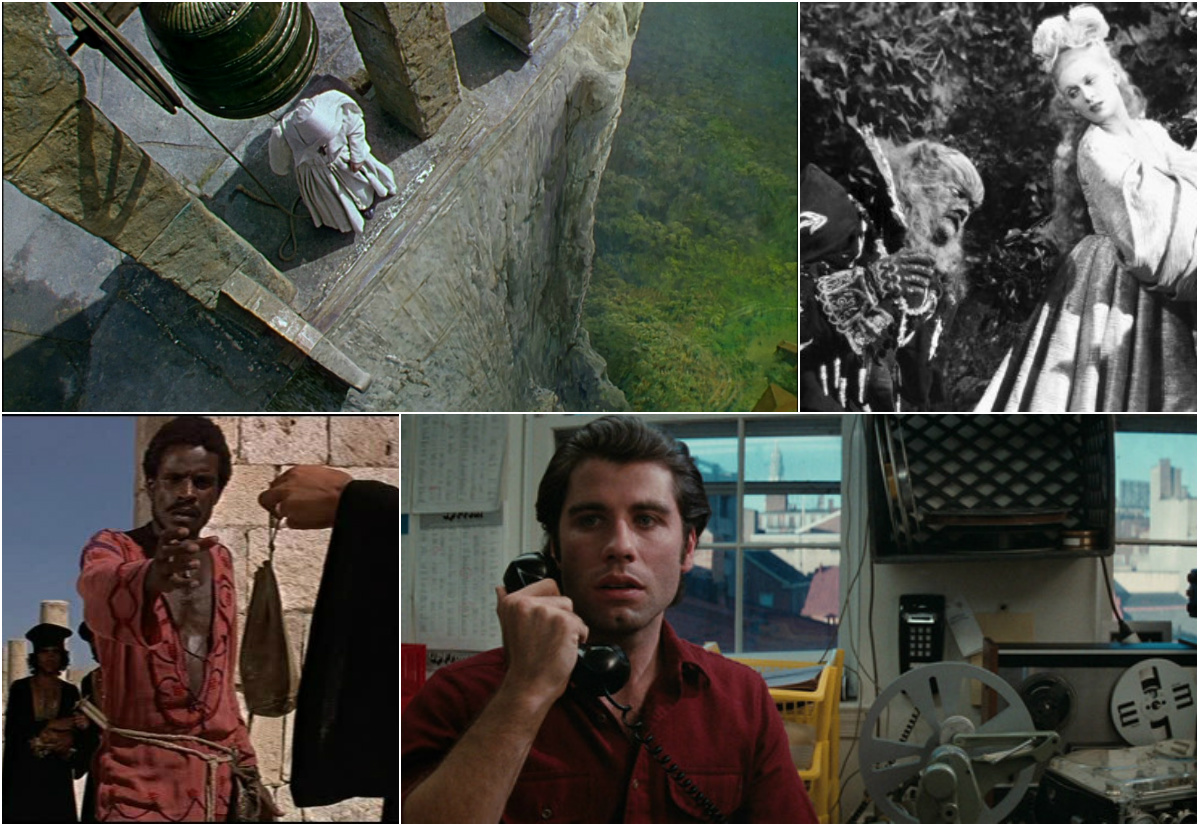 July
Black Narcissus (1947) -- This Powell and Pressburger film has nuns starting a convent in the Himalayas. Each time I see it I'm amazed that so much of this lush drama was filmed in studio. If you can get beyond a few actors in brownface (Brits playing Indian characters), this intense movie is worth seeing for its beauty and sexual tension. ­(Weds, 7/2 at 7:15 pm, Thurs, 7/3 at 9:25 pm, Stateside)
Who's Afraid of Virginia Woolf? (1966) -- In this film adaptation of Edward Albee's brilliant play, Elizabeth Taylor and Richard Burton spend over two hours expertly and creatively ripping each other's hearts out as Martha and George, one of the most complicated and memorable couples of all time. (Sat 7/5 at 6:30 pm, Sun 7/6 at 4:30 pm) -- Caitlin Moore
Whatever Happened To Baby Jane (1962) -– Director Robert Aldrich masterfully builds the tension with unexpected twists in this psychological thriller with Bette Davis and Joan Crawford. Presented as a double feature with Persona. (Sat, 7/5 at 4:15 pm at and Sun, 7/6, at 4 pm, Stateside) –- D.C.
La Belle et La Bete (1946) -- Jean Cocteau's adaptation of the classic fairy tale is dreamy, lovely and filled with mystery and symbolism. So French, so perfect. Presented as a double feature with The Red Shoes. (Tues 7/8 at 7 pm and Wed 7/9 at 9:35 pm) -- C.M.
The Red Shoes (1948) -- Look, you've either seen this gorgeous masterpiece from Powell and Pressburger and are thrilled at the chance to catch it on a big screen in 35mm, or you're ignorant of the movie and need to be at the Paramount for one of these screenings. Simply mesmerizing. (Tues, 7/8 at 9 pm, Wed, 7/9 at 7 pm) -- J.K.
The Magnificent Seven (1960) -- It's a Western remake of Seven Samurai with young Steve McQueen and young Yul Brenner, so you might need a fan or some ice water even in the often-chilly Stateside. The storyline gets a bit hokey at times, and I actually prefer John Sturges' later film The Great Escape, but at least James Coburn's accent isn't egregious in this one. Presented as a double feature with The Misfits (yeah, I don't get that either.) (Thurs, 7/17 at 7:15 pm, Fri, 7/18 at 9:40 pm, Stateside) -- J.K.
The Good, the Bad and the Ugly (1966) -- My favorite of iconic Italian director's Man with No Name Trilogy, this western stars Clint Eastwood as Blondie aka "The Good," Eli Wallach as Tuco aka "The Ugly," and Lee Van Cleef as Angel Eyes aka "The Bad." It's about a bounty scam gone wrong, and features a killer score by Ennio Morricone. (Mon, July 21 at 7:15 pm and Tues, July 22 at 7:15 pm, Stateside) -– D.C.
Funny Girl (1968) -- Each year, a musical seems to pop up on the Summer Classic line-up that you might not have seen, but definitely heard of. This is that musical. Based on the life of the loud and fabulous Fanny Brice, Babs Streisand shines in her Oscar-winning performance of a little Jewish girl from New York who turns into a big Broadway star. Really looking forward to "Don't Rain On My Parade" blasting through the Paramount's speakers! (Wed, 7/23 at 9:15 pm and Thurs, 7/24 at 7 pm) -- M.M.
Do The Right Thing (1989) In his funny, shocking breakout feature, Spike Lee zooms in on a few Brooklynites on the hottest day of the summer and tells a story in which racism is unflinchingly examined. I agree with Roger Ebert's take -- this film penetrates your soul. (Tues, 7/29, 7 pm and Wed, 7/30 at 8:50 pm) -- C.M.
Dark City (1998) – A year before The Matrix franchise began and long before The Adjustment Bureau (2011) and Inception (2010) came about, writer and director Alex Proyas offered this award-winning futuristic science fiction thriller centered around beings able to alter physical reality. Presented as a double feature with Crumb. (Thurs, 7/31 at 9:35 pm and Fri, 8/1 at 7:15 pm, Stateside) -– D.C.
August
Links for tickets and other information can be found on the Paramount's website.