Our Holiday Favorites: Bachelor Mother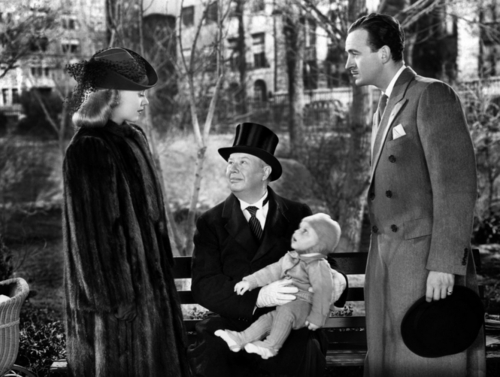 Welcome to Holiday Favorites, a series in which Slackerwood contributors and our friends talk about the movies we watch during the holiday season, holiday-related or otherwise.
Bachelor Mother, a 1939 romantic comedy from writer/director Garson Kanin (My Favorite Wife, Born Yesterday), is a film my sister and I make a point to watch together around New Year's Eve. It's one of the only DVDs of which we both have a copy (Monsoon Wedding might be the other). Ginger Rogers stars as Polly Parrish, a department store employee who loses her temp job the day after Christmas and stumbles upon an orphaned baby. Forces beyond her control make her keep the child, although she once attempts to foist the baby off on David Niven's rich playboy character.
The plot involves screwball antics, a stern and wealthy businessman (played nimbly by character actor Charles Coburn) who yearns for his son to settle down, dancing (of course!), a New Year's Eve sequence at Times Square, sweet romance and It's a Wonderful Life's Frank Albertson (we say, "Hee-haw!" when we see him onscreen) playing a sneaky toy department employee trying to break into management.
I've heard rumors that Rogers didn't believe she worked well with the baby, but she deftly pulls off Parrish's frustration, befuddlement, and eventual love for the child. Rogers gives Polly a sarcastic air, using a wonderful, melodic "ha ha" as a sort of "told ya so." It's a precursor to that of Nelson Muntz, infused with snark.
Norman Krasna (White Christmas) wrote the humorous screenplay based on Felix Jackson's original story. Jackson actually scored an Oscar nomination for the film. No matter how many times I see it -- and the count is surely up to 10 at this point -- there are things in Bachelor Mother I can always depend on to make me laugh (see: Coburn's spoon-throwing at the breakfast table). Mid-movie, young Merlin (Niven) asks Parrish to be his New Year's Eve date and she pretends a terrible Swedish accent to his friends. It's one of the many ridiculous elements of this silly movie, and I just adore it.
Want to watch? TCM has it on schedule for March, but if you can't wait that long, it's available from Warner on Demand (you can even rent it from YouTube). The DVD is also available to purchase, and Vulcan's south location has it to rent.