Hill Country FF 2014: Pier to Peer Docs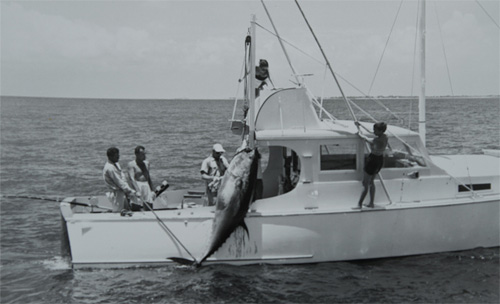 Amid all the shorts I enjoyed at Hill Country Film Festival, I also saw some longer movies. One documentary is technically a short but may be longer at some point, and one feature-length doc will likely be somewhat shorter by the time you see it. Both Bluefin on the Line (pictured at top) and Lord Montagu are set in very different environments but ultimately, are about families working hard to preserve their legacies.
Bluefin on the Line is the latest documentary from sometimes-Austin* filmmaker Bradley Beesley, whose previous films include The Fearless Freaks, Sweethearts of the Prison Rodeo and most appropriately for this subject, Okie Noodling. Elizabeth interviewed the Oklahoma native a couple of years ago for his segment in Slacker 2011. This 37-minute film takes a look at the history and culture of the Bimini Islands over the past century, particularly big-game fishing and how it has affected the people who live there.
I didn't quite realize big-game fishing was a thing, but apparently it was popularized by Ernest Hemingway. Fittingly, his grandson narrates the first section of this film, a breezy overview of big-game fishing in its heyday, especially bluefin tuna. Vintage stills show people holding up fish that look as tall as I am, and I realize I am kind of a short person, but that's impressive nonetheless. The bluefin were ultimately overfished, however, and the Bimini Islands went downhill ever since, with many locals' fishing skills no longer needed. "Tuna Alley" no longer lives up to its name.
The focus on Bluefin on the Line is the Merritt family, with three generations of fishing boats-builders and commercial fishermen. The grandson, Roy Merritt, Jr., has the idea of returning to Cat Cay in the Bimini Islands for one last hunt to catch the elusive bluefin, although these days big-game fishermen practice the environmentally sound "tag and release" -- you come home with impressive photos instead of fish that in the old days, were sometimes left on the piers to rot.
As I said, I knew zilch about big-game fishing and honestly, fishing is not a topic I've ever found especially interesting. But Beesley has a knack for making you care about things you never wanted to know much about -- I didn't care much for the Flaming Lips, for example, but quite liked Fearless Freaks**. The family adds a personal angle to a larger story about the fate of some islands that seemed all but forgotten. However, after I saw the short, the filmmakers noted that they're going back to Bimini to shoot more footage for the film (or possibly a companion film, it's uncertain) because a fancy resort is being built at Bimini that might be good for tourism but perhaps not so good for the environment. I'm looking forward to the follow-up.
If this interests you at all -- or even if you think it won't but are feeling adventurous -- you can buy the version of Bluefin on the Line that screened at HCFF on DVD from Costa, which produced the film. Here's the trailer:
In the afternoon, we shifted from boats and Bahama islands to cars and English estates. Lord Montagu tells the fascinating tale of the title peer, who after WWII was determined not to let his family's large estate, Beaulieu, be split up or demolished like so many British stately homes/country houses. Lord Edward Montagu started by opening his home Palace House to the public, then innovated by adding a notable collection of vintage automobiles on the grounds. And he accomplished this in spite of a nasty scandal in the early 1950s that landed him in jail.
This documentary is Austin filmmaker Luke Korem's first outing as a director, not that you'd know it from the deft handling of interviews and archival footage. Lord Montagu was co-written by Bradley Jackson (The Man Who Never Cried), who was also at HCFF as the producer of Intramural -- but more on that later.
Lord Montagu is structured with the framing device that it's a book, since it is partially based on Lord Montagu's autobiography. Each section is a "chapter," and is neatly divided. I thought some of the chapters could have used a trim, but it sounds like Korem may be doing that to fit the movie into a length for television broadcasts later this year. The version I saw was 80 minutes, but it may be closer to 60 by the time you see it, and I think you'll enjoy it just as much.
I would have liked to have seen a little more of the title(d) subject in a contemporary setting -- the voiceovers used to explain and connect events in the documentary are all from archival video and audio sources. It makes sense for him to tell his story over the years, but it did seem a little unusual since he's still alive. I also loved the interviews with his sister, especially one story involving forest ponies, which I dearly hope makes the cut for broadcast.
Speaking of interviews, the range of people interviewed for this film is quite surprising, including a Formula One champion, a member of the British royal family ... and the Pink Floyd drummer. Lord Montagu cultivated relationships with all manner of celebrities and personalities to keep his estate going. Whether that affected his actual family members for better or worse, you can decide after hearing the interviews with his relatives.
Again -- I'm not an Anglophile, and vintage cars are visually appealing to me but not for long -- a filmmaker has sharpened my interest in topics I might not have learned about on my own. You can't beat that in a documentary. Here's the trailer, and we'll keep you posted when we find out how you can watch Lord Montagu yourself.
*A term used on Slackerwood when we know the filmmaker lived in Austin at some point -- Beesley used to be active in the late great Cinematexas -- but are not entirely sure where they live now.
**Which was one of the first SXSW movies I ever wrote about, from my first SXSW in 2005 when I was still reviewing on a personal blog. So I'm a bit sentimental about it.