Slacker 2011: Bradley Beesley Sneaks Oklahoma into Austin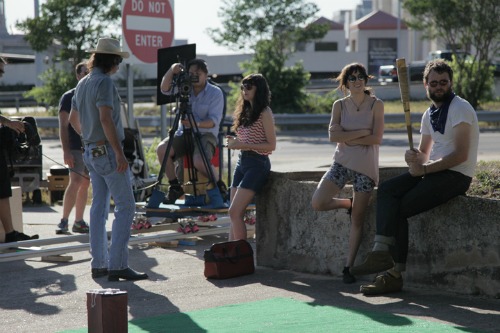 In celebration of Slacker's 20th anniversary, local filmmakers are re-creating scenes from the Richard Linklater movie for Slacker 2011, a fundraising project benefitting the Texas Filmmakers Production Fund. The trailer is now available. As we await the August 31 premiere, we're chatting with some of the filmmakers participating in one or more of the short films that will comprise the project.
Today's interview is with Bradley Beesley, an Oklahoman documentarian (Sweethearts of the Prison Rodeo, The Fearless Freaks, Okie Noodling) who now calls Austin home. He is a past winner of the TFPF grant; here's Jette's review of Summercamp! (for Cinematical, RIP).
Slackerwood: Which scene from the film did you re-shoot?
Bradley Beesley: My scene was "Oblique Strategies".
Why were you looking forward to re-creating this particular scene?
Clark Walker was in this scene as the Crook. He's also an Okie and in the scene he's carrying some Okie books -- like Woody Guthrie and Will Rogers -- and I thought that was fitting since I'm from Oklahoma.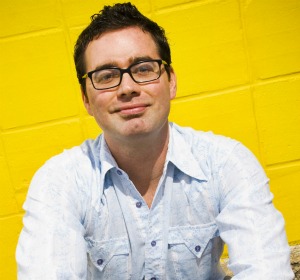 What do you think your challenges have been in re-visiting this scene?
The biggest challenge was trying to find someone with a screen presence as cool and unique as D. Montgomery. And, then, just trying to create similar dialogue that was in the same ilk.
Our leading lady, Miss Fletcher Freeman, did an amazing job of mixing her own mystical rants with D's original dialogue.
Do you have any connections or memories related to the original Slacker?
I watched Slacker for the first time in 1991 with a group of artists, potheads and slackers in Norman, OK. We were living similar lives to the folks in the film. Everyone I knew at the time was in a punk rock band, attending art school or worked at the only hippie restaurant in our small college town.
Needless to say, the film left a sizable impression on me and my friends. Just a few weeks after we watched the film, we all loaded up and went down to Austin to see bands and check out the scene. To say that Slacker informed my artistic sensibilities might be an understatement.
[Photos courtesy Bradley Beesley; headshot by Cory Ryan]