What's Streaming: Things We Don't Speak Of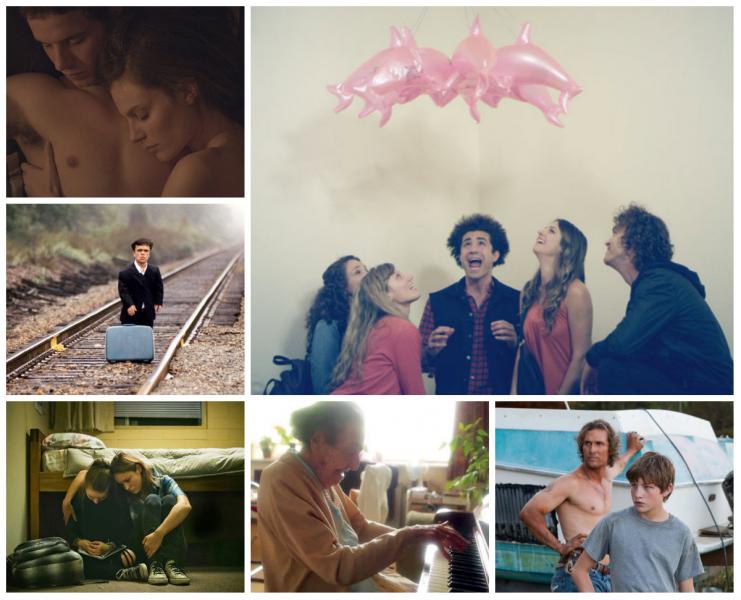 This month's list of films available online was all over the place. I was watching ridiculous Craig Robinson comedies and intense documentaries about the struggle to make art. "How the hell do I tie these together?" was the question, as my themes usually come to me quite easily. When I thought back about all of these stories, though, I finally found one kernel within each movie that linked them: topics we don't like to talk about.
What does or does not making something "taboo" is different for each of us. Some are universally obvious, but some might not strike us right away. We have to learn more and try to understand a situation before writing it off as totally unthinkable. Several of the films I watched this month explore topics that are hard to talk about, let alone make a movie about. When you get to know these characters though, you start to see where they are coming from.
I'm not saying they're right, or that they're even heroes. But they're people. They're human, just like you and me. Give their stories a shot this month.
A Teacher -- I caught this wonderful film at SXSW 2013. (Jordan wrote a great review about it as well.) Writer/director Hannah Fidell brings us a story of thirtysomething high-school teacher Diana (Lindsay Burdge). We're taken through her daily routine of jogging, teaching, quiet time... and a physical relationship with her student Eric (Will Brittain). What appears to be a purely physical relationship is actually more for Diana, with each of their encounters pushing her farther across an already blurred line. With its voyeuristic cinematography and subtle dialogue, this film leaves you with the longing to learn more about Diana rather than judge her -- it did for me, at least. The film was shot around Austin, and is currently being developed into a new series for HBO. Available on Netflix, Amazon Instant and iTunes.
The Lady in Number 6: Music Saved My Life -- I had the chance to see this film along with the other 2014 Academy Award-nominated shorts. I was thrilled to see it take home the Oscar for Best Documentary Short Subject, and it's not hard to see why it won. Aliza Sommer-Herz says playing the piano helped her survive her time in a concentration camp. As one of the oldest living Holocaust survivors (although she sadly died this past February), Aliza shares her story as also being one of the oldest pianists in the world. From performing for the SS to playing in concert halls, this woman's life has seen more obstacles than most average lives combined. And yet, at 109, she continues to get up and play her piano every day with a smile on her face. This film made me want to take advantage of everything life has to offer us, and do it all with the grace and attitude of someone like Aliza. Available on Netflix, for purchase on Amazon Instant.
Short Term 12 -- It always takes me a while to get to the films that everyone consistently raves about; this was one of them. (Don reviewed the movie after its September 2013 release.) Brie Larson plays Grace, a supervisor at a foster-care residency for at-risk teenagers. Continually seeking to know what is going on in the minds of her kids, Grace herself struggles with letting her boyfriend Mason (John Gallagher Jr.) get emotionally close to her. As we see her go out of her way to help these kids, we also learn more about Grace's checkered past and how she herself is not so different from those she's trying to help. This is only the second feature film from writer/director Destin Cretton, and is based on his short film of the same name. I cannot wait to see story he will bring to life next. Available on Netflix, Amazon Instant and iTunes.
I Am Not A Hipster -- This is the first time I've ever recommended additional films from the same director in one column. I found this 2012 film because I originally thought Short Term 12 was Cretton's first feature; turns out it's this one instead. The title doesn't really do the story justice as Brook (Dominic Bogart) tries to survive as a head-above-water musician dealing with the recent death of his mother. It's clear he's hanging on by a thread, especially when his three sisters and father show up to bury her ashes, all unbeknownst to Brook. The film pairs hand in hand with the soundtrack (led by the band Canines), giving it a feel similar to the 2007 Sundance hit Once. A great story of trying to find inspiration in spite of life's tragedies, this is one that I encourage you to add to your lineup ASAP. Available on Netflix, Amazon Instant and iTunes.
Mud -- Some people say Dallas Buyers Club kicked off "The McConaughscance" we seem to now find ourselves in, but I believe it was really this film. Writer/director Jeff Nichols brings us a story of dancing the line between doing the right thing, even if others tell you it's not. Ellis (the mind-blowing Tye Sheridan) is caught in the middle of his parents' divorce. As the only child in the family, he tries to be the neutral source in an already disconnected home life. When he and his pal Neckbone happen upon Mud's (McConaughey's) campsite on a deserted river island, Ellis is torn between turning him into the authorities or taking matters into his own hands. Nichols' story about growing up shows us that sometimes, the only way to get through your own troubles is to help someone else get through theirs. Debbie reviewed the movie when it screened Sundance 2013. Available on Netflix, for purchase on Amazon Instant and iTunes.
The Station Agent -- Actor Peter Dinklage seems to be one of the hot actors at the moment because of his role on Game of Thrones. Although he's quite notable in the show, many people have rarely seen his earlier performances, like this one. Dinklage plays Finbar, an introverted train lover whose only friend has just passed away, leaving him an abandoned train station in the middle of New Jersey. Not really having other alternatives, he moves in and (somewhat against his will) befriends food-truck owner Joe (Bobby Cannavale) and offbeat artist Olivia (Patricia Clarkson). In letting these people into his life, Finbar learns that with friendship also comes the responsibility of being there for someone else, especially at their lowest point. This was the first feature that actor Thomas McCarthy both wrote and directed, receving many accolades at BAFTA, Sundance, the Independent Spirits and SAG Awards. Available on Netflix, Amazon Instant and iTunes.
[The photos in the above collage are stills from The Station Agent, Mud, I Am Not A Hipster, Short Term 12, A Teacher and The Lady In Number 6: Music Saved My Life.]