Review: Short Term 12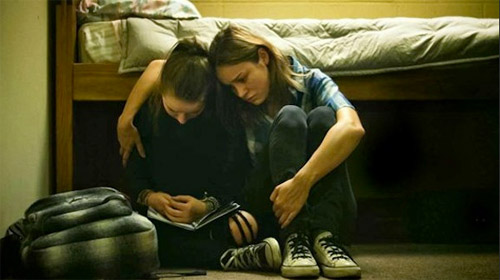 No one who sees Short Term 12 will be surprised that writer/director Destin Cretton spent two years working in a group home for at-risk teens.
A riveting story about such a home, the film feels so authentic and emotionally on target that it's obviously the work of someone with first-hand experience. Short Term 12 is, in a word, real.
And painfully so. Based on Cretton's 2008 short film of the same title, Short Term 12 pulls no punches as it tells the story of Grace (Brie Larson), the twentysomething lead supervisor in a foster-care facility for kids whose worst enemies are their own families. All her charges are in a world of hurt, from Marcus (Keith Stanfield), a quiet but sometimes violent 17-year-old who's about to age out of the system, to Sammy (Alex Calloway), a perpetual flight risk who's more child than teen and who slumps into a deep depression when his therapist has all his dolls taken away.
Grace is dating one of her co-workers, Mason (John Gallagher Jr.). The two have a solid long-term relationship; they also have no trouble separating their personal and professional lives, leaving their relationship at home while helping the kids.
But an unexpected bit of news complicates Grace's life and relationship, as does the arrival of Jayden (Kaitlyn Dever), a severely troubled girl who's been touring the group home circuit for years. Sullen and combative, Jayden makes Grace's life harder than usual until the two discover they have plenty in common. As Short Term 12 slowly reveals Jayden's horrific past, it reveals Grace's also.
Again, Cretton's knowledge of the foster care world is obvious in Short Term 12's every detail, especially the documentary-like scenes of daily life in the group home. The staff does its best to provide structure and sanity for kids whose lives are such a mess that they can't be trusted to keep scissors in their rooms. The daily norm is one of confrontations and judgment calls, of deciding whether it's best to look the other way when a kid's stupid decision could send him to juvenile jail. The supervisors do an admirable job of creating a pleasant and positive environment for the kids -- but everyone knows that any air of normalcy (or on a good day, happiness) is just a thin veneer over underlying problems so severe that any situation can end tragically.
The supervisors also do an admirable job of keeping their sanity, which is the point of Short Term 12. Somehow they manage to keep from cracking, although Grace does have a brief meltdown or two. Their sanity is all the more remarkable given the insanity that surrounds them -- unspeakable child abuse, an overloaded foster care system, societal indifference, and clueless therapists and case managers who sometimes do more harm than good. (Jayden's case -- I won't reveal the details -- is a particularly chilling example of what's wrong with the system.)
Short Term 12 is a fearless and unfiltered exploration of ugly realities our society too often ignores. But as achingly relevant as it is, it's not really a message film. It's more of a story about coping and redemption, focusing on one woman's struggle to deal with her own problems while trying to help others deal with theirs. And while there is much darkness in Short Term 12, there is also light; the tone is a delicate balance of despair and hope. And humor, where appropriate. (Kids -- even the saddest ones -- say and do the darnedest things.)
Grace, of course, carries the movie, in what should be a breakout role for Larson. An actress since age 9 (she's best known as the sarcastic Kate on The United States of Tara), Larson's considerable experience is obvious; as Grace, she delivers one of this year's finest and most natural performances. Grace is no-nonsense tough with the kids, at least in public. She's a bit more flexible in private, revealing her own troubles and failings as she cuts the kids a little slack for doing things she once did. Thankfully, Cretton's script doesn't make Grace a saint, giving Larson plenty of room to play up the character's faults and insecurities. In Larson's skilled hands, Grace is a thoroughly believable mess doing her best to stay in control.
Short Term 12's other standout performance (among a universally fine cast) is Dever's Jayden. As badly damaged as Jayden is, it's a wonder she functions at all. But she does, and Dever perfectly captures both sides of the teen -- the jaded, hard-as-nails rebel full of attitude and the vulnerable, lonely young girl who lives in fear. Only 16, Dever is mature enough as an actress to know not to separate Jayden's two personas; even when Jayden is in full rebel mode, we see her vulnerability.
At once brutal, hopeful, poignant and unforgettable, Short Term 12 is a movie you shouldn't miss. An outstanding fusion of social relevance and gripping, character-driven drama, it's one of this year's best films.
Austin/Texas connections: Short Term 12 won Grand Jury and Audience Awards at SXSW 2013. Dever attended acting classes at the Dallas Young Actors Studio.