Summer Indies to Catch: May 2014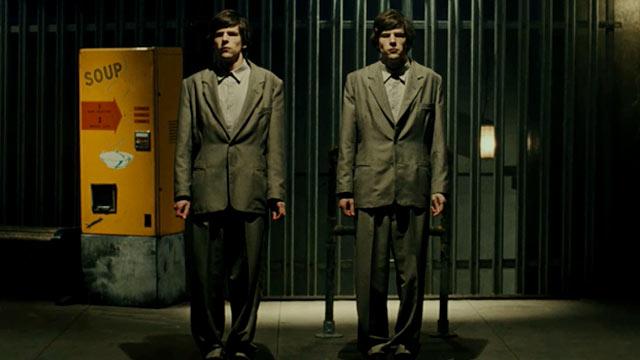 This month, most audiences will be lapping up that guy in tights and yet another reincarnation of Japan's most famous lizard. Thus begins another summer season full of empty sequels and remakes no one asked for. While there are always a collection of smaller films designed to combat the less-than-inspiring season, this year's crop of independents -- which include a 70s movie icon in a Western thriller and a Dostoyevsky adaptation -- is perhaps one of the most bountiful and eclectic in recent years.
Here are few highlights:
Fading Gigolo (now playing at Regal Arbor, available on VOD)
Woody Allen makes a rare appearance in a non-Woody film for this most unconventional tale of comedy and sex in a romanticized New York. When down-on-his-luck Murray (Allen) needs a way out, he convinces his friend Fioravante (John Turturro), a Brooklyn florist, to have a paid threesome with curious dermatologist Dr. Parker (Sharon Stone) and her fiery friend Selima (Sofia Vergara). Soon after, word begins to spread about Fioravante's talent as a middle-age Casanova as Murray takes on the role of unlikely pimp.
While critics have nitpicked about certain aspects of the plot (such as the idea that it's difficult for women like Stone and Vergara to find a sexual partner), others have embraced Fading Gigolo as a thoughtful fantasy that focuses on the essence of romance and simple beauty of sexuality against an almost fantasy-like landscape. Director Turturro's films have never been for the mainstream, instead appealing to that certain breed of cinephiles who embrace the heightened reality where the everyday exists a foot or two above the ground.
Jodorowsky's Dune (now playing at Arbor and Violet Crown)

Cited as one of the greatest movies never made, Jodorwsky's Dune examines acclaimed Chilean filmmaker Alejandro Jodorowsky's unrealized vision of bringing Frank Herbert's classic novel Dune to the screen. Though eventually adapted by David Lynch, Jodorowsky's version of the sf opus was to feature groudbreaking visual set pieces, elaborate costumes and an eclectic cast, which included Mick Jagger, Orson Welles and even surrealist Salvador Dali. The film chronicles what would have been an unforgettable milestone in cinema history and how such a bold project confused and frightened many within the industry. Even in such a revolutionary period of filmmaking as the 70s, it seems that even those film renegades seemed to be intimidated by such a unique project. A hit at Cannes, Telluride, Toronto and Fantastic Fest (read Debbie's review here), Jodorowsky's Dune is without question one of the most telling, tragic and surprisingly uplifiting examples of art versus Hollywood.
Decoding Annie Parker (now available on VOD)
After dealing with the death of both her mother and sister to breast cancer, an ordinary woman named Annie Parker (Samantha Morton) attempts to maintain normal life after she herself is diagnosed. Meanwhile, a geneticist at UC Berkeley named Mary-Claire King (Helen Hunt) has discovered a breakthrough in the diagnosis of cancer and, with Annie's help, fights to make her discoveries known. This remarkable true story has already touched and riveted audiences with its mixture of scientific discovery and human emotion. Hunt and Morton have already been lauded for their performances and the film itself has taken home prizes at various fests. Any film dealing with cancer no doubt runs the risk of being a downer; however, Decoding Annie Parker spotlights the power of humor and determination in the face of life-threatening illness.
The Double (now available on VOD; Austin currently not scheduled for theatrical release) (pictured at top)
Dostoyevsky's classic, unsettling novella finally makes its way to the big screen after strong appearances at London, Tokyo and Toronto Film Fests. Socially awkward Simon James (Jesse Eisenberg) is put off by a new coworker named James Simon, who not only bears an eerily striking resemblance to him, but is also everything Simon isn't. Eisenberg's work has been highly praised for its complexity in what may be his most compelling role since The Social Network. There is an ominous atmosphere throughout the noir-like landscape in which Simon exists that's greatly balanced with plenty of black comedy in writer/director Richard Ayoade's script. A truly dark and surreal experience for sure.
A Night in Old Mexico (5/16 on VOD)
Robert Duvall takes a rare leading role in this tale that's equal parts noir/road movie/family reunion, which premiered earlier this year at SXSW. When a retired Texas farmer (Duvall) is forced to leave his home and relocate to a trailer park, he grabs his grandson (Jeremy Irvine) and hits the road to Mexico, where the pair get caught up in a plot involving a large sum of cash and shady characters. Shot in South Texas on the border between the two countries, A Night in Old Mexico plays out like a Hollywood thriller while maintaining indie cred through character-driven elements. Irvine adds to his impressive, growing resume here, but it's Duvall's show and as a result, he gives his best performance in years. Scripted by Austin writer Bill Wittliff.
Cold in July (5/23 on VOD, special AFS preview on 5/19)
Following its premiere at Sundance and a special run in Houston, Michael C. Hall's Cold in July comes to theaters this month. The thriller, adapted from a Joe R. Lansdale novel, tells the story of an East Texas family man (Hall) who kills an intruder who has broken into his home. However the danger only continues with threats made from the dead man's formerly incarcerated father (Sam Shepard) and a suspicious cover-up by local authorities. After portraying one of the most iconic characters in TV history, Hall successfully manages to transform himself into a Texas everyman and his performance, coupled with a tense, twisty screenplay, should make Cold in July a standout in the indie scene this summer. Directed by Jim Mickle (Stake Land, We Are What We Are).
What are you looking forward to seeing this month? Let us know in the comments.
Frank Calvillo is a senior marketing intern at the Austin Film Society.