Review: Jodorowsky's Dune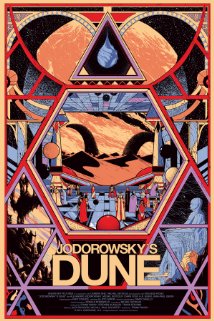 In the mid-Seventies, Chilean director Alejandro Jodorowsky, who was known for his radical arthouse films El Topo and Holy Mountain, took on the greatest challenge of his film career -- adapting for the screen one of the most classic sci-fi novels in history, Frank Herbert's Dune.
For two years, Jodorowsky worked an overwhelming number of hours with his creative team, including French comic-book artist Jean "Moebius" Giraud, screenwriter Dan O'Bannon (Dark Star, Alien), artist H.R. Giger (Alien), and sci-fi paperback illustrator Chris Foss to create over 3,000 storyboards and dozens of paintings along with incredibly detailed costumes and a tome of a script the size of a large phone book.
The film was to star Jodorowsky's own 12-year-old son, Brontis, who endured two years of daily martial arts training in preparation for his starring role alongside icons such as Orson Welles, Mick Jagger, David Carradine and Salvador Dali. Although the film was never made, it left an indelible mark on cinema with evidence throughout many sci-fi cult films of the last few decades including Blade Runner and Alien.
Director Frank Pavich reveals the impact of Jodorowsky's attempt in Jodorowsky's Dune, a fascinating and inspiring documentary about the greatest epic film that was never made. The movie opens Friday in Austin.
Pavich weaves interviews with the creative team involved in the massive project, including audio transcripts of the late Dan O'Bannon and supporters such as Drive director Nicolas Winding Refn and film journalists Devin Faraci and Drew McWeeny. Most importantly, we meet the charismatic and enthralling Jodorowsky himself.
Cinematographer David Cavallo creates an intimate portrait of Jodorowsky in the comfort of his home, setting the stage with images of his scripts, books, and feline companion. The animation by Syd Garon (Blackfish) is stellar, breathing life into the storyboards by Moebius and paintings by Giger that had me giddy with anticipation.
The music by composer Kurt Stenzel is almost a character in itself with synthesized sounds that create an almost psychedelic aesthetic that connects with the artwork of the film. At times the score is almost a bit too hypnotic, yet fits the overall tone and style of Jodorowsky's Dune.
I was pleased with the editing by Alex Ricciardi and Paul Docherty for the final cut of Jodorowsky's Dune. As much as I enjoyed the working copy I'd seen at Fantastic Fest 2013, the final version's pacing is greatly improved and feels less lengthy. I can't imagine that it was an easy task with the fascinating stories behind the doomed but memorable attempt at this science-fiction epic.
The gravity of Jodorowsky's Dune is understatedly phenomenal -- although Jodorowsky never made his film, his ideas and the designs are evident in films such as Star Wars (1977), Alien (1979), Blade Runner (1982), Prometheus (2012) and many more.
Jodorowsky's Dune is a celebration of the creative and spiritual journey for Jodorowsky and all those who participated in the unique epic undertaking. Rather than leave with a sense of failure, I felt inspired by the story of Jodorowsky and his spiritual warriors. This film is on my "must-see" for science-fiction fans.
Watch the trailer for Jodorowsky's Dune below: