Lone Star Cinema: The Hot Flashes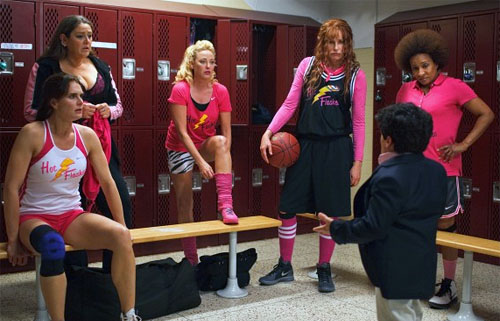 You never know what you might find when you're browsing Netflix Instant selections on a dull Sunday afternoon, and when my husband (who had the remote, go figure) started to skip past the unknown-to-us movie The Hot Flashes, I did a double-take and said, "Wait, stop -- is that directed by Susan Seidelman?" As in, Susan Seidelman who made Desperately Seeking Susan and Smithereens and I haven't heard about her since that She-Devil adaptation I don't want to think about? My attention was caught.
Then we read the synopsis, which was about middle-age women playing basketball -- okay, that's novel -- and decided to play the "give it 10 minutes and turn it off if it's too dumb" game. We lasted through all 99 minutes with no regrets. (Full disclosure: After 10-ish minutes I exclaimed, "Hey, this movie is set in Texas! I'm gonna write it up," and ran to my office for a notebook and pen. Writers are like this.)
The Hot Flashes is a little bit dumb and a more than a little bit obvious, with a narrative of the utmost predictability. But an excellent cast, working together beautifully, and some clever scripting kept us watching. In addition, how often do you see films that star women about to hit menopause? Wait, it's better than that -- this is a feature film about women over 40 playing competitive sports. I know some of you are intrigued now too.
Brooke Shields stars as Beth, an East Texas matron feeling dissatisfied and crummy while dealing with the onset of menopause, particularly the symptom in the movie's title. (I was going to call it the titular syndrome but realized that could confuse some people.) Beth learns that her small town's mobile mammogram unit -- a pet project of her now-deceased close friend -- is about to lose its funding and shut down. And as we all know, women's health care in small Texas towns is becoming increasingly difficult to find.
Somehow all these factors combine in Beth deciding to raise money with a series of basketball games between her old state-champion high-school team, which she plans to reunite, and the state-champion local high-school girls' team, which includes her daughter. She then has to convince her team members: Ginger (Daryl Hannah), who dresses like a cowboy and runs the local car dealership; Florine (Wanda Sykes), who's kicking off her re-election campaign for mayor and doesn't want controversy or distractions; Clementine (Virginia Madsen), the high-school basketball coach's ex-wife, and Roxie (Camryn Manheim), a pot-smoking biker chick on the outskirts of town.
I don't need to give you the blow-by-blow, especially when the characters in The Hot Flashes include a holier-than-thou skeptic from Beth's church (Andrea Frankle), a de-licensed veterinarian the women decide should coach the team (Mark Povinelli), Eric Roberts as a husband whose emotions range from disinterest to non-support ("you never finish anything you start, dear" -- them's fighting words), and a daughter who is naturally aghast that her embarrassment about her mom has just risen to new heights. You know how this is all going to end, or at least you can narrow down the possibilities considerably. Mammogram access cannot be denied, after all.
The novelty here is in watching a movie with strong female characters -- a nice movie I could watch with my mom, who would like it even more than I did. (Damn, I missed a perfect Mother's Day gift opportunity here.) And yet, it has a minimum of cloying sappiness. No one dances around to Motown eating ice cream out of the carton. It's a small miracle that no one made screenwriter Brad Hennig change the title to Middle Age Crazy and swap all the genders, because it wouldn't have taken much effort. (As it is, he'd been trying to get the movie made since 2005, and when it did get made, The Hot Flashes had an extremely limited theatrical release.)
The five women interacting together, on and off court, are what make this movie fun. They're sparky, especially Manheim and Sykes. Hannah's character is a little too lumpish and awkward, but it all works out. The subplot with Beth and her husband takes some unexpected turns and I liked the way it resolved. Shields plays an earnest housewife without tipping into tired stereotypes, and Charlotte Graham has some sweet moments as her daughter.
One amusing note about The Hot Flashes -- well, this is Lone Star Cinema, and the movie is set in East Texas. Everyone's drinking Shiner, so it must be Texas. And I kept trying to guess locations, some of which looked very familiar. "Isn't that Lockhart?" I wondered at one point. "Where was this shot in Texas?"
I figured out the answer after a scene set at the St. Rose Tavern -- it wasn't shot in Texas at all. It was shot in the New Orleans area, which explains why I found it familiar, and nearby South Louisiana, where the tavern is actually located. Admittedly, southeast Texas and south Louisiana do look a lot alike -- it's not like it was shot in Michigan, after all.
Texas connections: The movie is set in East Texas (but as noted above, not shot there). Screenwriter Brad Hennig grew up in a small Texas town. This article says one of his scripts won a screenplay award at Austin Film Festival, but I can't find any specifics about this elsewhere.