Growing Pains: Community Forum Will Address Planned Austin Studios Sub-Lease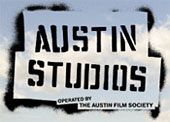 With the recent funding of film incentives in Texas, and the re-opening of Austin Studios after much-needed infrastructure upgrades in January, a lot of attention has focused on bringing new film business to Austin.
Right now there is brewing concern within the local film community over a potential five-year sub-lease to Soundcheck Nashville, a music recording/rehearsal studio and equipment/instrument renter. That's not a film-specific organization, which has lead to fears that progress that's been made will be eroded by this five-year commitment that will take up 28,000 square feet of Austin Studios stage space.
After hearing feedback about the potential lease, Austin Studios/AFS had scheduled a community forum for this Thursday. The forum has been pushed back a week to Thursday, June 25, to avoid a time conflict with a City Council meeting that will include a vote on Austin Studios' own lease renewal. Austin Studios is run by Austin Film Society, but it is also a city project. The city lease vote is not related to the potential sub-lease, which will also have to be approved by the city.
KXAN reported on the issue last night, including an interview with newly appointed TXMPA Central Region representative Paul Alvarado-Dykstra. This morning I received an email from Paul (along with quite a few others on the same subject) clarifying his comments with significant detail. Paul says, "I am frankly still in the process of evaluating the situation, soliciting input, and forming my beliefs about it."
He goes on to say, "If we lose Stage 4 on top of having already lost Stage 1, that will result in a 47% cumulative net loss in total production capacity at Austin Studios since Prop. 4."
While there is legitimate concern, it is in the spirit of what is best for the community and ensuring the decisions are the best choices for the city's film industry.
It may seem like a controversy, but based on the emails I've seen in the last few days, and the information on the AFS Persistence of Vision blog, any lack of input was not intentional. The information on Persistence of Vision is detailed and includes a reasoned rationale for the decision, which AFS expects will benefit film production.
It's not a clear-cut issue. As Austin goes through these growing pains to become a force to reckon with again in the film industry, it will likely take several forums over the next few years, both with AFS and TXMPA, to build a robust infrastructure for the moving image industry.
To register for the forum on June 25, go to the AFS website. There's no charge, but they'd like to determine an approximate head count so they have enough space.
For more information about TXMPA, which has its annual meeting and election on June 27 in San Marcos, visit the TXMPA website.