Dallas IFF 2014: Farah White, 'About Mom and Dad'
If I had to place a wager on who will "out-Mars" Austin talent Jonny Mars with the number of film projects that one Texan can possibly be associated with in one year, my bet for the top contender is Dallas-based Farah White. At this year's Dallas International Film Festival, White was involved in five films as either a member of the cast and producer.
Hell hath no fury like a Texas woman scorned in Rachel Shepard's About Mom and Dad, a comedic drama of a couple whose decades-long marriage disintegrates. White leads the ensemble Texas cast as Teri, effortlessly delivering many of the film's witty lines including, "There are no sides -- you just need to know that I am right." Dallas-based Brent Anderson stars as dad Eddie, and Austinites Heather Kafka and Jonny Mars also appear in supporting roles in the movie.
White is also executive producer for About Mom and Dad, having acted in and produced Shepard's road journey drama Traveling, which premiered at DIFF 2011. About Mom and Dad stars Reece Rios, Melissa Odom and Texan actress McKaley Miller, and was shot in Marfa as well as the Dallas/Fort Worth area.
White has a brief role as the distracted affluent mother, Lauren, in Austin filmmaker Eric Hueber's bittersweet and magical drama Flutter, which won the Texas Grand Jury Prize at DIFF 2014 (my review). White described her character as "all means, and no substance." Austin filmgoers can see Flutter May 13 as part of the Violet Crown Cinema Texas Spotlight Film Series.
In stark contrast from these roles as a mother, White appears in the horror film The Ladies of the House, which also debuted at DIFF last week. Directed by Dallas filmmaker John Stuart Wildman and Dallas writer Justine Walford turns the genre on its head with a female-dominated cast portraying a cannibalistic family who prey on unsuspecting guests. White stars with Melodie Sisk, Brina Palencia, and Belladonna in this film which features women as both protagonists and antagonists.
White has also supported several Austin film production, including as executive producer of Kat Candler's 2011 short film version of Hellion and a producer for Clay Liford's short comedic film Slash. and his feature comedy, Wuss.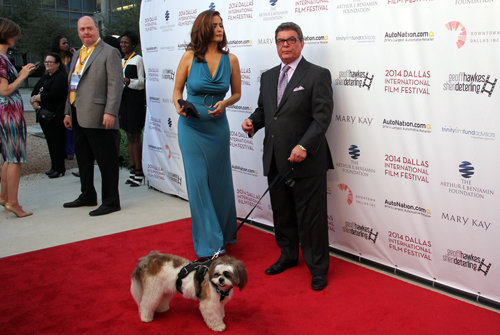 White doesn't spend all of her time on film productions -- she's also involved in Dallas KTXA Channel 21 television program, "For the Love of Dogs" a production of American Dog Rescue Foundation and the Arthur E. Benjamin Foundation -- seen above with philanthropist and co-host Arthur E. Benjamin and his dog, Bandit.
The weekly magazine-format show features interviews with leaders in the dog welfare communities, as well as news on animal shelters and dog rescues around the country. New episodes air Saturdays at 8:30 am and can be viewed on the website after their original air dates.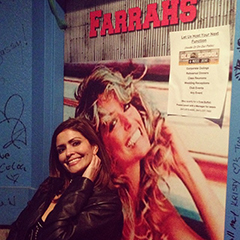 White is executive producer for Chris Gardner and Blair Rowan's comedic web series The Bad which can be seen online. This Dallas-based serial comedy which was also supported through a successful crowdfunding campaign falls into the "Not Safe for Work (NSFW)" rating due its vulgarity and language, but I enjoyed the witty dialogue amongst the lead characters.
Expect to see more of White later this year, with at least five films in post-production. She appears in Steve and Liz Franke's family drama Finding Glory and Ryan Harper Gray's extra-marital affair drama This Is A Love Story, and co-stars with Frank Mosley in Mark Sharon's short film Descanso Means a Place to Rest.
White also produced and appears in Frank Mosley's non-linear film project Her Wilderness, as well as produced William Kaufman's sci-fi horror Daylight's End.
White mentioned that she's done some television directing, and looks forward to "coming full circle" and hopes to get behind the camera again some time soon.
When asked on the Dallas IFF red carpet what draws White to a film, she stated that "especially for local projects, it's more about the people -- who you want to work with and have the party with. Sometimes you are on the set for hours and hours."
White further stated, "for a role, it's the same for most actors -- something that is going to challenge you and get you out of your comfort zone."
[Photo Credits: "Farah White on the Dallas IFF Red Carpet", "Farah White, Arthur E. Benjamin, and Bandit on the Dallas IFF Red Carpet", by Debbie Cerda for use with attribution; "Farah and Farrah", courtesy of Farah White]