Movies This Week: April 4-10, 2014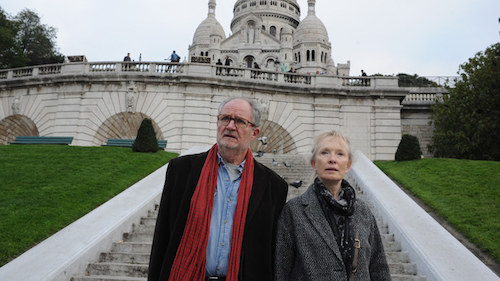 The Austin Film Society's series on New Romanian Cinema continues this weekend with Corneliu Porumnoiu's When Evening Falls On Bucharest Or Metabolism. It plays this evening and again on Sunday night at The Marchesa. Tuesday night's featured theme is Doc Nights, turning the spotlight on Blood Brother. Steve Hoover's documentary about a young man's trip to India working with HIV-infected children won the Grand Jury Prize and Audience Award at last year's Sundance Film Festival. If you're up for a German WWII epic, Richard Linklater will be presenting a 35mm print of 1981's Das Boot on Wednesday night. Finally, Essential Cinema on Thursday night will be the 2012 Turkish film Watchtower.
Heading over to the Alamo Drafthouse Ritz, the theater is bringing us the Marx Bros. starring in Animal Crackers on Saturday and Tuesday afternoon, a few screenings of Indiana Jones and the Temple of Doom in 35mm happening from Saturday-Monday, Mark Lester coming for a 35mm screening of Commando on Sunday night and a very interesting project by 'cinematic journalist' Adam Curtis called The Century Of The Self happening on Monday night for just $1!
Alamo Village has Dazed and Confused on Sunday night as part of their Alamo 100 series, and on Wednesday night is featuring a series of award winning short films from Austin Film Festival. If you're a big Wes Anderson fan, you may want to buy tickets for the Alamo Lakeline's feast on Tuesday night for The Grand Budapest Hotel. It's $65 and each ticket includes a specially-prepared multi-course meal. Check the feast link for the full menu.
The Paramount 100 will be shifting into the 1930s with a double feature of The Public Enemy and Little Caesar on Tuesday evening. You can catch James Cagney and Edward G. Robinson on the big screen again in these classic gangster pictures, both presented in 35mm.
Movies We've Seen
Ernest & Celestine - Jette and I both had a chance to catch this wonderfully charming animated feature at the end of last year in its original French-language version. Distributor GKIDS is now rolling out an English dub with Lauren Bacall, Forest Whitaker and Paul Giamatti. Fresh off its Oscar nomination for Best Animated Feature, this is one we can recommend in any language. (Regal Arbor)
Le Week-End (pictured above) - Notting Hill director Roger Michell returns with a story about a British couple celebrating their 30th wedding anniversary in Paris. Lindsay Duncan and Jim Broadbent star alongside Jeff Goldblum in this romantic drama that, as Caitlin mentions in her review, directly references Godard's Band of Outsiders. (Regal Arbor, Violet Crown Cinema)
Nymphomaniac: Vol. II - The second installment of Von Trier's sexually explicit epic hits town this weekend. If you tackled the first half, you're going to want to dive right into the conclusion. You can read out my review of Vol. I if you missed it and I'll be returning on Monday with a full recap of Vol. II. (Violet Crown Cinema, also available on cable and digital VOD)
Also Opening In Austin
50 To 1 - An unknown horse named Mine That Bird won the 2009 Kentucky Derby with 50-to-1 odds, shocking even the most seasoned gambling handicappers. This film is inspired by that true story and director Jim Wilson (producer of Dancer With Wolves and The Bodyguard) has been touring the country hitting smaller markets for the past few weeks with his self-distributed film. (Regal Gateway, Regal Metropolitan, Regal Westgate, Cinemark Southpark Meadows, Cinemark Hill Country Galleria)
Captain America: The Winter Soldier - I really enjoyed the last Captain America movie and by all accounts, the new one is even better. It's currently got an 89% rating on Rotten Tomatoes, with positive notices extending far beyond the fanboy crowd. (wide, playing locally in 2D with optional 3D, digital IMAX 3D and D-Box Motion Seating screenings)
Available Now On VOD
Mistaken For Strangers - Brooklyn indie rockers The National have been slowly building their fanbase since the release of their first album all the way back in 2001. It took several albums for them to truly break, but now they're to the point of their career where this month they'll be playing three nights in a row here in Austin at ACL Live's Moody Theater. If you're looking for an in-depth documentary about the band and their history, you'll have to wait, but you don't even have to be a fan of the band to enjoy this engaging film directed by Tom Berninger.
Tom is nine years younger than his brother Matt, who is the lead singer of The National. The band's lineup is actually fleshed out by two more sets of brothers and they've become fairly successful while Tom is still living in his parents' basement in suburban Cincinnati. He jumps at the chance to go be a roadie for the band as they embark on a world tour, but the reality of his new gig is not exactly what he imagines it would be. We do get some great live footage of the band on tour and in the studio, but the movie is mostly about a man on the verge of 30 trying to figure out what he's doing with his life.
It's clearly not easy when your older brother legitimately becomes a rock star and you've spent most of your life drifting. We watch Tom as he struggles to map out a direction for his documentary and, in turn, validate his own creativity. It's funny, awkward and a little sad too, not afraid to catch tempers and tears along the way. It doesn't look like Mistaken For Strangers is going to open theatrically in Austin, although it's the kind of thing that will hopefully end up at an Alamo Ritz Music Monday in the near future. In the meantime, the movie is available now to rent (and purchase) from most cable and digital VOD providers.