Review: Le Week-End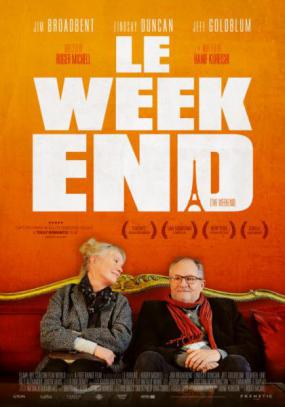 Part romantic caper-comedy, part brutal exploration of a 30-year marriage, Le Week-End uses an endearing sense of mischief to balance life's satisfying highs and crushing lows.
The film stars Lindsay Duncan and Jim Broadbent as Meg and Nick, a British couple celebrating their anniversary in Paris, the site of their honeymoon decades earlier. Though their children are now adults and they should be approaching those golden years of retirement and relaxation, both are wrecked with uncertainty and worry about money, aging and who they are -- in their own eyes and in the eyes of the other.
Nick has grown clingy around Meg and fears being alone. He's also been keeping a secret from her about the state of his career and seems to be on the verge of a full-on existential crisis. Not too far off, Meg is filled with dissatisfaction but doesn't know what to do to make herself happy. They are quite the pair of overthinkers, and it's clear that taking a weekend out of town together is a risky maneuver unlikely to solve anything.
Where traditional romantic comedies tend to gloss over the tougher parts of long-term relationships (if they depict them at all), Le Week-End faces the sad, awkward stuff head-on. But while there are several intense Celine and Jesse moments between Nick and Meg, these sometimes melancholy lovers are often pretty Frances Ha-ish, too. They argue, sure, but they're also comfortably playful, affectionate and adorably silly with each other.
Director Roger Michell (Notting Hill, The Mother) shows off the gorgeous and charming parts of Paris but hints at the dirty little secret of typical Hollywood movies: Real people can't actually afford the romantic experience so often depicted onscreen. If Nick and Meg want to stay in a hotel with a stellar view, shop for fine clothes and eat incredible meals, frugal realism must be casually ignored and their material adventures will need to be charged on the credit card.
This is where Jean-Luc Godard comes in. To delightful effect, his 1964 film Band of Outsiders serves as a spiritual advisor to Le Week-End. Specifically referenced in one scene and alluded to in others, Bande á part (its original title) depicts a love triangle between three young Parisians and the robbery scheme they attempt to pull off. There's no literal love triangle in Le Week-End, but an interesting dynamic does develop with the introduction of boorish American academic Morgan (Jeff Goldblum).
Morgan is an author with a huge ego who was once a student of Nick's. Though successful on paper, Morgan is secretly and wildly insecure and seeks approval from both Nick and Meg, whose relationship he idealizes. After running into them on the street by chance, he invites them to a dinner party and they reluctantly agree to go, which leads to some of the film's most uncomfortable, funny and poignant scenes.
Duncan and Broadbent pull off their tricky roles with poise and skill (both are seasoned actors you'll probably recognize from countless other films), and Goldblum brings his trademark odd likeability into the mix. Though older and clumsier than Godard's trio, these three are a pleasure to watch.
The partnership between Nick and Meg is the true accomplishment of the film, and screenwriter Hanif Kureishi captures the complicated realities of what it's like to grow older alongside the person who knows you best. Within the space of every glance and sigh over the course of a weekend, an imperfect but enduring bond is on display.