SXSW Review: Double Play: James Benning and Richard Linklater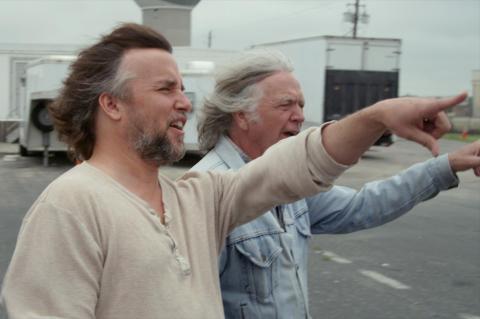 Conversations between artists have always fascinated me. It's one thing to listen to a conversation about someone who has been inspired by another person's work. It's another to listen to two well-known artists (in this case, filmmakers) compliment the other on work that the general public is familiar with. This is how filmmaker Gabe Klinger's film Double Play: James Benning and Richard Linklater feels to an audience: an intimate meeting and history of some intensely creative minds.
Every Austinite seems to have an opinion on Richard Linklater's films. Maybe you fell in love with Jesse and Celine in the Before series; maybe you could relate to being a stoner hipster like some of the folks in Dazed and Confused. Either way, Linklater's movies span across genre and style, held together by great stories with an engaging narratives. One would think his biggest influences would be filmmakers who create fast-paced comedies or heartfelt dramas. But although one can have many role models, Linklater cites filmmaker/documentarian James Benning as being one of his biggest.
Double Play made me smile more often than not, if anything because of the very diverse filmography between these two artists. Benning's films are often slow and thought provoking, his work being most recognized by the long takes and still camera techniques that he frequently uses. (One of his most notable films, 13 Lakes, is simply shots of all of the Great Lakes in the U.S.) To hear that Linklater was influenced by him seems ironic, since his films rarely utilize these techniques.
Upon further reflection though, as well as observing the conversations and interactions that Klinger captures, I started to see the similiarities between these two that I previously thought didn't exist. The quietness Benning uses can often be seen in Linklater's films like Before Sunset and even Slacker. The two artists begin to interview each other, asking questions of the other of how they achieved certain shots, character development, etc. Linklater even takes Benning into the editing room, sitting with Linklater's long-time editor Sandra Adair as they go through clips from his latest film, Boyhood.
By the end of the film, I realized that having an influence on one's work isn't always seen on the surface -- sometimes, you have to dig a little deeper. Klinger does just that with Double Play.
You can read more about the making of the film, as I got to interview Klinger before the film's premiere at SXSW this past week. Double Play will be released on iTunes and VOD in May.