Austin at SXSW 2014: Gabe Klinger, 'Double Play: James Benning and Richard Linklater'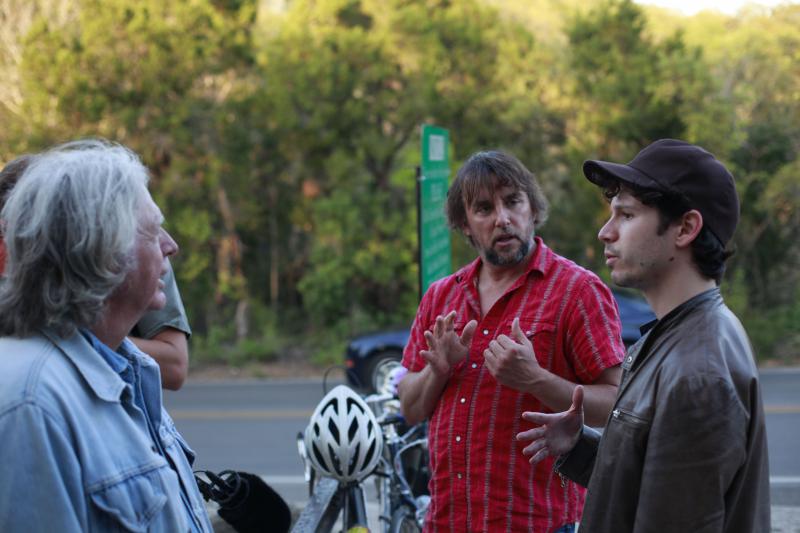 Any documentary filmmaker will tell you that the process to make a film takes time. Filmmaker Gabe Klinger will tell you that the idea for his SXSW premiere film, Double Play: James Benning and Richard Linklater, was an idea that had been with him for many years.
Double Play examines the friendship between filmmakers James Benning and Richard Linklater. Klinger teamed up with local production company The Bear Media as well as the Austin Film Society to help bring this film to life. Through scenes filmed at Linklater's Bastrop home as well as archival footage, we as the audience can quietly observe these artists discussing their lives, art, and what it means to be a filmmaker.
I got the chance to ask Klinger a few questions via email before the film's debut this weekend. See what he has to say about how he approached these two filmmakers, as well as what his influences were in the process.
Slackerwood: What inspired you to go after these two artists specifically? What is your history with them?
Gabe Klinger: I'll start with the second part of the question. James Benning is someone I met before I could even drink legally. He was introduced to me through mutual friends at the Buenos Aires Festival of Independent Cinema. I remember he took a garbage can lid, which in Buenos Aires have the round shape of a space helmet, and put it on his head and walked around with it. I remember thinking, "I like this guy.... I should see his films." At the time he had no patience for me. I would ask him lots of questions and he would kind of swat me away like a fly. I remember he once said, very dryly, "Go away." But I persisted and eventually he warmed up to me and we became great friends.
In late 2012 I was hanging out with James in Milwaukee and I saw a video titled Road Work made by a childhood friend of his that included a scene of James and Rick Linklater playing baseball at Rick's ranch in Bastrop. I wondered, "What could these two filmmakers, who are so different from one another on the surface, possibly have in common?" James said Rick was one of his oldest friends from the film scene, that Rick had programmed, oh, I think it was Landscape Suicide back in 1988 ... I went back home and I thought, "This would make a great interview piece if I could get these two guys in the same room."
I pitched it around and there were several magazines interested. I wrote to Linklater, who I had met in passing once or twice, and he responded positively to the idea. The three of us then made a plan to meet at the 2013 Berlinale after both James and Rick had premiered their new films -- separately, of course! -- on the same night. We got to talking and it occurred to me that this could work even better as a film.
But now I needed to find the money to afford to do it. I was going to Paris after Berlin and my friend Eugenio Renzi helped to put me in touch with André Labarthe, the legendary producer behind the 50 years running the French series on filmmaking Cinéma, de notre temps. I brought him a bottle of whiskey and pitched him the idea to do a double portrait -- "two filmmakers for the price of one!" -- and he went for it. With his TV contacts, Labarthe could get us a bit of initial funds for the production. So it was all coming together quite nicely. Rick, James and I all planned to meet in Austin that very April. OK, I'll stop here, as this is already pretty long winded.
James and Rick (or "Rick James" as our crew like to call them) ended up having much more in common than I could have ever imagined. Their differences were pretty interesting, too. They did a fantastic job and were way more patient with me than I deserved. Our crew too. Everyone did such spotless work. I thought we could sustain a feature with the material that we had, so I got busy editing it. I never imagined there would be much of an audience, but we've been very lucky getting it into a lot of prestigious showcases, and in the spring and summer we'll be released in the U.S. and France.
It must be an interesting process to ask two filmmakers to elaborate on their friendship for a film. How did you go about it?
Klinger: There were email and phone discussions for two months after that first meeting in Berlin. I talked with Rick weekly on the phone. James and I would email back and forth. James was more reticent, he kept reminding me that he's a minimalist, doesn't like to have cameras around him, etc. Rick was laid back and great. When the shoot days arrived, they got into it pretty quickly. I think it's just the same kinds of conversations that they've been having for 25 years. It was all very natural, you know? By the end James thought we should have stayed on more days. Rick said I'd probably be calling for reshoots.
Logistically, I don't think they knew fully what I had in mind -- I mean, I probably didn't want to scare them off by telling them how rigorous it would be. But during the filming I really pushed them because I knew we wouldn't have enough material otherwise. At our wrap dinner Rick said, "You really worked us, man."'
There are so many beautiful, quiet moments in this film that make the viewer feel as if they're sitting right there in the room. What was the filmmaking process like on this? How did you capture those moments?
Klinger: Well, a great model for me was Jacques Rivette's 1967 portrait of Michel Simon and Jean Renoir for the same French series (which back then was called Cinéastes de notre temps). Renoir and Simon are sitting in a Paris restaurant and there are waiters buzzing around and glasses clanking but they stay remarkably focused on the conversation at hand and Rivette and everyone else (Henri-Cartier Bresson was also in the room taking photographs) basically stay out of it. There's no need to interject, Simon and Renoir are such lively and enigmatic figures that they carry it. So the idea was to trust Benning and Linklater to do the same thing.
One bit of instruction that I think helped is I told our camera operators to resist doing any kind of standard coverage. So, for example, I never wanted any audience shots when Benning is presenting his films with AFS. This helped the film to be pretty intimate in the end because I didn't have many options in the editing room other than to stay with them. Pedro Costa's film about Danièle Huillet and Jean-Marie Straub, which is called Where Does Your Hidden Smile Lie? was also a big influence. Costa's camera is always pointing at his two subjects; he's not interested in anything going on in the periphery. It's a kind of rigor that's uncommon in documentary.
You teamed up with local production company The Bear Media for this project, not to mention filming at Linklater's Bastrop home and around Austin. Can you tell us about your Texas filmmaking experience?
Klinger: Man, it was such an immense pleasure to film in Austin. I met Berndt Mader, who co-runs the Bear Media in Berlin, as well. He was there with the crew for David Gordon Green's Prince Avalanche. I took his business card and called him up a couple of weeks later. He was incredibly helpful and trusting... He took the leap of faith along with everyone else, and I'm so grateful to him for it. And he's an incredibly talented filmmaker in his own right, so I was glad to add him to the roster of talented people working on the project. I mean, sheesh, everyone working on it was way more talented and experienced than me, it was very intimidating. Joe Dante once told me, "Get talented people to work on your films, they'll improve exponentially." He was so right.
Props also to the others in our local crew: Justin Hennard, Peter Simonite, Seana Flanagan, Lindsey Stillman, Andrew Segovia, Taylor Thompson, David Blue Garcia, and Rebecca Campbell, Holly Herrick, and Chale Nafus from the Austin Film Society. I couldn't have surrounded myself with a better group of people.
What are you hoping the audience will take away from this piece? What about the local audience?
Klinger: Wow, that's the hardest question so far! It's such a small movie. I mean, I'm already completely floored by the international response. In the context of the French series, it's so exotic, you know, these two very American guys playing baseball... So it's been working well in Europe. All I can say is this: To finally bring it back home, and to premiere it with an important showcase like SXSW, is just too exciting to even put into words. It was an outcome I wanted but of course never expected.
Maybe that's the secret to happiness as a filmmaker: Keep your expectations low and just strive to always do the work that you want to do, no matter the audience. Life's too short for anything else.
Double Play will screen at the Marchesa Theater on Sunday, March 9 and Wednesday, March 12. Both screenings start at 7 pm. The film will also be available on iTunes and VOD in May.