'Night of the Creeps' Night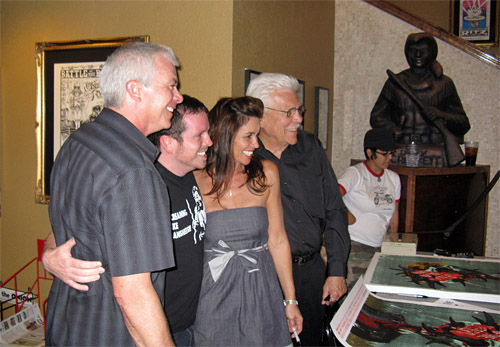 Austin's horror fans were either at Alamo Ritz Saturday night, or lamenting how quickly the tickets sold out for a special screening of Night of the Creeps, celebrating its pending release on DVD on October 19. If you weren't there, you missed a great screening, worth even having to wade through crowds of motorcycle enthusiasts and hundreds of bikes revving loudly all night long.
Old-time Alamogoers would've easily noticed a welcome difference from the old location; no external sound bleed at all. Walking to the Alamo, I was nearly deafened by the sound on the streets. Even some of the motorcycle attendees themselves were covering their ears as they walked down Sixth Street. In the bigger theater at the Alamo Ritz, it was a different world.
Director Fred Dekker (Monster Squad) and the film's leads -- Jason Lively, Steve Marshall, Jill Whitlow, and Tom Atkins -- were in town for the weekend. They had a full Creeps weekend: recording a DVD commentary track, introducing the film, a Q&A after the screening, and poster signing. It was the first time all of them had seen the movie together.
All the actors save cult favorite Atkins, most recently seen in My Bloody Valentine 3D, have retired from the film industry. During the (literally) spirited Q&A, all eagerly answered questions until the questions ran out, then moved downstairs to sign special commemorative posters (as pictured above).
The cast and crew at the screening were gracious about the interest in the film and the "pull" of Creeps fandom that forced Sony into giving it a DVD release (in partnership with Red Shirt Productions). Atkins continuously wowed the crowd, and from the very enthusiastic cheers when he first appeared on screen, or said some of his iconic lines ("Thrill me!"). He could've come to the Alamo without a film and the crowd would have still showed up.
But we did have a film, and it was an exceptionally beautiful print. Pristine and sharp colors, I thought for a moment that the Ritz went 4K digital without telling anyone. I hadn't seen the whole film before, and it reminded me how many good elements a horror comedy can have, even with the cheesy bits. Everyone associated with the film should be proud of it, studio cut or director's cut.
When the cast was asked if they had kids and if they'd seen it, most of them had. Lively mentioned his cool-dad creds skyrocketed when his 8-year-old finally convinced him to show it. Whitlow, on the other hand, had a slightly disconcerting backlash. Her 14-year-old daughter and 16-year-old son have seen it, but she fast-forwarded past the nudity (of which there is little) ... but now the local school rumor is that she was a porn star. She takes it with good humor, as well she should; she's still stunningly beautiful. Everyone in fact, looks the same, save Steve Marshall, and only because he's now silver haired.
Dekker, who has not had a strong film career despite two cult favorites under his belt, is keeping busy. He's got two projects in development, and who knows, based on the crazed response to the possibility of a Night of the Creeps sequel, maybe we'll get to see that in the not-so-distant future.
For more info about the DVD release, check out Quint's post at Ain't It Cool News.
[Pictured: Steve Marshall, fan, Jill Whitlow, and Tom Atkins take a break from signing to pose for pictures. Photo by Jenn Brown.]