Texas at SXSW 2014: Carlson Young, 'Premature'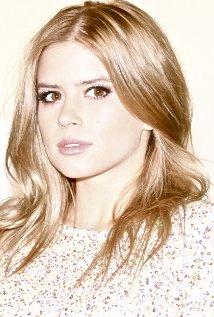 I interviewed a trio of Texans at SXSW for the comedy Premature, which premiered at the fest (my review). One was Carlson Young, who's a native of Fort Worth. Her first role was on the Austin-shot TV series As the Bell Rings, and her career has included among others, roles in Heroes, Pretty Little Liars, True Blood, The League and Key and Peele.
[Note: Due to technical issues, we were not able to see Premature before interviews.]
Slackerwood: Why don't you tell me a little about your part in the film?
Carlson Young: Initially reading the script, I thought I could do something really different with the character, like I feel like she could come off as the stereotypical popular chick, you know? But I saw her as a lot more than that because I think she's the kind of girl who's like "I'm a badass" to be honest, and sees something she wants and she takes it. It's not about being popular or having friends, she's just a go-getter, literally. I really wanted to bring that driven, female-empowerment deal to the character.
Is that why you use the word "slutes" instead of "sluts"?
Young: Slutes, I love slutes. How did you know that?
It's in the press kit.
Young: OK, yeah then I'm a slute. She's a total slute.
How did you come up with that name?
Young: I got it from a friend of mine. She went to school in New Orleans at Tulane. She and her girlfriends had this crazy lingo. They had a different word for everything, and they were some of my best friends. I totally adopted the word from them, and I think it's pretty applicable to this situation.
What is your dream project?
Young: Something directed by Lars von Trier or Terrence Malick or Pedro Almodóvar. It's pretty much opposite of Premature ...
I'm not sure what Lars is doing lately may not be that far off from Premature.
Young: You're right, I don't know, what am I even saying? You're totally right.
I guess that answers my next question, "Who would you like to work with?" and actually Terrence Malick does a lot of shooting around here.
Young: Yes, Wes Anderson, I'd love to do something. I recently did a short with a director, Sean Brosnan -- his dad is Pierce Brosnan, so he made this film like a family film, and he wrote a really really beautiful short about this abused girl and kind of getting saved by this little kid she comes to admire. It was honestly one of my dream roles. It's a short, and I'm really excited about the way it turned out. I feel like it's a good springboard, a good intro into what I want to hopefully want to be in one day. It's called The Kid, you should check it out. [Note: You can watch the trailer for The Kid here.]
So you grew up in Ft Worth?
Young: Yes, I did.
Do you get back to Texas very often?
Young: I do, my family is still in Ft Worth. I had an amazing experience & childhood in Ft Worth. It's a great place to grow up. It's like a big city with a super small-town feel. Yeah, just like Austin.
Have you shot anything in Texas?
Young: Well, my first project ever was actually shot in Austin. It was a Disney show called As the Bell Rings. I shot two seasons of that in my junior and senior year of high school. So, I haven't spent more than a couple days in Austin since then, and it's nice to be back now that I'm 21 and can enjoy the city a little bit more.
Do you have a favorite genre, one you'd like to work in?
Young: Fantasy. You know, wear the ring of power.
Like Once Upon a Time? Do you watch TV shows?
Young: I do, I love TV shows. Once Upon a Time is great, but I'm kind of thinking more like Game of Thrones fantasy, a little more hardcore, a little more real.
What is your favorite city?
Young: London, I like London.
Are you working on any other projects? Do you have anything lined up?
Young: Well, I've been doing a lot of comedy lately, a lot of improv stuff, and I feel like exporing that side of my career more. Right now it's pilot season, so it's audition after audition.
Besides directors like Malick, are there any actors that inspire you?
Young: Cate Blanchett. Blue Jasmine was just insane. I've always been a fan of hers. And I also love Brit Marling. I think that what she's doing is genius, and her scripts are incredible. And I think she's definitely on my list of people I want to emulate, cause she's kind of like beating the system Lena Dunham-style.
If you couldn't be an actor, what would you like to do besides acting?
Young: Fashion. I would have loved to go back in time, when I was dreaming of being an actress as a little girl, I was obsessed with the show Project Runway. I think I'd want to do something in fashion, but I'm also a creative writing major part-time at USC now, so I'd also love to write.
How was it working with the rest of the cast? Was it a fun shoot?
Young: It was one of the most fun shoots I've ever had. Dan [director/co-writer Dan Beers] is such a rockstar, he just lets everybody do their own thing. I think that comedically we all meshed really well, and it was one of the most independent of films. It felt everyone was really able to go there with their character the way they wanted.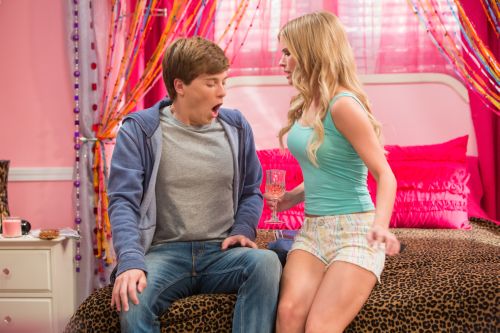 Did anything particularly memorable happen while shooting?
Young: You can't be like camera zooming on your face and saying "mammogram" fifteen times. That's, you know that's my thing now. I knew I'd really hit it big when I did that. Mammograms for everyone, free. Mammograms on me!