SXSW Review: Yakona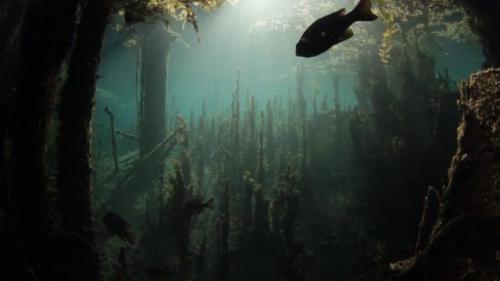 Filmed in Texas and told "from the perspective of the San Marcos River," Yakona had its world premiere at the SXSW Film Festival last week and went on to win an Audience Award in the Visions category. This meditative and visually captivating film can't be neatly categorized, and it will surely speak to the hearts of locals, nature lovers and anyone who has ever taken a swim in the San Marcos.
Filmmakers Paul Collins and Anlo Sepulveda chose to use a Pure Cinema stylistic technique, which relies on vision and movement rather than traditional narrative storytelling (not a single talking head is included and there is only minimal speaking). Instead, with footage captured using underwater cameras and reenacted scenes depicting life from prehistoric to modern times, Collins and Sepulveda create a collage of moments and emotions that together capture the spirit of the San Marcos River and the ecosystem of which it is an integral part.
The river begins at San Marcos Springs, flows through the campus of Texas State University and the city of San Marcos (and is a popular spot for swimming and tubing), and after a few dozen miles eventually joins the Guadalupe River. Often a subject of discussion because it's home to a number of endangered species (including Texas Wild Rice and the Texas Blind Salamander, who both make appearances in the feature), this little swath of Texas is unexpectedly beautiful and extremely delicate.
Though certainly told from a place of love and concern, Yakona is not a preachy documentary that directs a specific course of action. Rather, through creative means it develops as both a joyous celebration of the river and also a somber reminder that its precarious presence, which has so much history and has affected so many forms of life, is worth preserving.
A graceful original score by Austinite Justin Sherburn complements the beauty of the imagery, which ranges from peaceful to gritty. Nature can be cruel and people can ruin so much with expansion and pollution, but the river is a strong force that will not recede easily. "Yakona" means "rising water" in the Tonkawa language, and underlying the film is a sense of subtly persistent optimism (watch past the credits to see a perfect illustration).
Yakona was made with the help of crowdfunding and a grant from the Austin Film Society (Jordan wrote about the film's origins several months ago) and its filmmakers are also known for their work on the local experimental indie Otis Under Sky (Sepulveda co-wrote and directed it and Collins was a producer). No additional Yakona screenings have been announced following its run at SXSW, but with such strong local ties it's likely that wider audiences will have the chance to see it soon.
Keep an eye on the official Yakona website as well as their Facebook page to stay informed, and check out the trailer below.