SXSW Review: Faults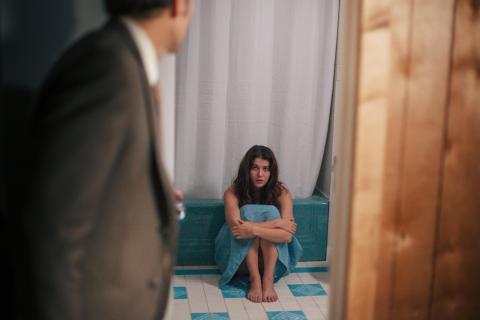 I've never been one for films about cults. I suppose it's because they're such a taboo subject within our society, not to mention they flat out give me the creeps, I've never gone out of my way to watch films on the topic. And no, not even when people gave me the nickname "Martha Marcy May Marcelena." But something caught my attention in reading about Riley Stearns' debut feature film, Faults.
The story starts with a deadbeat guy getting kicked out of a restaturant. He is trying to use a free meal voucher, but the manager knows he already used it the night before. The guy downs his food, then tries to eat all of the condiments on the table. After a physical struggle with the manager, he is thrown out of the restaurant. This is Ansel (Leland Orser), our film's protagonist. What I later realized I enjoyed so much about this intro is that it sets up the main character perfectly: a washed up, once-famous public speaker who will do what he can to con people, even for a free meal.
After learning that Ansel owes money to his manager, who has harshly dropped him from his contract after his second book has failed to sell, we think his luck will change in meeting the parents of an estranged cult member. (The cult is named Faults, thus the movie's title.) They want to get their daughter Claire back, and will pay a hefty amount of money to enlist his help. This is when Ansel's specialty comes into play: deprogramming former cult members. He arranges for Claire (Mary Elizabeth Winstead) to be kidnapped, then plans to spend a few days with her in a motel to make her come to her senses.
One strong element in Faults is how the tables are constantly turning, particularly in the last 30 minutes. One minute we think that Ansel is in control, the next we wonder if Claire has taken the reins. There were several gasps from audience members as secrets were revealed, and characters' true colors came to light. Stearns really makes us as the audience think about what influences us, and how even when we think we are at our strongest, we can very quickly and easily be our most vulernable selves. It really has nothing to do with a cult at all, but rather our own personal humiliation and perseverance that we so desperately want to hold fast within ourselves.
An Austin native, Stearns gave a lovely Q&A afterward speaking toward his fascination with cults, and the creative choices he made for the film. He also pointed out that he's married to Winstead, and shared some anecdotes from the making of the film. (He also did a pre-fest interview with Elizabeth, which you can check out here.)
I'm not sure if I'll seek out any other cult-related films now having seen this one, but I will say I'm glad I stepped out of my box and took a chance on Faults.
Austin connections: Writer-director Riley Stearns is from the Austin area. The restaurant manager in the opening scene is Austin filmmaker David Zellner (whose film Kumiko the Treasure Hunter also screened at SXSW). Actor Jon Gries has appeared in a number of Texas films lately, as has AJ Bowen, who appears briefly as the relative of a deprogramming victim.
You can catch Faults at SXSW one more time tonight (Thursday, March 13) at 9:30 pm at the Topfer Theater at ZACH.