Interview: Wes Anderson, 'The Grand Budapest Hotel'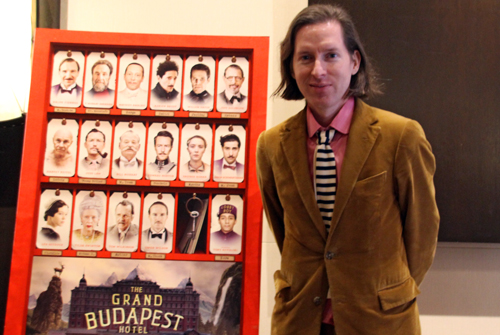 The University of Texas at Austin alum Wes Anderson returned to his home state this month for the premiere of his latest movie, The Grand Budapest Hotel, at the 2014 SXSW Film Festival (Don's review). This adventurous story recounted by the elder Mr. Moustafa (F. Murray Abraham) spans several decades and stars colorful characters including lobby boy Zero Moustafa (Tony Revolori), who accompanies legendary concierge M. Gustave (Ralph Fiennes) in a battle for a priceless painting.
Recurring Anderson ensemble cast members are liberally planted throughout this entertaining and often exotic film, including Tilda Swinton as a wealthy lover of M. Gustave, Adrien Brody as her money-grubbing relative Dmitri, Edward Norton as the police captain Henckels hot in pursuit, Bill Murray and Jason Schwartzman as fellow members of the clandestine fraternal order "The Society of the Crossed Keys."
I joined fellow film critics for a roundtable interview with Anderson while he was in Austin last week. We spoke at length about the production of The Grand Budapest Hotel as well as his personal influences. His unconventional production process lends to the lavishly complex style of his projects including this entertaining film.
I was most struck by how Anderson spoke about many of his characters, alluding to his ability to let them grow and develop on their own rather than be firmly dictated by any preconceived vision.
Discover for yourself through what he had to say in our interview, and meet the cast of characters in The Grand Budapest Hotel.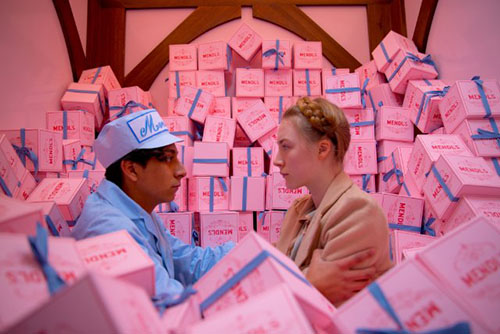 Your movies often emulate the madcap zany comedies of the Thirties, using a foreign director's style.
Wes Anderson: I think that Thirties Hollywood movies had a different kind of pace and energy. Without really planning to, in the Thirties part of our story we kind of gave the rhythm of those periods.
You've referenced as your influences Stefan Zweig -- what about Ernst Lubitsch?

Anderson: Definitely, Lubitsch, we kind of ended up trying to imitate. I thought we were writing something that would be slower, sadder and more elegiac. The part of the story with Jude Law and F. Murray Abraham is a different kind of pace. Once the character that Ralph (Ralph Fiennes) played entered, the movie just kind of dictated that it wanted to be something else.
Any piece of music that drew you into the creation of The Grand Budapest Hotel?
Anderson: No -- the other ones for sure in lots of big ways. With this one, I sort of researched some music, [music supervisor] Randall Poster and I, but we weren't using it. This is the first movie that I've had that's almost entirely an original score. There's not a song in this thing -- there's a little bit of this yodeling in the very beginning and the very end, and that was something that I had early on set aside. The rest of it, we wrote the music having listened to some balalaika and cimbalom music.
I sort of also thought of Third Man with that Anton Karas theme using the zither. We didn't use it, but were inspired by it in a way.
Can you elaborate on the sexual nature of Ralph Fiennes' character M. Gustave, who appears most often prim and proper but also has a strong sexual appeal to women?
Anderson: I would say that these friendships with these older women, they are romantic relationships. There's a degree to which he's kind of like a gigolo a little bit, and he's sort of using them but I don't think he really is. I think that's an aspect of these relationships, but fundamentally they are truly good friends. They do sort of love each other -- all of them -- in whatever ways, but they are more like friendships.
I think the person who he is based on, his thing is that someone says "what are you? are you straight or gay?" -- he says "I've had a bit of each and not enough of either," which we didn't get to use. I think that's his attitude.
Are there moments when you are surprised by your recurring ensemble cast from your films?
Anderson: The whole thing is like that. I just feel like the actors do the script, they don't make up the lines but they make up everything else. Everything else is a lot, they sort of improvise how they are going to do it. It mostly comes from them and they each have their own thing. They own it.
Jeff Goldblum, for instance -- he has loads and loads of dialogue, he has long speeches to give. He shapes them and works them, and I've seen him onstage quite a bit and he's always just amazing. When somebody's onstage, it's up to them. There's nobody there, it's just the actors are there and every night they've got to make things come to life. These guys know how to do that, to just take control of it.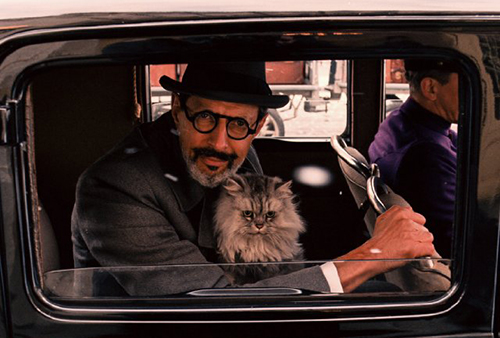 Any particular characters in The Grand Budapest Hotel that changed from page to screen?
Anderson: Even once I had cast them, I didn't strongly picture any of them. They are all people that when they started doing it -- when they had their costumes and we had it all figured out -- I was surprised by every single one of them. They made me laugh when they appeared.
F. Murray Abraham in particular, I didn't really envision what this would be. He has an amazing voice, and even in a group like this he jumps out as somebody who can give you a line reading that really puts some extra feeling or even information about his character. You understand something more about his character just by the way he says something.
What are the logistics of getting all these actors in production -- does that ever present a problem?
Anderson: Not in this one. Sometimes it's a puzzle on how to get everybody done. The Royal Tenenbaums was a bit tricky. We were having trouble with one actor whose part is done almost entirely without another actor, but they have a tiny bit of overlap but they are working weeks and weeks apart from one another -- how are we going to sort this out?
In this one a few people were shot quickly, like Murray, Jude Law, and Jason Schwartzman -- their part was its own little shoot and no one else needed to be there, and we just did their part in a short time. Harvey Keitel, we had for a week or something and he only needed to shoot a few days.
Harvey, on the other hand, wanted to come early, because he wanted to live in the prison with his other inmates before doing his scene. I always say that whatever Harvey wants to do, we are going to do it. I want to make sure that nobody says no, because what will happen is we could just lose him.
I tell everybody in advance, Harvey may have some special requests. He wants to work, we do what he wants. If somebody actually wants to go live in a prison for the movie, that's amazing -- even if it seems like the craziest idea. He's only doing it because he cares about it, and in his process he finds some way to use that.
Your roots are so firmly in Texas, yet you are hardly ever here -- will you consider shooting a film in Texas?
Anderson: I will -- that's good to be invited.
I'm not in America that often. I just arrived here about a week ago, in New York and I hadn't set foot in America in more than two-and-a-half years because we were making this movie. I went to Europe for Moonrise Kingdom to play in Cannes Film Festival, and I never came back. I was never here when that movie was released even, which is kind of a crazy thing that I didn't make it here -- we were just working on this next movie. In Cannes we had these meetings with the German film board, and then I went from Cannes to Germany to travel around.
It's amazing to be back here, it's been so long since I've been in Austin in particular. Yesterday I went around UT campus and went to all these places that I haven't seen in so long. I went to the place that I used to live, and it was very strange. The city has changed a lot, but the stuff is there.

The Grand Budapest Hotel is currently showing in limited release at the Violet Crown Cinema, Regal Arbor, and Alamo Drafthouse Slaughter.
[Photo credit: "Wes Anderson" by Debbie Cerda, for use with attribution upon request.]