Photo Essay: 2014 Texas Film Awards
The red carpet at the Texas Film Awards featured stars from near and far, but the spotlight was mostly on local filmmaker Robert Rodriguez and his cast and crew of El Rey's From Dusk Till Dawn: The Series. Iconic supernatural crime movie From Dusk Till Dawn, which originated it all, was awarded the prestigious Star of Texas award. The award was accepted by Rodriguez as well as by Fred Williamson, Tom Savini, Greg Nicotero and Danny Trejo (pictured above).
This year's event was hosted by master of ceremonies Luke Wilson and honored several Texas-related film industry professionals. Country music icon Mac Davis received the Soundtrack Award, presented by Priscilla Presley. SXSW co-founder and senior director Louis Black received a well-deserved Lifetime Achievement Award, presented by Austin filmmaker Richard Linklater and Variety Executive Editor Steven Gaydos. Other honorees included former Austinite Amber Heard with a Rising Star Award and filmmaker David Gordon Green, whose award was presented by Danny McBride.
Following the awards ceremony, attendees enjoyed The Texas Party with great food and libations, as well as the Lady Luck lottery and a live auction of film-related items and local services. According to the Austin Film Society, "$580,000 was raised for programs that support filmmakers, promote film culture and build a renowned film community." These programs include the AFS Grants, community education and artist services.
During the awards ceremony, attendees enjoyed clips from Rodriguez's films as well as a special performance by Rodriguez's band, Chingon. Rodriguez was joined onstage (pictured above) by former Del Castillo frontman Alex Ruiz with a special dance by musical artist Patricia Vonne -- Rodriguez's sister. Vonne toured as a member of Tito & Tarantula, the band featured in From Dusk Till Dawn.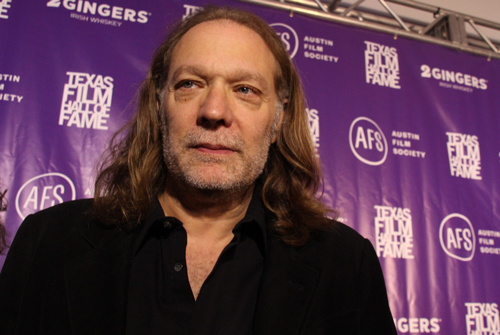 I was most excited to speak with KNB EFX Group's Greg Nicotero (pictured above), well known for his work on The Walking Dead as both executive producer and special-effects master. I had the pleasure of sitting next to Nicotero at the November 2007 special dinner screening of Frank Darabont's The Mist, which in the words of Austin Chronicle writer Marjorie Baumgarten, featured "magnificent moments in which the stunningly crafted beasties in the mist (credit visual-effects supervisor Everett Burrell and creature design and makeup-effects artist Greg Nicotero) come out to prey."
Nicotero and I chatted on the red carpet about the "tendrillicious" dining experience of that night as well as working with Rodriguez. Here's what he had to say:
"Nineteen years ago my first movie with Robert was From Dusk Till Dawn, I've done every one of his movies since then so we've done 16 movies together. You think about the fact that we talked about Jaws, The Thing, and diving with great white sharks -- and now we've done all these things that we've talked about. He literally said to me, "Before we turn 40, we have to go great white shark diving." The year of my 40th birthday, he called me and said, "We're doing it." We went down to Mexico and dove with great white sharks! It was the most ridiculous thing I've ever done in my life. I look at the video and think that we were either really really brave or complete idiots -- I can't figure out which."
I also spoke with him about the authenticity of writer and director Peter Berg's 2013 action drama Lone Survivor, which also featured Saturn Award nominated special effects and makeup from KNB EFX.
"We'd worked with Pete Berg before, and I really like him as a filmmaker," Nicotero said. "I feel like that was a passion project for him and he really did an amazing job with that movie."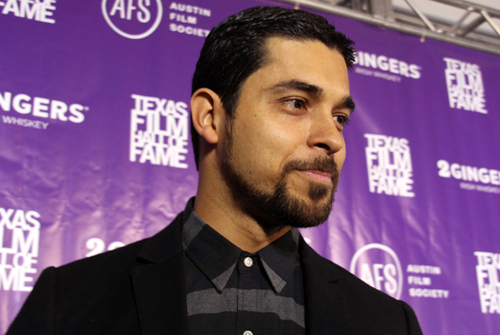 The red carpet also provided another opportunity to speak with Wilmer Valderrama (above) whom I'd met during a recent set visit for From Dusk Till Dawn: The Series. Valderrama is constantly charming and personable during public interactions, and I certainly hope we will see more of him as Carlos Madrigal in upcoming episodes.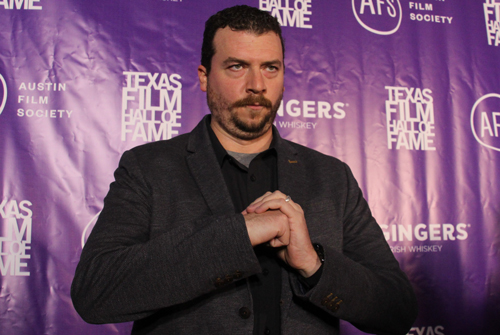 Actor Danny McBride (Eastbound & Down) was also at the Texas Film Awards to present an award to Austin-based filmmaker David Gordon Green. McBride spoke about working wiith Green on The Pineapple Express as well as the new animated comedy Chozen.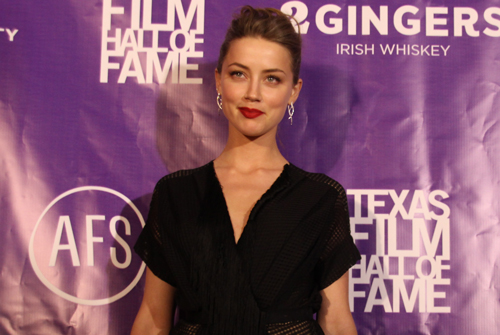 Rising Star Award recipient Amber Heard was accompanied by her fiance Johnny Depp, who made a brief appearance at the event.
See more photos from the Texas Film Awards and After Party on the Slackerwood Flickr set, as well as the AFS Flickr set below (where you can catch a glimpse of Depp):
[Photo credits: Robert Rodriguez and From Dusk Till Dawn Cast and Crew by Rick Kern, Rodriguez with Patricia Vonne and Alex Ruiz by Rick Kern, and AFS Flickr set courtesy of Austin Film Society. All other photos by Debbie Cerda, all rights reserved.]