On the Set of 'From Dusk Till Dawn: The Series'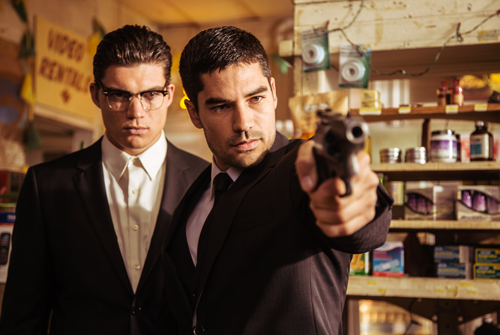 The Gecko Brothers are back, and attendees of the 2014 SXSW Film Festival can see them first at the world premiere of the pilot episode of From Dusk Till Dawn: The Series on Saturday, March 8, 4:30 pm at the Vimeo Theater in the Austin Convention Center. The debut is part of the new Episodic screening category for this year's festival.
The Episodic category was inspired by previous SXSW featured content, including A&E's Bates Motel and the HBO series Girls. Other series featured at this year's fest will include the educational Cosmos: A SpaceTime Odyssey, the comedic series Deadbeat, and Austin writer/director Mike Judge's Silicon Valley. The television premiere of From Dusk Till Dawn: The Series will be broadcast on Tuesday, March 11, 8 pm CST on El Rey Network.
From Dusk Till Dawn: The Series is a re-imagined story based upon the original film but with the addition of new characters and storylines. This includes an intertwining of the Mesoamerican mythology that the main characters, bank robber Seth Gecko (D. J. Cotrona) and his volatile brother Richie Gecko (Zane Holtz), encounter while on the run from Texas Rangers Earl McGraw (Don Johnson) and Freddie Gonzalez (Jessie Garcia).
As in the original movie, in an attempt to cross the Mexican border the Gecko Brothers take a family hostage in their RV -- former pastor Jacob Fuller (Robert Patrick), his daughter Kate (Madison Davenport) and son Scott (Brandon Soo Hoo). However, a pit stop at a remote strip club becomes even more deadly than their past criminal escapades when they discover the establishment is populated by vampires.
From Dusk Till Dawn: The Series has been filming around Texas as well as at Troublemaker Studios in East Austin. Local press were invited last month to visit the set while scenes were being filmed inside the "Titty Twister" strip club set for Episode 6, "Place of Dead Roads," written by Alvaro Rodriguez (Machete, From Dusk Till Dawn 3: The Hangman's Daughter).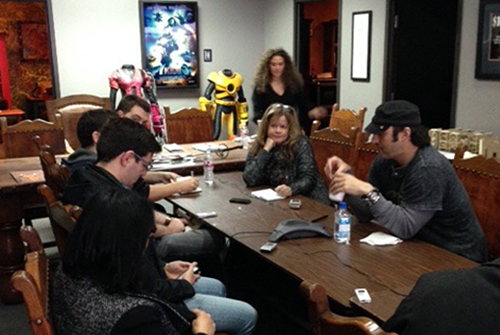 Our small group of press members spent time with the cast and crew including Robert Rodriguez -- seen above during a roundtable interview -- between scenes as well as during lunch and a tour of Troublemaker Studios.
Rodriguez spoke about how the original movie seemed a good fit for a series, due both to its popularity and story:
"I want to retell it -- if the film is a short story, I want to retell the novel version of the book where we tell the story in a different way. With new character motivations, new characters and different fates for different people, and really set up that world more. By this episode we are already filming mid-season; different stuff is happening and much richer stories are being told to carry us into further seasons. So you can't really base it off the first film, you almost have retell the film in a way."
Rodriguez also addressed how references in the original movie From Dusk Till Dawn are being expanded to create entire episodes from minor references as well as brief scenes:
"This could go anywhere. It's so cool and it's so fun to take those things in. Like in the movie, at one point Clooney ["Seth"] leaves Quentin ["Richie"] and goes to check the border, and comes back with some Kahuna burgers. We've never been to a Kahuna Burger -- we have to have an episode where he goes to Kahuna Burger! Something happens there that almost jeopardizes the whole mission and he almost doesn't get the burgers. Something really death-defying happens, and he comes back."
"That's one of the segments in an episode, so you kind of go off in a different alternate reality. And then there are new characters completely, and new storylines really set up (in a way that wasn't in the movie) a much richer mythology for the continuation of the series. In the movie, it was a colliding of two worlds, you just had a kind of Desperate Hours type of situation of robbers trying to get across the border, and then they show up in a bar and there just happen to be vampires. This crime saga has supernatural elements from the beginning."
After our group conversation with Rodriguez, we had a tour of the art and props department, where we saw a lot of the behind-the-scenes hard work and dedication from costume designers to modelers and more. On a personal side note, I have to admit being moved by the artistic and luxurious nature of the interior of the "Titty Twister" set, and can't wait to see how the scene we watched plays onscreen.
Our tour was followed by lunch with both lead and supporting cast members. I spoke to Cotrona ("Seth Gecko") about how he joined the cast and what attracted him to the series. He mentioned that the casting process was pretty quick, "like Robert tends to do everything -- quick and from the gut. They way he shoots is pretty much how he casts."
"He discussed the project and the vision for what it was going to be, and for the network he was creating and the content and creative culture that he was trying to build here. It sounded amazing.
"As an actor, you paint this picture in your head of the best possible working situation. You want to work with a director that you feel safe with and you respect. You want to work with a great cast, but you don't want too many executives and money people kind of manipulating the creative process. Robert's literally created that here. As an actor, it's fantastic."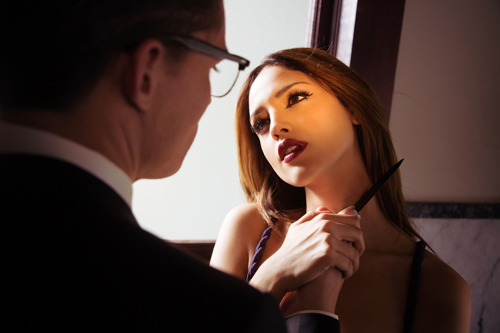 During lunch I also spoke to actresses Madison Davenport, a native of San Antonio, and Eiza Gonzalez (pictured above with Zane), who is making her U.S. debut as the primary queen vampire, Santanico Pandemonium.
Gonzalez talked about Rodriguez featuring women in prominent roles not just for the attraction, but for the "iconic nature of his characters," and often as muses. She spoke highly of 17-year-old Davenport, who's portraying a strong character within a group of troubled men, as well as her own role as the powerful Santanico.
Davenport shared her insight on the aspect of the arc between "the angel and the devil." She said, "I'm not just the angel. We are both such complicated characters, as women truly are. With Robert, they aren't just one-dimensional characters, and we are lucky to experience his vision as he grows and loves the characters."
Gonzalez and Davenport's statements supported Rodriguez's earlier response about how the writing team maintains continuity between episodes.
"I tend to make movie sequels a lot because once you create characters, you fall in love with the characters and you want to explore them in more than one movie," Rodriguez said. "It's almost like doing a miniseries, but you don't conceive of the the whole miniseries ahead of time where as in television you have to."
Fans of From Dusk Till Dawn and El Rey Network viewers won't have to wait much longer to see this visceral, engaging series. In the meantime, watch the action-packed trailer below:
[Photo credits: From Dusk Till Dawn still photos courtesy of El Rey Network and used by permission, "Robert's Conference Room" by Brad Johnson, courtesy of Fons PR, all rights reserved]