Austin at SXSW 2014: Jeffrey Radice, 'No No: A Dockumentary'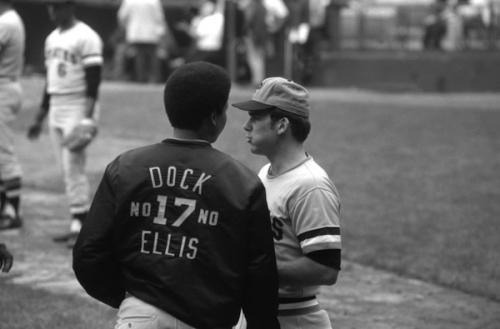 In 1970, baseball player Dock Ellis somehow pitched a no-hitter for the Pittsburgh Pirates while out-of-his-mind high on LSD. Along with his generally brash and outspoken demeanor, this act helped solidify Ellis' legendary status both as a great player and all-around fascinating person, and it's his life on and off the baseball field that Austin filmmaker Jeffrey Radice explores in No No: A Dockumentary.
Making its regional premiere at the SXSW Film Festival this month, No No earned high marks from many who saw it at Sundance and should be a highlight for anyone looking to catch all the Texas-based movies featured this year.
Radice was kind enough to answer a few questions via email for Slackerwood about the film and how it came to be. No No: A Dockumentary will have its SXSW premiere on Saturday, March 8 at the Paramount at 11:30 am and screens again the following Sunday, Wednesday and Saturday (find the details here).
Slackerwood: In what context did you first learn about Dock Ellis's famous no-hitter?
Radice: I heard about Dock's no-hitter in the 1998-1999 timeframe. I had a friend who was a Barbara Manning fan and was familiar with her song about Dock Ellis with the S.F. Seals from 1993 ("Matador"). It turned out to be the first Dock Ellis song of many, including the most recent by the Baseball Project, who will be at SXSW again this year.
I believe the story may also have involved this particular friend seeing Barbara Manning in Atlanta while tripping on LSD, but the details get murky since I thought I had heard it initially through a different mutual friend until my memory was recently refreshed. By the time I returned to Dock's story in 2004, it had become folkloric, although Dock had yet to earn a place on Wikipedia then.
What made you decide to make a film about him?
Radice: I produced a short documentary, LSD a Go Go, which evoked an audience response heavy on anecdotal tales of other people's acid trips. I have come to learn LSD has that effect on people. It got me thinking about Dock and his no-hitter, which I misremembered as a perfect game. The game was far from perfect. One of the ugliest no-hitters ever thrown.
Dock Ellis in the Country of Baseball, his biography by Donald Hall, was the first key. Here was a retired college professor poet who clearly befriended Dock and wrote a fine work of baseball literature. Hall later became Poet Laureate of the United States. Dock surrounded himself with high quality people from all walks of life. His story resonates with people from all walks of life. When I started pitching the film idea to friends and then wider to random people, it always received encouraging feedback along the lines of, "I'm not a sports fan, but I'd watch that movie."
How did being a Texas-based filmmaker come into play during production?
Radice: Firstly, we would never have started production without a boost from the Austin Film Society's Texas Filmmakers Production Fund [Editor: Now known as the AFS Grant]. That was the necessary outside affirmation in the form of recognition and grant money that gave us faith in ourselves to pursue filming interviews. We were blessed with a lot of people who grew up with Dock, knew him, or played baseball with him who are still in Texas.
We were able to catch Scipio Spinks, who was a contemporary pitcher of Dock, while scouting for the Astros at a Round Rock Express game. Enos Cabell and Bob and Carol Watson all grew up with Dock and live in Houston. Dock played for the Rangers and we were able to interview in the Dallas-Fort Worth area Dock's former wife Austine, Ranger's former catcher (now VP) Jim Sundberg, the son of former Rangers owner Brad Corbett Jr. and sportswriter Jim Reeves.
Additionally, the pool of talent we had to draw from in Austin made all the difference for this film. John Fiege is an incredibly talented cinematographer. Sam Douglas was the perfect editor for the project, as evidenced by an editing award we received from the Boulder International Film Festival. Both of these key team members have directed their own documentaries and know what it takes to make an excellent film.
Note, John's doc Above All Else is premiering at SXSW this year [Elizabeth's interview]. We also were able to forge partnerships with production houses like Arts+Labor, who were foundational and invaluable during our final days rushing to completion for Sundance.
How did you feel about the experience of using Kickstarter to fund this project and what did you learn? Would you do it again for a future project?
Radice: Kickstarter and crowdfunding in general are tremendous tools for fundraising in independent film. It's a lot of work, no doubt. The only thing more difficult and nerve-wracking than conducting a successful Kickstarter campaign was actually finishing the film itself. You need to be prepared to work and network and ask for money repeatedly and leave no stone unturned to find it.
A rule of thumb that we found proved true is that you should plan to ask anyone three times for money. That's what it takes. I think we all would definitely do it again on future projects. Crowdfunding seems like it would be an additive process with each successful iteration. After you deliver the first successful film (and all associated perks) you have an audience who you can approach again for your next project. Maybe they won't all contribute, nor would I expect them to do so, but they are definitely qualified leads.
The other thing about crowdfunding is that the path to your goal is crystal clear. When applying for grants, you put in all this work to prepare the application and then send it off to a black box, where funding decisions are made for reasons you have no insight into nor control over. Kickstarter is far more empowering for artists than grants in that regard. You have much more control over your funding goal and your ability to reach it.
What are you most looking forward to doing and seeing at SXSW?
Radice: All I really want to do at SXSW is share the film with local audiences, many of whom helped to create the film in ways large and small. We got a lot of support from friends and the local filmmaking community in Austin and this gives us a chance to share the film in theaters with them.
You make films for audiences, and showing it in front of hometown theatergoers will be a special treat. The Paramount is an amazing theater where I've seen many films, so to show a film there is something of a dream come true. I felt the same way about the Egyptian Theater in Park City and got a little choked up there talking about how Dock refers in No No to this childhood dream of playing in the big leagues and seeing the banners. Playing to an audience at the Paramount Theater is the big leagues.
Then, we get to show the film basically in the neighborhood where the vast majority of the post-production took place, at the Marchesa Theater, which is down the street from my house, my editor's office, and Arts+Labor's offices.