Movies This Week: Travolta, Cary Grant, or Babe?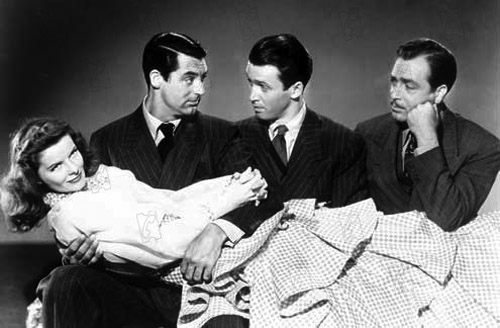 This weekend, downtown Austin is home to a biker rally, and the roaring of motorcycles is already filling the city. Luckily, there's plenty of movie action to keep you off the streets.
Tony Scott's re-imagining of The Taking of Pelham 1 2 3 opens today, putting his Dramamine-inducing spin on the 1974 classic. Scott replaced transit cop Walter Matthau with demoted control man Denzel Washington, making for a filler movie. Normally I don't mind Scott's overly kinetic shooting style, but it was often unnecessary and the changes to the story that seem to exist because the filmmakers don't trust an audience to have the attention span or brain capacity to appreciate a slower, more deliberate film.
The Taking of Pelham 1 2 3 is not bad, but it's just not memorable. Supporting characters that made the original interesting, like Hector Elizondo as Mr. Grey, are marginalized and replaced with non-speaking characters who, in this post-9/11 world, are of apparent Middle Eastern descent. The decorum of Robert Shaw's Mr. Blue is trashed by John Travolta's tattooed and retro facial hair as the foul-mouthed Ryder. In fairness, Scott did not introduce swearing to the script; it was in the original, although uttered by different characters.
I could go on, but James Rocchi says it much better. You can also compare for yourself by watching the original 1974 film online at FanCast.
[Jette interrupts, briefly: I saw the Tony Scott remake and liked it on the level of a "don't think about it too hard" summer flick. Check out A.O. Scott's review for a viewpoint similar to mine, but more elegantly phrased.]
Other new films opening in town this week include Treeless Mountain and Adoration at the Regal Arbor, Summer Hours at the Dobie, and the Eddie Murphy vehicle Imagine That all over town. Rumor has it Murphy only has one role in this one, which makes it almost worth catching simply for that fact.
Bollywood is back at Cinemark Tinseltown with Kal Kissne Dekha. The Dobie is bringing back Sin Nombre, which left the Arbor a few weeks ago. Between Lemon Tree still playing, and Sin Nombre returning, I may catch a couple of films at the Dobie this weekend.
Screen Door Film is showing the film Tattooed Under Fire tonight at 7 pm at St. Edward's, in the Jones Auditorium of the Ragsdale Center. Check out this Texas-made documentary about soldiers and their tattoos.
The Paramount Summer Film Series is outdoing itself with four films on Saturday, including two screenings of Breakfast at Tiffany's, as well as Fiddler on the Roof and The Way We Were. The Chaplin double-feature earlier this week was a lot of fun, with a great, responsive crowd (other than those pesky talkers and crackberry addicts). Later in the week you can get a double dose of Cary Grant with two fabulous leading ladies, Katharine Hepburn and Irene Dunne, when the Paramount shows The Philadelphia Story (pictured above) and The Awful Truth.
If you were hoping to see the Night of the Creeps screening this weekend with a cast reunion and a director's cut, you'd better already have your tickets, because it sold out very quickly. Slackerwood will be covering the event, so you can live vicariously through us.
The Rolling Roadshow is pairing up with Whole Foods for the Whole Foods Sunset Supper & Cinema series on their flagship store's rooftop, starting with Babe on Thursday. The screening is first-come, first-serve and free, and a feast menu is available that includes classic summer food for $15.