SXSW 2014: The Party Before the Premiere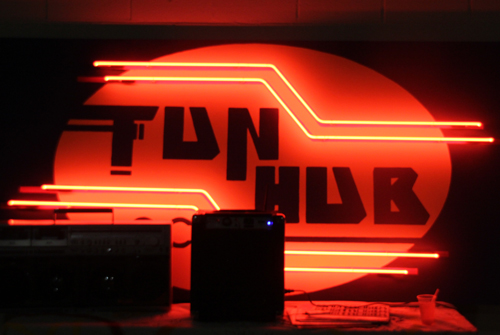 Like Caitlin, I wanted to skip downtown the first night of the SXSW Film Fest and keep the night low-key. A friend and I met at the Marchesa to check out Texas Shorts, and we stuck around for the Austin premiere of Ping Pong Summer. Well, at least that was the plan.
Michael Tully's '80s-tastic movie had a full house waiting for the film to start at 9:30 pm. We were told there would be a delay because of projection issues. A few people left, but most stuck around as Tully endeared himself to the audience with his self-deprecating humor. Debbie, also in attendance, introduced me to some local film folks as people chatted in their seats. Some time later (and some beers later), it was announced that the Marchesa's digital projector was not going to be working at all that night.*
Tully, Holly Herrick (AFS/the film's producer) and Lars Nilsen (AFS) welcomed the audience to the premiere party in the next room, where we enjoyed free alcohol and ping pong. A Fun Hub neon sign had been arranged (pictured at top). As we feted a movie most of us hadn't seen yet, the fest folks worked to arrange a new screening: anyone who wanted was given a queue card for a midnight screening at the Alamo Drafthouse Village. The Marchesa's midnight movie was also moved to Village.
My enjoyment of the film was likely aided by the free drinks, but Ping Pong Summer is winningly charming. (Read Debbie's Sundance review for details.) I would have laughed just as hard without the slight buzz. The Village staff stayed late to accommodate us, and my friend somehow even talked our server into giving us free popcorn. I hadn't planned to stay out til 2:15 am the first night of SXSW, but it definitely made for a memorable evening.
*I heard a rumor that Tim League is lending a digital projector to the Marchesa for the fest duration (I was able to watch Yakona there the next night).
[Photo credit: Debbie Cerda]