Mondo and Oh My Disney Do Not Disappoint with New Show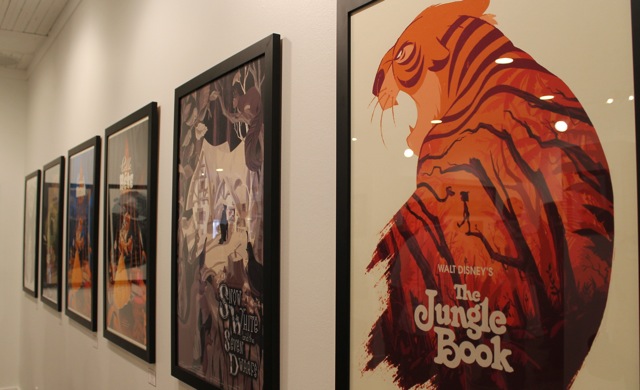 Almost exactly one year ago, I was standing at the intersection on Guadalupe Street outside of the Mondo Gallery, talking with folks who didn't let their all-nighter in line diminish their excitement for the newest Mondo show. Last year, it was all about Tyler Stout and Ken Taylor. This year, Mondo partnered with Disney's blog Oh My Disney to create the same fervor.
Aptly named "Nothing's Impossible," the exhibit drew fans from all over the country, who lined up at the gallery as early as 48 hours before the doors opened. Distance, time and weather could not stand in the way of Mondo's loyal fans. When checking in with the line-dwellers an hour before launch, I heard, "Things are getting exciting. We're all standing now!" The wall of folding chairs and sleeping bags were gone, and if you didn't know better you'd have thought the queue had just formed.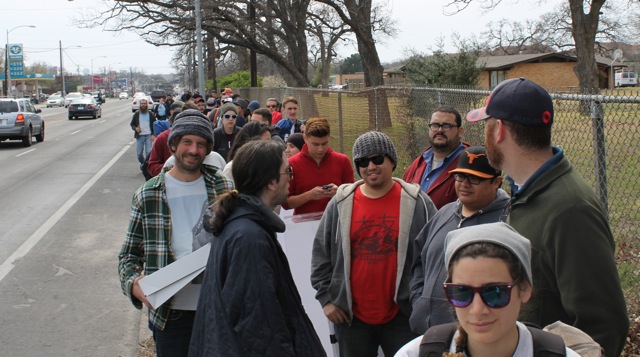 Even before launch day, most of the artists involved with the show had been announced, and they included an incredible number of Mondo alumni, such as Martin Ansin and Jason Edmiston. Most of the poster art had also been revealed, although a few surprises were held back. The most buzzed about -- "What was Olly Moss showing?" -- turned out to be a beautiful Jungle Book print.
Mondo and Disney wanted this show to "explore decades of beloved Disney films and characters," and did so by featuring new favorites like Wall-E as well as more obscure titles like The Skeleton Dance and The Cat from Outer Space. There was something there to please every type of Disney fan.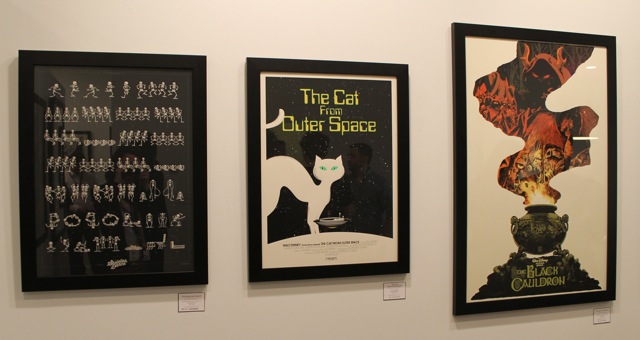 Mondo is certainly no stranger to Disney properties, having previously worked with artists Anne Benjamin and Tom Whalen to bring titles such as The Little Mermaid and DuckTales to life (Whalen was actually on hand at the Nothing's Impossible opening to sign his new and previous prints). But typical Mondo shows tend towards the more gritty, horror, masculine genres. So it was a refreshing surprise when they announced the large collaboration with Oh My Disney.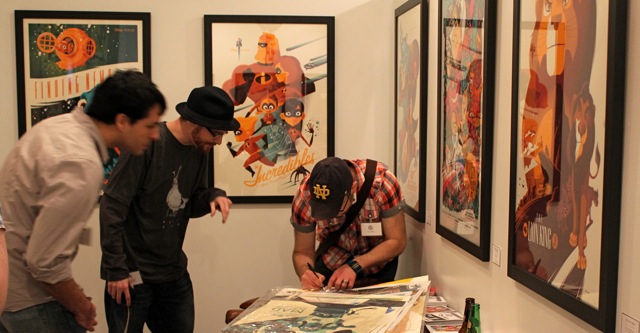 I wondered, though, were the folks in line newcomers lured by Disney subjects, or an indication that the typical Mondo fan is also a Disney fan? One guy in line who said he always travels from Phoenix to be at the Mondo shows was sporting a Wall-E t-shirt - a good sign that he has always been a Disney fan. Another woman in line, however, mentioned that she'd been a Mondo fan for a while, even standing in line for other gallery events, but it took the Disney connection to justify her spending the night on Guadalupe Street.
The folks at Mondo even mentioned that they'd already seen a higher population of women at the Nothing's Impossible show than typically at Mondo events, adding that the work of two female artists hung on the walls this time around.
It all points to the fact that Mondo and Disney both greatly benefitted from the collaboration. Mondo expanded its audience, and Disney proved again that even the most horror-loving fan still has a soft spot for Mr. Incredible.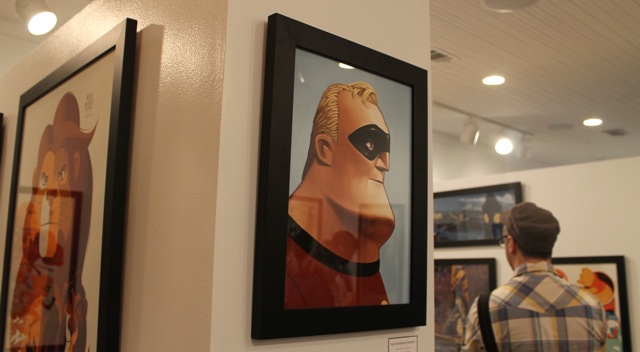 The Nothing's Impossible show is open to the public through Tuesday, March 11 at Mondo Gallery, 4115 Guadalupe St. (Author's note: I absolutely loved the show, but I'm still waiting for a Robin Hood poster.)
[Photo credit: Katy Daiger Dial.]