Unraveling Mondo's Mystique at the Stout /Taylor Opening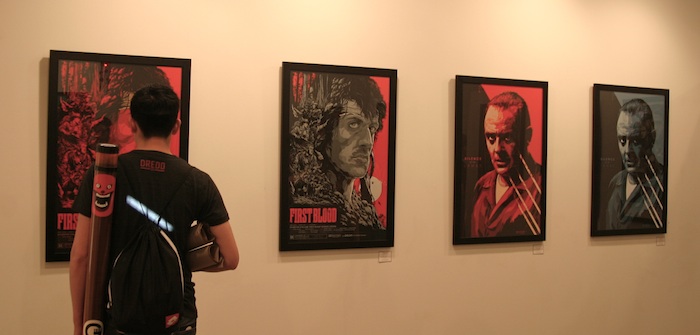 Stallone, Hopkins and Gosling all welcomed visitors on Friday to the latest Mondo gallery event featuring new works by artists Tyler Stout and Ken Taylor. And by "welcomed," I mean their likeness graced the posters on the wall. With this new show, Stout and Taylor have brought Austin a wonderful collection of works that showcases the artists' unique styles that have made them famous. Stout's filled frames were no more prevalent than in his poster for Attack the Block and previously released Django Unchained, while Taylor highlighted his detailed, realistic representations of famous faces in his posters for First Blood and Silence of the Lambs (pictured above).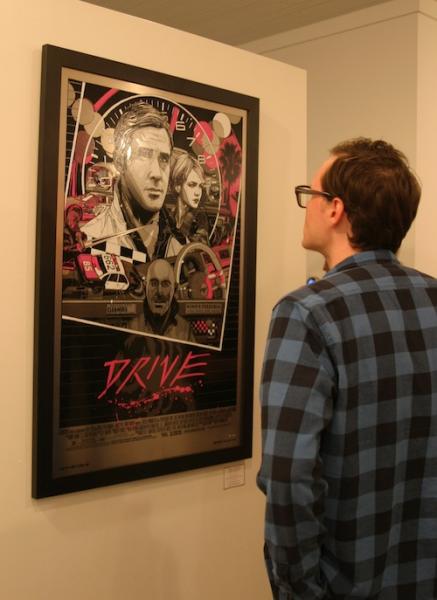 I myself am rather new to Mondo and poster collecting. I have a small, cherished assortment of pieces, including the Tom Whalen Dumbo and the Olly Moss Princess Mononoke. I enjoy keeping up with Mondo openings and tracking the posters that are getting the most internet chatter. But after the incredible response by Mondoites (Mondonians?) over the Stout and Taylor event -- more than 200 people were in line for the show before its opening, some of whom had been there for 24 to 48 hours beforehand -- even the most fair-weather fan has to take notice. One homeowner in the neighborhood behind the Mondo galley told me, "I've seen everything in Austin, but I've never seen this."
What is it about Mondo that has built this perfect storm around a company with very humble beginnings? If it's about the art, I get it. Mondo showcases beautiful original pieces of art that if I had the disposable income, I would love to purchase. (I'm looking at you "Heart & Will" by Jacob Bannon.) At the Stout and Taylor show, I became fascinated by the artistic details -- Taylor's woolly clouds and the effect of Stout's work on metal (like the Drive prints above and below, right) and wood (like the Django print below, left). But Mondo posters for art's sake isn't the whole story, or else all Austin art gallery openings would have people camped out for days.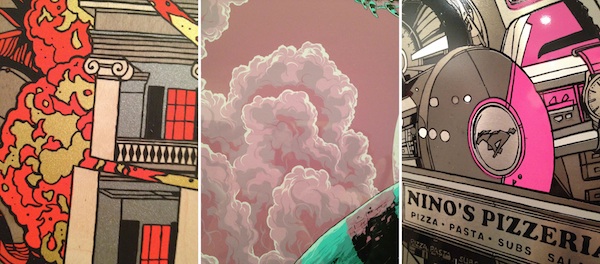 I talked with a group of self-proclaimed "hardcore fans, but gallery virgins" who had come all the way from California for their chance at a Taylor or Stout masterpiece. They'd been waiting in line for over 24 hours and were numbers 65-69. They were in good spirits 30 minutes before the doors were set to open, excited to be part of Mondo history. When asked about whether it was their love of art or film or simply collecting that drew them to Mondo, they responded, "All of the above -- I mean it's the adventure. It's a great story to tell people."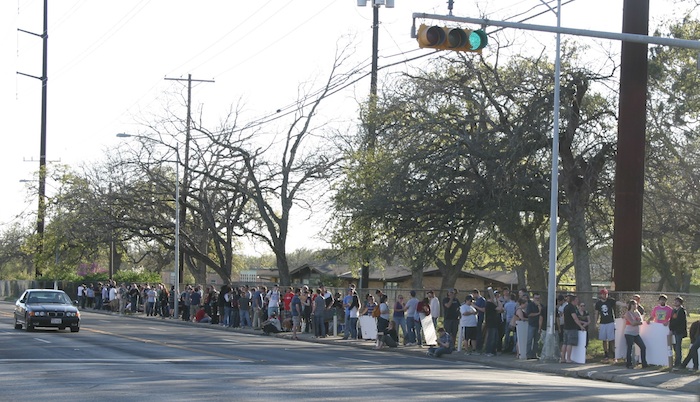 Many Austinites in line had been there just as long as the Californians and were repeat customers of Mondo. "I love the experience of being out here [and] being with the people. It's an addiction." This was a common theme -- being around like-minded people who share in your same passion, more specifically a passion that outsiders probably view with confusion. This makes sense given that camaraderie is what keeps most "geek culture" thriving.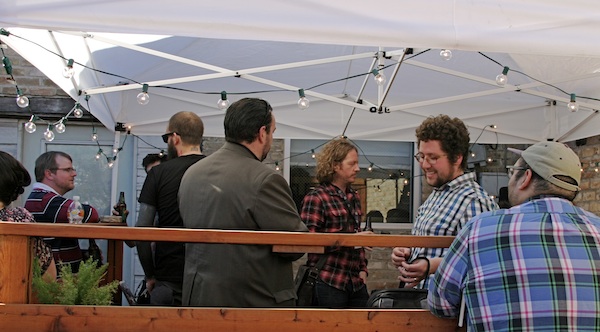 These line lovers, however, obviously expected something more than a good conversation from their experience -- and even the presence of the artists (that's Taylor above in the checked shirt). One Mondo fan summed it up: "It's the rarity of the prints. They're only available at the show, so we line up early to get our hands on something that's very unique." The art/collector world has always worked this way of course, but clout and mystique have to be built first before a product can be considered truly valuable. If the success of the Stout and Taylor show and other recent big name collaborations are any indications, Mondo has reached that sweet spot.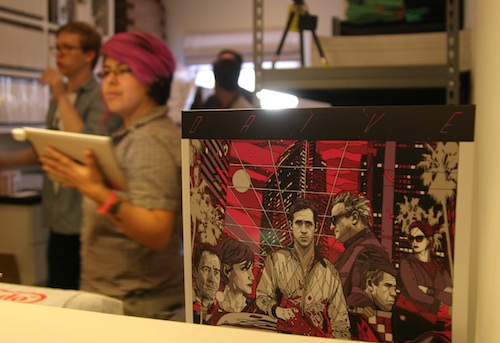 Lest you become cynical and think that everyone is in it for the money, most collectors I've met are hard pressed to part with their Mondo property. When asked about whether he'll keep his 200+ poster collection, one fan emphatically replied, "Oh yeah, I'm a hoarder." Amongst the sea of folks waiting for the gallery opening, it was hard to miss the poster tubes and foam core cases waiting to protect their prized possessions. Still, I'm not that naïve -- I'm sure some people in line intended to make money off their long wait (just check eBay for proof), but many saw owning a "piece of history" the payoff for their time commitment.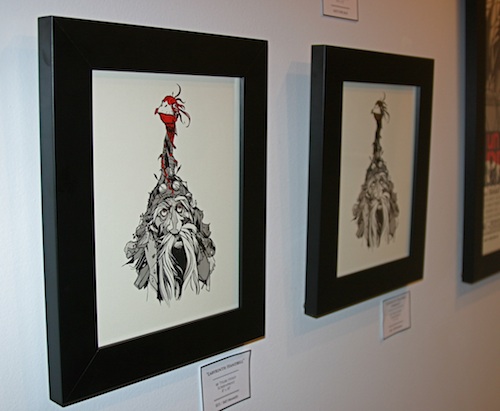 I easily capitulated to the power of Mondo and walked away with Taylor's gorgeous Metropolis and American Werewolf variants. Why did I buy them? Because they were my perfect combination of beautiful art related to films my family loves. What's Mondo's own secret sauce? It seems to be creating a quality product around beloved properties for a group of fans who will remain loyal as long as Mondo does.
Sure, Mondo's perfect storm is not the only game in town with other poster shops, both new and old, making a name for themselves with quality artistic work connected to popular film properties. But, the overwhelming and deserved response to the Ken Taylor and Tyler Stout show will only keep driving Mondo's stock higher. A neighbor living several blocks down from the Mondo Gallery told me he had to ask a coworker why there would be people camped out near his house. "I'd never heard of Mondo before, but I won't forget them."
The Ken Taylor and Tyler Stout show is open to the public through April 6 at Mondo Gallery, 4115 Guadalupe St.
[Photo credit: Katy Daiger Dial.]