Austin at SXSW 2014: John Fiege, 'Above All Else'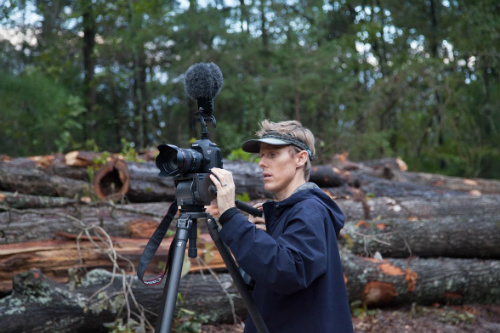 John Fiege is an Austin director whose interest in environmental issues -- he holds an M.S. in cultural geography and environmental history -- plays into his filmmaking decisions. His 2007 film Mississippi Chicken (Slackerwood review) documented immigrants working at a rural Mississippi poultry plant, and his newest work follows Texan landowner David Daniel as he protests the Keystone XL pipeline.
Fiege directed, produced and served as cinematographer on Above All Else, which will have its world premiere at SXSW in a couple of weeks. Before the fest, he was able to take part in the following interview via email.
Slackerwood: What drew you to document David Daniel's fight against the Keystone XL pipeline? How did you first hear about his story?
John Fiege: In fall of 2011, I started making a film about the BP oil spill in South Louisiana, but the Keystone story was in the news and caught my attention. It was another potential environmental disaster with people from a wide diversity of backgrounds organizing to stop it before it became another BP. The pipeline was slated to end in Texas, where I live, so I began hunting for Texas landowners fighting the pipeline.
When I met David Daniel, his soft-spoken nature, his sincerity, his extensive knowledge of the issues really struck me, and his devotion to protecting his land and his daughter from Keystone XL. He told me he was a former stunt man and circus performer and since he had used up all the other, more conventional attempts to stop the pipeline, he was planning a tree-sit in the woods behind his house to block it. I knew immediately that I had discovered the makings of an amazing film.
What was the filmmaking process like for this film?
Fiege: I was hunting for a story that was in progress or hadn't even happened yet. My intention was to film the resistance to the pipeline from the point of view of the landowners and when I met David, I knew he would be a great focus of the story, because he was central to the movement in Texas and the cinematic possibilities of filming a tree village going up were unlike anything I had seen.
At first, I didn't know whether David was actually going to put platforms in the trees or whether anyone would show up to support him. As it turned out, a passionate bunch of local landowners, nearby college students, and environmental activists from around the country gathered around him and his plans to do a tree sit, and I was able to document that as it happened.
I included extensive interviews of David and many of the other characters along with the observational footage to learn their backgrounds, intentions and emotions. Many of the characters also shot their own videos along the way, and we used a lot of that footage and archival news footage to give more breadth and context to the story.
How long have you been working on Above All Else?
Fiege: I began developing a documentary about the impact of the oil industry back in the fall of 2009. I began shooting in Louisiana after the 2010 BP oil spill, but once I became aware of the Keystone battle, I turned my attention to that story by the beginning of 2012, at first as part of the BP story. My team and I began shooting in March of 2012, and by the summer of 2012, the story was growing so rapidly that I decided to focus the film exclusively on the Keystone story. We completed principal photography by the fall of 2012. We had to focus on fundraising from late 2012 through summer of 2013, when we began editing.
What are your thoughts on being a filmmaker in Austin?
Fiege: The longer I'm in Austin, the better place it becomes for filmmakers. The filmmaking resources here are phenomenal -- from crew, to local grants, to art film screenings -- thanks largely to the Austin Film Society, SXSW, the Austin Film Festival, The University of Texas, and other resources.
It can be a challenge to make a living in Austin or raise any significant money for films. For me, though, the affordability of the city and the richness of the creative community make up for the lack of available cash.
Any recommendations for out-of-towners attending SXSW?
Fiege: Bring a bike lock and rent a bike to get around. No matter what part of the festival you're attending, make sure to catch a film and some music.
Above All Else premieres at SXSW on Monday afternoon, March 10 at the Paramount, then screens Tuesday, March 11 at Alamo Drafthouse Village and Saturday, March 15 at Topfer Theatre at ZACH. [more screening info]
[Photo credit: John Fiege filming Above All Else, courtesy of Keegan Curry]