Austin at SXSW 2014: Kat Candler, 'Hellion'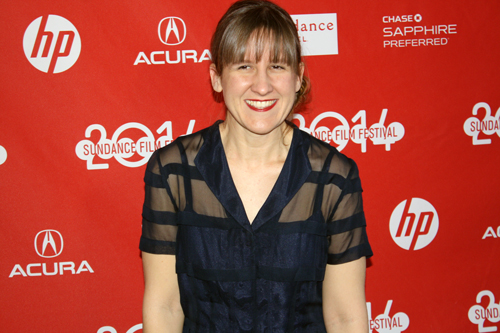 Last month while at Sundance Film Festival, I spoke with local filmmaker Kat Candler -- seen above at the Sundance 2014 premiere -- about directing her feature film Hellion. which makes its regional debut in the Festival Favorites section at SXSW on Sunday, March 9, at the Topfer Theatre at ZACH. Check out my Sundance review of Hellion here.
This was the third year in a row that Candler and Austin producer Kelly Williams (Cinema Six, Pit Stop) made the trip to Park City in support of their film projects. In 2012, the filmmakers attended the fest for the premiere of the short version of Hellion. Last year, the gripping dramatic short film Black Metal debuted at Sundance and was even selected for the Sundance Festival's online Screening Room. Williams also received a fellowship to the 2013 Sundance Creative Producing Lab, where selected producers receive creative and strategic support as well as direct funding for development and production.
This year brought even more attention to the talents of Candler with the feature-length movie Hellion, starring Aaron Paul, Juliette Lewis and in his acting debut, Dallas-based Josh Wiggins. The supporting cast includes actors from the original short including Deke Garner and Jonny Mars in this emotional drama about a widower and his sons who are grieving for their deceased mother in their own destructive manners.
Here's what Candler had to say about Hellion as well as the future of Black Metal:
Slackerwood: How did you develop Hellion from a short to feature film?
Kat Candler: When we did the short, we never expected to make a feature out of it but I really loved those characters and I loved that world so much. I wanted to hang out with them a lot longer, and figure out why they were making the choices that they were making. I took the idea of the absent mother in this family of men and boys, and started thinking about the history of this family and where they came from and why they are where they're at.
The best part about writing and developing the story is the research. When we realized that we wanted to shoot in southeast Texas, in this refinery town, my producer Kelly Williams and I would just go down continually, and spend long weekends and meeting all different kind of folks there. With all of the locations, we would go live and breathe in, like the room where all the boys are sort of in a boot camp. You would see all the little tiny details and the subtleties that I couldn't make up. That's one of my favorite parts of the process -- being introduced to a world, and trying to make that world as rich as possible on the page and then on the screen.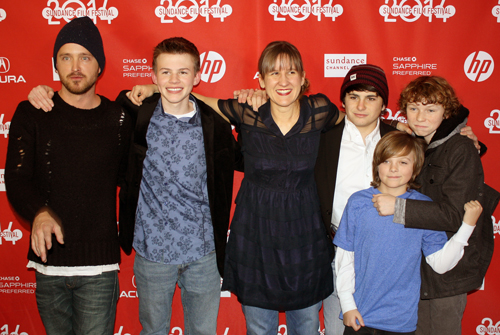 What was it like both directing seasoned Aaron Paul and newcomer Josh Wiggins in his first film? How did the characterization of their relationship develop?
I met Aaron last April, and knew that I was really excited about him doing a different kind of character. When I met him in person, he was such a lovely human being and I knew that he would take good care of these boys that he was going to be working with.
With Josh, it was like the first time that he walked in a room for an audition and started reading scenes, I was like, "This is my kid." He is so flawlessly authentic and real, and you don't see that -- it's so rare especially with kids.
When we started rehearsing in southeast Texas, I had Aaron and Josh in the house that we were shooting in that is their house and they read this one scene. Both of them just worked off each other so beautifully. Aaron is so easy to work with, he's up for trying anything. Also ultimately he was such a great introduction for Josh as an actor to learn from, to grow from, and to work off of. I know that Josh learned a ton from Aaron, and Aaron has definitely taken him under his wing.
Can you speak about Juliette Lewis' role as the aunt who is a quasi-surrogate parent?
I feel like I definitely identify with that character quite a bit in that I don't have kids. I've always wanted kids, and I haven't had the opportunity. I have nieces and nephews in Austin that I babysit all the time and I adore those kids. At one point my husband and were talking about adoption, and he wasn't sure until he spent some time with my nieces and nephews. He realized that he could love a child that wasn't his own flesh and blood. That resonated with me in a big way. Those nieces and nephews, I would go to the ends of the Earth for them.
Handheld camera work can be a challenge -- how did that process contribute overall to Hellion?
The handheld allowed us to do a lot more within a small amount of time, and it also was a lot more intimate with this family and these kids. That was always a point from the beginning with how we wanted the film to look. Brett Pawlak is awesome and such a wonderful cinematographer and wonderful human being -- he's really great with actors, in terms of figuring out how to give them their space, and let him be sort of a fly on the wall to bring out their best performances.
Any lessons learned in the making of Hellion to share?
We definitely didn't have enough days. You can always use more days, but working with kids you are restricted by how many hours you can work a day, so it would've been nice to have a little bit more wiggle room. But with that said, we definitely rehearsed quite a bit up front, and I think the performances onscreen really popped and really get through.
Without spoilers -- can you talk about the ending?
It's a movie about taking responsibility, and that was always the one word that I would have on my laptop on a Post-it. Everything revolved around responsibility, and how these characters are going to take ownership. The ending definitely had several different versions, always leading to the characters taking responsibility for their actions.
We were down there and seeing the landscape and what kind of environment that we had to work with for this story. This one element that I will not reveal became a huge piece for this family, and the transition of getting over this mother's death. The very last shot in the film was always in my head, that image of the very last frame of the film is something that I felt so strongly about, so powerful to me as a filmmaker and a storyteller.
What kind of feedback have you received about Hellion?
It's been a really sweet outpouring of kindness. I'm so proud that the performances across the board are getting rave reviews -- that means the world to me. I am so proud of my boys, several of which have never acted before. Especially being able to show Aaron Paul in something they've never seen, with him playing a different character. The cast are all just so fantastic, and Juliette [Lewis] is so tender and sweet.
Do you have any other projects in the works?
We were at Sundance last year with Black Metal, and so that's the next project that I'm diving into and expanding into a feature as well. I'm loving all this madness, but I'm definitely anxious to get back to my laptop. I'm open to more projects. My heart right now is with this metal project, because I feel like I was so introduced to this world in the last year or so and I want to explore it even more. It's important to me to see the persona on stage, and then what it looks like off-stage and the reality and the humanity of it.
[Photo credits: Kat Candler on the red carpet at Sundance 2014, Hellion cast with director Kat Candler on the red carpet at Sundance 2014, used by permission of Leslie Langee, used with permission, all rights reserved.]