SXSW Photo Preview: 'Boyhood' Red Carpet at Sundance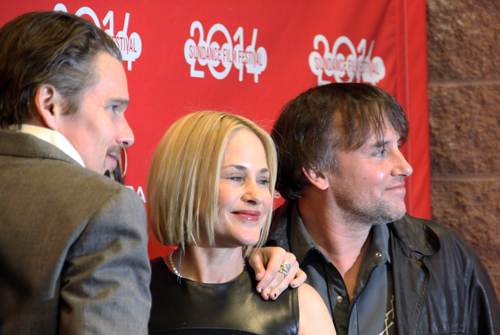 Attendees at this year's South by Southwest (SXSW) Film Festival will finally have an opportunity to watch the coming-of-age family drama Boyhood, written and directed by local writer and director Richard Linklater over a period of a dozen years. Shot for a total of 143 scenes in intermittent 39 days, Boyhood was well received at Sundance Film Festival last month where it debuted even before the credits were completed. Linklater -- seen above with Boyhood stars Ethan Hawke and Patricia Arquette -- seemed quite pleased that the movie had reached its own maturity.
Filmed from 2002 to 2013, Boyhood covers 12 years in the life of a family with a focus on the young Mason (Ellar Coltrane) and his older sister, Samantha (Lorelei Linklater). They must deal with the impact of their divorced parents' decisions and actions while maturing into their own individuals who can determine the course of own lives. Read my Sundance review here.
At the recent Berlin International Film Festival, Linklater received a Silver Bear for best director. Boyhood also received prizes from two independent juries -- the Guild of German Art House Cinemas and the Berliner Morgenpost Readers' Jury Award.
In 1995, Linklater won a Sliver Bear at the Berlin Festival for Before Sunset -- the only movie of the Before series filmed prior to the beginning of Boyhood --as well as the Adrian Kutter Guild Award. Kutter of the Biberach Film Festival was one of the Guild of German Art House Cinemas jurors who selected Boyhood for this year's award.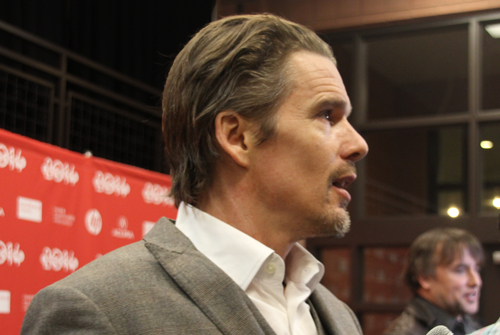 I spoke to Ethan Hawke (pictured above) on the red carpet at Sundance before the premiere screening about his character in Boyhood.
"This character was so different to me," he said. "This is much more about fatherhood; the Before series is really about romantic love. This is a movie that is really about family, and addressing that aspect -- how family intersects with time as opposed to how romantic love intersects with time. And so the characterization for me about this one -- I never had to worry about how Jesse progressed over time in the Before series, it was three little windows.
"But this one is one movie, so I was having to think about where he was going. I had a very clear portrait in my head."
When asked what attracts him to a project, Hawke said it's the "same thing that attracts anybody to any kind of job -- who are you working with, and who is it in service of. Is the script going to be good? Is the director going to work? You want to make good movies. That's the funny thing -- of every bad movie made out there, a bunch of people thought that it might be good when they started."
I also asked Hawke about the role and future of independent filmmaking. He said, "It's always a battle, but that's our job. Anybody who's interested in that kind of medium. If you are interested in art besides commercial entertainment, it's always a struggle."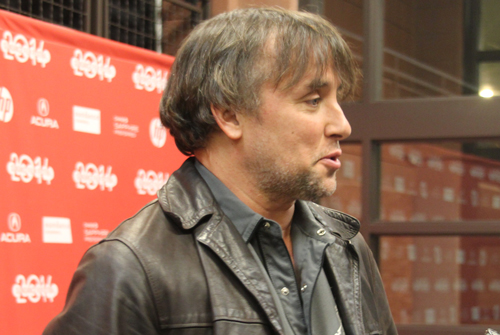 I also talked with Linklater (pictured above) about how he structured the film over so many years, as he has mentioned that he had a very specific process for the Before series. He shared that he had it "pretty mapped out, the architecture was kind of there but then I had that year of gestation every year to be able to dial in. You just think every year. I knew the last shot of the movie by year two but the details of it were in flux."
When asked about how he maintained continuity throughout the lifespan of Boyhood and the changes over the last year, Linklater said, "I'm more amazed at how little things have changed -- I think the movie spells that out. People change, we all get a year older but the culture changes? This is my observation -- it doesn't change that much, less and less. If you went 1959 - 1971, think of the cars and the fashions. if you go 1969 - 1981, you get these huge cultural shifts -- everything's different.
"I'm amazed at how little has changed in this culture. Cars kind of look the same, fashions aren't noticeably different. That's my observation, my own little scientific scrutiny. Technology changes, phones, etc. -- all that's moving fast."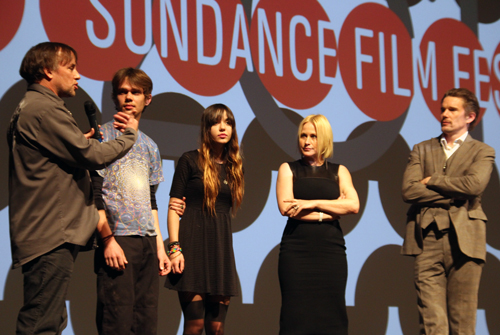 After the Sundance screening, Linklater and the Boyhood cast addressed questions from the audience. Hawke commented that unlike some directors, Linklater thoroughly involves his cast members in the characterization of their roles. Arquette grew closer to her onscreen children by taking them some weekends for sleepovers, which definitely lends to the natural and realistic relationship between the film's characters.
Boyhood screens at SXSW on Sunday, March 9, at 10:30 am at the Paramount Theatre. The running time of Boyhood is 164 minutes, so plan your day accordingly. I'm sure that this screening will fill up so arrive early -- badges take priority over film wristbands -- if you want to guarantee you'll see Boyhood during SXSW. Otherwise, you can wait for its theatrical release, as Boyhood was picked up by IFC Films for U.S. distribution.
[Photo credits: All photos by Debbie Cerda, for use by request and with attribution.]