Sundance 2014 Dispatch: Party with Austin Filmmakers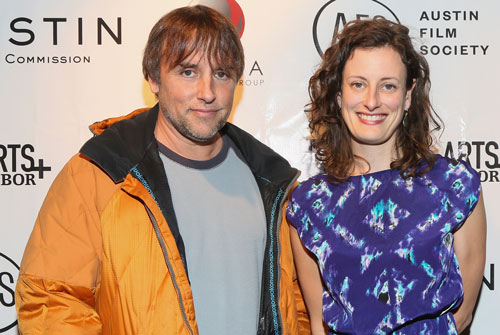 This month's major "Film on Tap" event that I experienced was the "Austin at Sundance Party" at the Wasatch Brew Pub & Brewery. This Main Street brewpub, founded in 1986, was the first brewery in Park City since Prohibition, and features ski and snowboard movies every Monday night. More importantly, Wasatch was a great respite from the frenzy of Sundance premieres and liquor-heavy events elsewhere, with great craft beer and food at the Austin Party.
The party was co-sponsored by the Austin Film Society (AFS) and the Austin Film Commission, in honor of seven films that debuted at this year's Sundance Film Festival. AFS founder and writer/director Richard Linklater debuted his long-awaited film Boyhood last week to a full house at Eccles Theatre with over 1,200 attendees. Linklater is seen above with AFS Associate Artistic Director Holly Herrick, who also produced Ping Pong Summer, a whimsical underdog story written and directed by Michael Tully.
Lea Thompson played a supporting role as Mrs. Miracle in Ping Pong Summer -- seen below with producer Herrick. If you are a fan of underdog stories including the classic 1979 Meatballs, then you'll definitely enjoy Ping Pong Summer.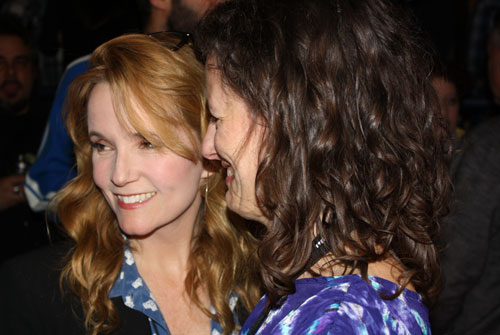 I don't see Nathan and David Zellner often in Austin, so it was great to see the brothers making the social rounds in support of their dramatic feature Kumiko, The Treasure Hunter -- read my review here.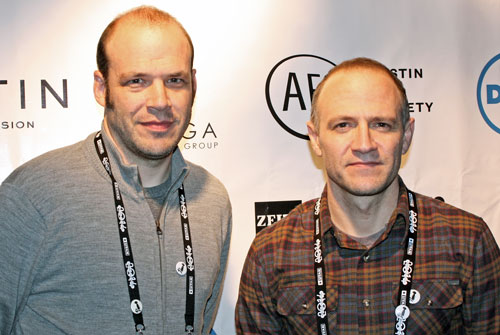 Three-time Sundance filmmaker Kat Candler premiered her feature-length version of Hellion -- she's seen here with SXSW Film Festival Janet Pierson. I had a chance to sit and chat with Candler at Sundance -- check back later for my review of Hellion and interview with Candler.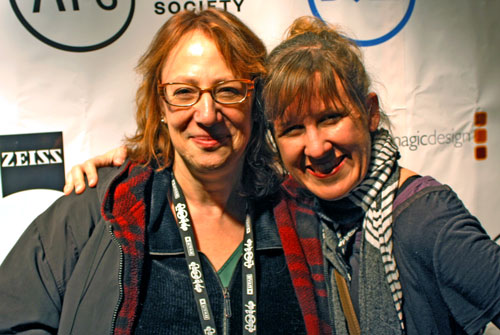 The Arts + Labor team including co-founders Kristen Johansen-Berg and Alan Berg (center front and back row) were in full force at Sundance Film Festival in support of several Austin-based film projects. Arts + Labor co-produced Hellion and No No: A Dockumentary as well as director Todd Rohal's short film, Rat Pack Rat.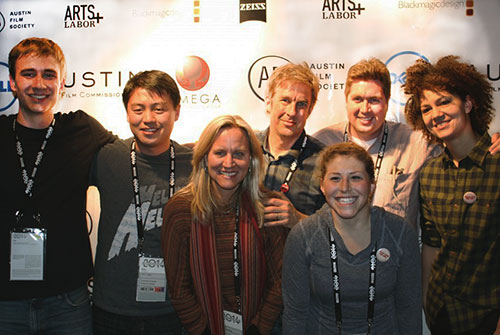 Jeffrey Radice and members of his No No: A Dockumentary filmmaking team, as well as cast and crew from Todd Rohal's Rat Pack Rat, were also in attendance. A.J. Edwards' The Better Angels, produced by AFS board member Nicolas Gonda (who's produced To the Wonder and The Tree of Life) also premiered at Sundance last week.
There were a few other big names hanging out downstairs at the Wasatch Brew Pub away from the crowded party, including singer and Sundance jury member Tracy Chapman and Boyhood star Ethan Hawke. Even Magic Mike co-star Joe Manganiello -- who had his directorial debut with La Bare across the street at the Slamdance Film Festival -- stopped by to check out the Austin action.
See more party images courtesy of the Austin Film Society here.
[Photo credits: Top photo courtesy of Austin Film Society, additional photos by Leslie Langee courtesy of Nuclear Salad, all rights reserved.]