Review: August: Osage County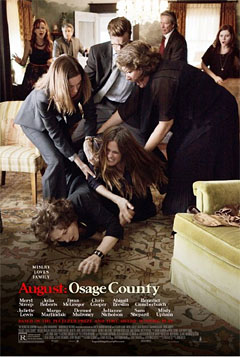 Of all the things to pop into my head while watching August: Osage County, quotes from a Noel Streatfeild "Shoes" novel would seem to be the very least likely.
But there it was -- I kept recalling quotes from Theatre Shoes, related to a family of actors in the book. (Bear with me a minute as we digress into young-adult lit.) Sorrel is a 12-year-old girl who is learning to be an actress, and her Uncle Francis is a very grand and haughty actor-manager who "very consciously acted when he was acting and ... thought there must be something wrong with a performance which came naturally and easily."
In another series of quotes, Sorrel and her teacher discuss Uncle Francis's ambitious daughter Miranda taking a turn as Ariel in The Tempest, a role Sorrel also plays:
"Miranda's brilliant -- and yet, as Ariel you give the better performance, and that you'll find all the way through your stage career. It's getting inside the part that matters, and I think you've got inside the part as your uncle wanted it, and Miranda hasn't."
"But he said he would bet Miranda would be a great actress."
"So she will. Great like Edith Evans, perhaps ..."
Enough with the quoting, you say -- what does this have to do with an all-star adaptation of a Tracy Letts play (scripted by the playwright) led by Meryl Streep and Julia Roberts?
In August: Osage County, we watch Streep and Roberts give performances "with a pronounced personality and bursting with talent." (Sorry, these Streatfeild quotes are just too apt.) Streep in particular isn't acting; she's Acting. And while that can be impressive in its way, I found it tiresome, especially since few of the characters in this play are sympathetic or frankly, very interesting.
Streep plays Violet Weston, a rural Oklahoma woman fighting cancer who is short on tact and long on drug addiction. When her husband Beverly (Sam Shepard) disappears, she gathers her family around at the old family home for some extended tirades of verbal abuse and self-pity. The family includes her three daughters, portrayed by Roberts, Juliette Lewis and Julianne Nicholson.
Streep and Roberts are the film's primary focus -- Roberts' character Barbara is having marital troubles, among other problems, and also she's plain. Rather plain. The movie goes to great pains to tone down Roberts' looks so she appears bleak and haggard to underscore her ... Acting! (Yes, I keep hearing Jon Lovitz too.)
These characters -- as well as Juliette Lewis -- might be considered fun to watch in an overdone, campy sort of way. Perhaps August: Osage County will be our generation's Whatever Happened to Baby Jane? with midnight screenings where the "catfish scene" is re-enacted. Alamo Drafthouse will serve fried fish and Rebecca Havemeyer will emcee. I give it a year.
But when I watch a movie, I want to believe in the characters. I never saw Violet Weston onscreen, I saw a bravura performance from Meryl Streep, very consciously Acting. The same was true of Roberts and Lewis. Julianne Nicholson gave the only believable female performance ... of possibly the only likeable character in the movie. You could argue that the problem is that Streep and Roberts are too physically recognizable for us to see the characters and not the actresses, but I didn't have this problem with Ewan McGregor in the same film. Or with any number of well-known actors and actresses I saw this year, from Cate Blanchett in Blue Jasmine to Paul Rudd in Prince Avalanche.
The actors in August: Osage County are more believable than the actresses, and I'm not sure whether that is because they are in supporting roles, because they were originally written to be more subtle, or because John Wells seems to have a better handle on directing actors than actresses. The female characters in The Company Men, his previous film, are all cartoonish stereotypes while the men are eager to Build Something. But as in Wells' prior film, Chris Cooper is one of the highlights, understated yet compelling.
I enjoyed William Friedkin's adaptation of Tracy Letts' Bug -- Ashley Judd's role also tended to be overdramatic, but it worked there, as her character was more grounded and her transformation more gradual. Violet is "a pistol" who comes out shooting with both barrels in her first scene, and I suspect I would find the character tedious no matter who played her. During a long dinnertime scene in which she holds court over her family, I kept wishing for God's sakes that the ceiling would please collapse and crush all these horrible people so I didn't have to watch them any longer. But the movie kept plowing through its 121-minute running time.
August: Osage County was tedious and disappointing. I shudder to think what Sorrel's drama teacher would have made of it. (Posy Fossil would have fallen asleep but then, she always does.) But if you delight in watching what one of my colleagues calls "going full Streep," this is your chance.