What's Streaming: Starting Fresh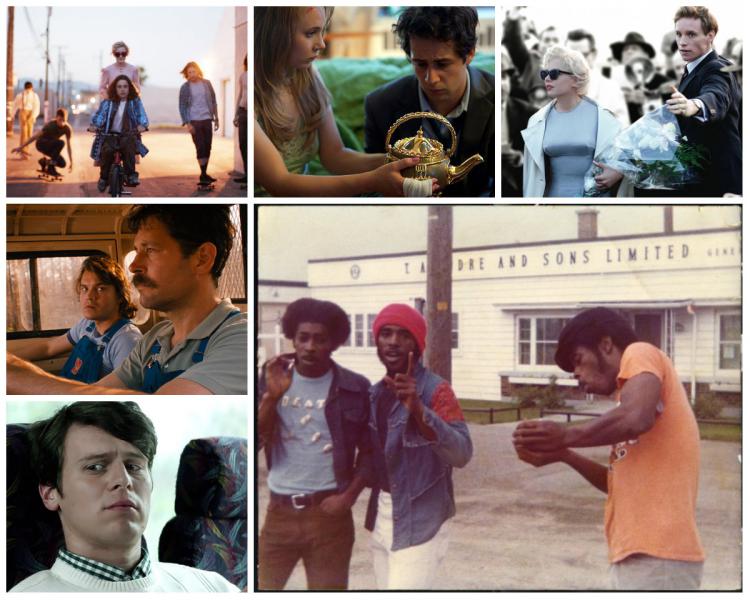 Many of us tend to think the start of the New Year means the start of another year of getting older. Life catches up to us in one way or another, and sometimes we focus on the negative before we can see the positive. This New Year, someone told me they weren't sure they believed that a new year necessarily meant that you could start over. I had to kindly disagree with them.
A New Year might just seem like another notch on the belt, but it really is a chance to set new goals for yourself. Not just the usual "lose weight/exercise every day" sort of goals, but a chance to do something different and new with your year. We never realize how much time we have left until it's too late; why not take advantage of that realization in 2014?
This month's selection of films feature characters and stories about wanting to make a new start for one's self or, if anything, figuring out how to refresh their current situation at hand. Hopefully they will inspire you to take hold of this year and make it your own. After all -- it only happens once a year!
C.O.G. -- As a big David Sedaris and Jonathan Groff fan, there was no way this film was going to get past me. Groff plays David, a cocky twentysomething college graduate who decides to go off the radar for a while by working on an apple orchard in Oregon. Thinking he is the intellectual superior to everyone he meets, he quickly realizes how out of his element he is when he sees that he is in an outcast in this small community of farmers and immigrants. The film itself is full of those typical, Sedaris-esque moments of awkwardness, humor and discomfort all rolled into one. Groff's character is one that you want to hate, but end up rooting for by the end. It's a true example of the discovery that none of us is better than anyone else in this world. Available on Netflix, Amazon Instant and iTunes.
Prince Avalanche -- Writer/director David Gordon Green takes a break from his string of stoner comedies to bring us a film closer to his earlier work, and shot in Central Texas. The story centers around Alvin (Paul Rudd), an uptight highway road worker who enjoys being on his own, and Lance (Emile Hirsch), the doofus brother of Alvin's girlfriend who can't seem to get his life straight. Alvin's strict responsibility and Lance's lazy attitude put the two men at odds with each other, each struggling not only with the women in their lives, but the thought of what happens when their jobs come to an end. Rudd and Hirsch have a great onscreen flow to their relationship, growing from a strong dislike to an ultimate peace with one another. A great story about setting a new course for one's life, and the realization it takes to get there. If you need more convincing, check out Elizabeth's review from SXSW. Available on Netflix, Amazon Instant and iTunes.
Electrick Children -- This is yet another film in the "Marcie Missed This at SXSW And Has Continued To Look For It" collection. Centered around Rachel (Julia Garner), a 15-year old Mormon girl living in a rural community, this story provokes the thought that perhaps miracles are possible. When she discovers she is pregnant after having listened to a rock-and-roll cassette tape, Rachel believes the singer on the tape is the father of her unborn child and that she must set out to find him. What follows is a journey into a world Rachel could never imagine, and the discovery that sometimes the things we are taught aren't necessarily what's right. Featuring some beautiful imagery from cinematographer Mattias Troelstrup, as well as a great score by Eric Colvin, this film just might change the way you listen to music. Available on Netflix, for purchase on Amazon Instant and iTunes.
The Brass Teapot -- Although I wrote a preview of this film several months ago, I wasn't able to catch it until recently. The question the film proposes is simple: If you found a magic teapot that would give you money in exchange for hurting yourself, would you do it? That's the question that newlyweds Alice (Juno Temple) and John (Michael Angarano) must ask themselves when they happen upon said teapot in an antiques store. What seems like a (somewhat) harmless and easy way to get themselves out of debt ends up spiraling out of control, coming to the choice of hurting each other in order to get richer. Some pretty big lessons are learned in the end, and John and Alice must decide what is most important to not only themselves, but their marriage as well. Although not a completely original premise, this film did leave me asking myself the question of how far would I go to get money... I'm a big baby when it comes to pain, so probably not far. Available on Netflix, Amazon Instant and iTunes.
My Week With Marilyn -- I've always been fascinated by the circumstances surrounding Marilyn Monroe's death. I've read articles about how she seemed fine and how her death came as a shock; I've also read that she seemed to be unraveling and that her death was no surprise to anyone who knew her. Whatever the case may be, this film gives an insider's account of his time and relationship with Monroe during production of the 1957 film The Prince and The Showgirl. Actress Michelle Williams captures Monroe perfectly, all the way down to her forgetfullness and insecurity that has been much written about. It made me realize how much more there are to all of those old Hollywood movie stars we so often read about, what was true about them and what wasn't. Although I'm certain most of this was glamorized, the film nonetheless gives you a dreamy and romantic story about a week spent with The Blonde Bombshell. Available on Netflix, Amazon Instant and iTunes.
A Band Called Death -- After hearing a lot of buzz about this documentary (both pre and post-SXSW), I was pretty pumped to discover it was already available online. I can't quite recall the last time I was so compelled by the story of a band's history. However, it's not only the band's story, but the way filmmakers Mark Christopher Covino and Jeff Howlett piece the film together for their audience. They start with the band's humble beginnings (three brothers playing around in their bedroom), their fall from the spotlight, then back up to their recent revival. This is probably the first documentary that I can recall being very emotionally moved by. The way brothers Bobby and Dannis Hackney talk about their music, as well as the relationship the three of them had making it, is incredibly inspiring and moving. In the end, the film proves that a goal or dream will come about in its own time, even if it's many years later. Available on Netflix and Amazon Instant.

[Stills from A Band Called Death, C.O.G., Prince Avalanche, Electrick Children, The Brass Teapot and My Week With Marilyn.]