Watch 'The Brass Teapot' in Austin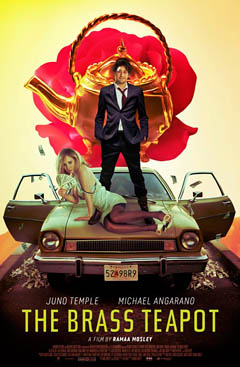 Indie film The Brass Teapot will be making an appearance in Austin on Thursday, May 23. Ramaa Mosley makes her feature directorial debut with the movie, basing it off of her 2007 short of the same name. Tim Macy scripted both the short and the feature.
It stars Michael Angarano (Sky High, Snow Angels), Juno Temple (Dirty Girl, Killer Joe) and Houston native Alexis Bledel (Gilmore Girls). it originally premiered at the Toronto International Film Festival in 2012, and hasn't screened in Austin previously.
The Brass Teapot follows John (Angarano) and Alice (Temple), a young newlywed couple struggling to make ends meet. Feeling down on their luck, they happen upon an antiques store where Alice discovers a unique brass teapot. It appears to be just another junk-store find until the couple discovers that the teapot can give them all the money they desire -- in exchange for hurting themselves.
Vowing to stop once they hit their first million, John and Alice go on a journey of black eyes, burnt hands and any other ailment in between. The story very much follows the theme of "be careful what you wish for." The film also features an all-star cast of Bobby Moynihan, Matt Walsh, Jack McBrayer and Alia Shawkat.
The screening is made possible by Gathr, a new service with the simple goal of bringing films to a city or town that might not otherwise get to screen it (or at least not get to screen it for a while). It's similar to Austin-based Tugg in the sense that it's a screening-on-demand model, in which a minimum number of tickets must be reserved in advance in order for the screening to take place.
The screening starts at 7:30 pm, and tickets are still available for only $10.Be sure to reserve your seat soon if you want the screening to take place. (Who knows when this film will hit Austin theaters!) The screening must meet its ticket quota in a little less than a week.
You can out find more information about The Brass Teapot screening on the Gathr website.
[Editor's note: A specific venue for this screening won't be set until more tickets are sold. I'll update this article with that info as soon as it's available.]