Movies This Week: 2013 Year-End Edition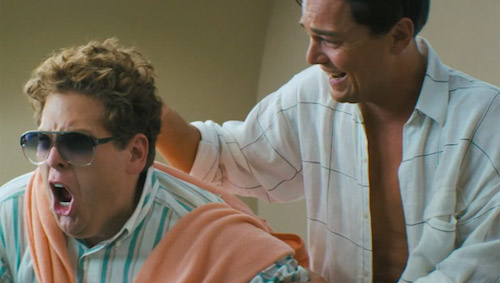 We may not have any snow in Austin, but there's a cinematic avalanche at area theaters this week and it rolls through to the end of the year. Honestly, I think the studios are pushing way too many titles into the marketplace for the holidays and a few of these wide releases are going to fall victim to pure audience apathy (I'm looking at you, Walter Mitty).
There's a lot to cover, so I'm just going to break down what is out this week and what else will be opening on Christmas Day. If you've got some time off work in the next two weeks and want to head to the movies, we'll have reviews of almost all of these films that will be posting between now and next weekend. One thing's for sure, there's a little something for everyone.
If you want to see some holiday movies in a theater, various Alamo Drafthouse locations are showing It's a Wonderful Life, A Christmas Story and a quote-along version of Elf. Alamo Kids Camp returns for the holidays with several family-friendly selections, most notably Hugo. (So your kids can enjoy some Scorsese this season too.) And on Dec. 30, to get you in a New Year's Eve mood, Alamo Ritz's "Cinema Cocktails" series continues with The Hudsucker Proxy. (You know, for kids.) Blue Starlite Drive-in also has some holiday favorites and other crazy double-features before finishing off its winter season at the end of the month.
Now Open In Austin
American Hustle -- David O. Russell hasn't wasted any time between awards seasons. After earning raves for Silver Linings Playbook, he returns with the unlikely true(ish) story of a con man and his seductive partner forced into participating in an FBI sting operation to bring down a bunch of public officials. Christian Bale, Amy Adams, Bradley Cooper and Jennifer Lawrence are all uniformly excellent in this surprisingly funny story, but it remains to be seen if it will be able to beat the 8 Oscar nominations Playbook picked up last year. Don has our review and he really enjoyed it, although he ultimately feels that it's "a triumph of style over substance." (wide)
Anchorman 2: The Legend Continues -- If you're a fan of Ron Burgundy, you already know what to expect. It's more comic absurdity from Will Ferrell and company, but a host of pretty amusing cameos are on display as well. There's no way that anybody is going to be swayed by a review one way or the other to see this, but my take on the film can be found here. (wide)
Inside Llewyn Davis -- Every year, there's a movie that most critics lose their mind for that I am unable to fall in line with. This year, it's the latest Coen brothers effort. While I didn't really enjoy the movie (except the brief portion when John Goodman is onscreen), I ran out and bought the soundtrack on vinyl right away after seeing it. Jette was "fascinated" by the movie, even though she admits that "no one in this film is particularly likeable." That's the understatement of the year! Look for her review this weekend. (Regal Arbor, Violet Crown Cinema)
Saving Mr. Banks -- The Walt Disney Company explores a slice of their own history by showing us how Mary Poppins was adapted into a motion picture after 20 years of Mr. Disney (played by Tom Hanks) battling author P.L. Travers (Emma Thompson) for the screen rights. Elizabeth's review says the film "is enthralling whenever Emma Thompson is onscreen and less so when she's not." The film's flashback structure just doesn't work, often serving only to set up ridiculous plot points later on, but i'll concur that Thompson gives a remarkable performance. (wide)
Walking With Dinosaurs -- This 3D family adventure is an Americanized spin-off of the popular BBC series from 1999. We didn't get a chance to see this one in advance, but it's hard to imagine the target audience being disappointed if their winter break includes a trip to the theater for it. (wide)
Opening on Wednesday, December 25
47 Ronin -- Not screened for local critics, this martial arts epic starring Keanu Reeves was originally announced for release by Universal last fall and then saw its date change a few more times before oddly settling on a Christmas release. Variety has already reported that the Japanese release a few weeks back "tanked," so it's probably not going to fare much better here in the U.S. (wide)
Grudge Match -- Peter Segel's first film since 2008's Get Smart adaptation, this is a tale of two retired boxers (Sylvester Stallone and Robert DeNiro) who head back into the ring. J.C. says, "Sadly, the potential for a truly great sports drama with redemption-seeking characters is reduced to a slapstick film with a grumpy old men shtick that just doesn't work." Look for his review next week. (wide)
Justin Bieber's Believe -- The Canadian pop sensation may have hinted at his early retirement this week, but that isn't stopping him from cranking out yet another behind-the-scenes documentary. Not reviewed. (wide)
Mandela: Long Walk To Freedom -- While it may be crass to say the Weinstein brothers lucked out on this one, Mandela's recent death takes this biopic from what could have been a difficult sell to a film of interest for a wider audience. Look for Elizabeth's review next week. (Regal Arbor, Galaxy Highland, Tinseltown North, Tinseltown South)
The Secret Life Of Walter Mitty -- Loosely remade from the 1947 film starring Danny Kaye, this ambitious film has been in development since 1999. It's been attached to multiple directors, stars and studios, but finally landed in the hands of Ben Stiller. He directed and stars as the title character, a Life employee who daydreams through life and then can't find the negative of the image for the magazine's final print cover. While not without its charms, the movie lacks a consistent tone and seems confused as to what it really wants to be. Marcie seems to like it better, calling it "fantastically inspirational." Check in next week for her review. (wide)
The Wolf Of Wall Street (pictured at top) -- Martin Scorsese reteams with Leonardo DiCaprio for one of the year's most exhilarating films. Don't be put off by the three-hour running time. The first two hours are absolute perfection and then, while there is a bit of a lull, it still manages to pack quite a punch. Many standout performances include Jonah Hill and a hysterical supporting role from Rob Reiner. It's a risky Christmas Day release, not only for its length but also for the explicit content. Having barely avoided an NC-17 rating, this is a flick for when you sneak away from your family. Jordan has our full review next week. (wide)
Movies This Week will return on Friday, January 3.