Alamo Drafthouse Shares Their Favorite 100 Films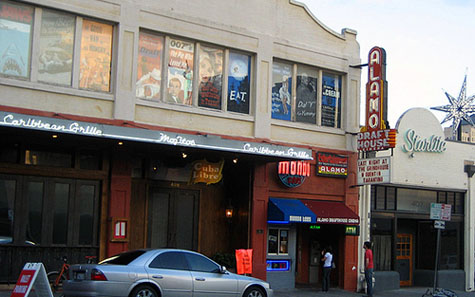 What are your five favorite movies, the ones you can watch over and over, that you would pick to watch if you were stranded on a desert island with nothing else to do for the rest of your life? That's what the Alamo Drafthouse asked fans this week in a question that hinted at the subject of a secret event and announcement last night by Tim League and the Austin Alamo programming team.
That announcement was the creation of the Alamo 100, the essential list of films as selected from the top 100 favorites of each of the Drafthouse programmers: Sarah Pitre, Greg Maclennan, Joe Ziemba, Tommy Swenson, RJ Laforce, and Tim League. Intended as a celebration of the best movies to watch, the list is not bound by genre, nor is it stuffy and limited to "classics." It begins, alphabetically, with 10 Things I Hate About You and ends with You've Got Mail, but includes many titles one would expect, such as Casablanca, The Godfather (Part I and II) and Pulp Fiction.
As a celebration of the list, Drafthouse theaters nationwide will screen seven of the titles in January -- Brazil, The Goonies, Raging Bull, Raiders of the Lost Ark, Sixteen Candles, City Lights and Monty Python and the Holy Grail -- with more to come throughout the year. Those who attend these screenings will receive custom buttons created for each film, which included the secret title from last night's screening, the 1931 Charlie Chaplin film City Lights -- Tim League's #1 pick, which also made the lists of three other programmers.
The Alamo 100 site includes not only the complete list, but also the top 100 chosen by each programmer. Lists will be added later for the local programmers in each region the Drafthouse serves. Visitors to the site can have fun comparing the lists to their own personal favorites.
There are arguably just too many movies to possibly include all the great titles, actors and directors in a list of only 100, and everyone will have their own favorites, but this eclectic mix was chosen based on how high a film scored on any programmer's list as well as how many programmers included it, and it may cover a broader spectrum of films than any other top-100 list to be found.
Some interesting statistics (if I have compiled the information correctly):
Number of pre-1980 films: 45 (1980 and later: 55)
Number of female directors: 7
Most-represented decade: the 1980s, with 27 films
Least-represented decades: 1940s with 4, 2010s with 0. (There were 4 from the 1920s and 1 from 1915, but very few feature films were made during those years.)
Most-popular stars: Bill Murray and Harrison Ford each appear in 4 titles
Most-popular director: Wes Anderson with 4 titles [Editor's note: Billy Wilder has three titles as writer-director and one as writer.]
Ed Wood: Only director on the list to be biographied by another film on the list
Notably absent (in no particular order): James Bond films, Jaws, The Fifth Element, Total Recall, The Terminator, Tom Cruise, Dustin Hoffman, Arnold Schwarzenegger, Die Hard, Brad Pitt, Stallone, Star Trek: The Wrath of Khan, Close Encounters of the Third Kind, Lon Cheney, Meryl Streep, Philip Seymour Hoffman, Burt Reynolds, Bela Lugosi, Boris Karloff, Vincent Price, Studio Ghibli
What do you wish was on the list? Here's the video montage for upcoming screenings: