Holiday Favorites: Jarod Neece Loves His 'Christmas Vacation'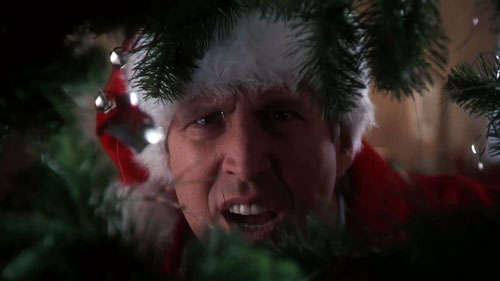 Welcome to Holiday Favorites, a series in which Slackerwood contributors and our friends talk about the movies we watch during the holiday season, holiday-related or otherwise.
Today's favorite movie recollection comes from SXSW Film Festival and Conference Producer and Senior Programmer Jarod Neece. He is also the co-founder and editor of the popular Austin food blog Taco Journalism, and co-writer of the new book, Austin Breakfast Tacos: The Story of the Most Important Taco of the Day. His pick is also a favorite of mine:

The holidays are a special time for me and always have been. Living in the South my whole life it's the one time of year we get a little cold weather, I love the smells, the lights, the sounds, the traditions -- I'm a certifiable holidork! I love so many holiday films but the one movie I watch each and every Christmas season is National Lampoon's Christmas Vacation. I am a fan of all the Griswolds' adventures (even Vegas Vacation!) and they each hold a special place in my heart.
Christmas Vacation has so many memorable scenes and so much funny and snarky commentary. From the nostalgic "trapped in the attic" scene to the hilarious and epic "Christmas lights aren't working" scene. From Cousin Eddie to Aunt Bethany to everyone in between -- I can't get through a holiday season without it!
My favorite scene is near the end of the film when Clark finally gets the bonus check he's been waiting for all week. But when things don't turn out as planned, he goes on an epic rant about his boss and inspires Cousin Eddie to take matters into his own hands. Christmas Vacation! The gift that keeps on giving!
Related: David Hartstein wrote about Christmas Vacation in 2011.
Want to watch? The Alamo Drafthouse is offering a National Lampoon's Christmas Vacation Quote-Along tonight at Alamo Drafthouse Ritz and on Sunday, December 22 at the Lakeline location.

You can rent National Lampoon's Christmas Vacation at Vulcan Video (and we're guessing at I Luv Video too, although their database isn't online), and it is available to buy as a DVD or Blu-ray. You can also watch online through Amazon -- if you are a Prime member like me, it's free to stream -- or Netflix.