Their Holiday Favorites: David Hartstein's Annual 'Christmas Vacation'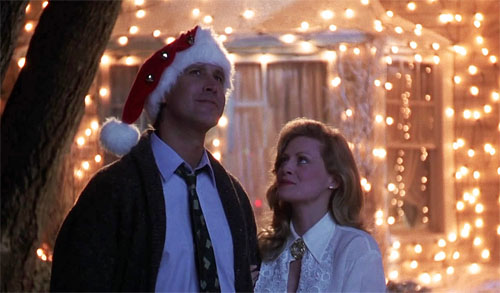 Welcome to Their Holiday Favorites, a series in which members of the Austin film community tell us about movies they enjoy watching during the holiday season. Austin filmmaker/producer David Hartstein (Along Came Kinky, Where Soldiers Come From) has been traveling out of the country recently to work on his Untitled Israeli Football Documentary, but was able to take a minute to tell us about a certain Christmas movie he can't miss.
I'm Jewish and there are no Hanukkah movies worth your time. So until Mel Gibson's Judah Maccabee project sees the light of day and despite marrying a Lutheran last year, I still feel like a Christmas movie interloper. But sure, like anyone else I do have a go-to list of Christmas movies that put me in the holiday spirit: It's a Wonderful Life, A Christmas Story, Miracle on 34th Street, Home Alone, Die Hard, Eyes Wide Shut and Emmet Otter's Jug-Band Christmas (technically TV).
The one standout for me, however, is and always will be National Lampoon's Christmas Vacation. I first saw Christmas Vacation at the (now boarded up) Rockville Center Twin on Long Island. I owned the Vacation trilogy on VHS (pre the very underrated Vegas Vacation) but it was stolen from me in college. Sort of like a parent, I love all of the Vacation movies fiercely and equally (perhaps I'll be asked back by Jette for that guest column in the future?) and I can't pick a favorite, but when I found out my wife had never seen Christmas Vacation I went out that very day and bought the Blu-ray, which immediately won her over to its charms.
If you're wondering, it's a pretty crappy transfer, but I don't care. I love the Christmas Vacation opening animation and song (performed by Mavis Staples!), I love the continued re-casting of Rusty (Johnny Galecki) and Audrey (Juliette Lewis), I love Clark's obsessive, quixotic quest for a "good, old-fashioned family Christmas" that surely only exists in the Christmas movies he would have seen. I love the return of Cousin Eddie ("Shitter's full!"). I love every throwaway line which I can and do quote ad nauseum. I love every slapstick bit reminding me how good Chevy Chase can be (Christmas tree and house light bits have great narrative arcs too!). I love the happy, madcap ending!
But most of all I love how Christmas Vacation manages to pull off the near impossible feat of maintaining traditional Christmas movie sentimentality while skewering it at the same time. It's written by and based on a National Lampoon story by John Hughes, so there you go. I'll leave you with this quote/tirade from Clark himself, which surely says it better than I ever could:

"Just where do you think you're going? Nobody's leaving. Nobody's walking out on this fun, old-fashioned family Christmas. No, no. We're all in this together. This is a full-blown, four-alarm holiday emergency here. We're gonna press on, and we're gonna have the hap, hap, happiest Christmas since Bing Crosby tap-danced with Danny fucking Kaye. And when Santa squeezes his fat white ass down that chimney tonight, he's gonna find the jolliest bunch of assholes this side of the nuthouse."

Fun fact: Frank Capra III, grandson of It's a Wonderful Life director Frank Capra was the Assistant Director on Christmas Vacation.
Want to watch? National Lampoon's Christmas Vacation is available at the south Vulcan Video location. You can also rent it as streaming video from Amazon.