AFF Review: Hellaware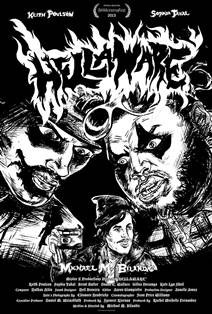 Written and directed by University of Texas graduate Michael Bilandic (who we interviewed before Austin Film Festival began), Hellaware is a playful modern morality tale that explores the ups and downs a young photographer experiences while trying to make himself a part of the New York art scene.
Hellaware stars Keith Poulson (Somebody Up There Likes Me) as Nate, a slacker with abstract dreams of fame and just a few vague ideas about how to actually achieve it. After his girlfriend (Kate Lyn Sheil) dumps him to be with the pigtail-wearing Brooklyn artist of the moment, he descends into a downward spiral of self-pity and complaints. One night while attempting to mute his sorrows with booze, drugs and the internet, Nate and his friends (played by Sophia Takal and Duane C. Wallace) stumble across something on YouTube that is mesmerizing in its repulsiveness.
An absurd rap/rock video made by an Insane Clown Posse-type group (they're called the Young Torture Killers) captures Nate's attention, and before he knows it he's setting off to Delaware to track down a bunch of violence-obsessed teenagers with a taste for purple drank. Nate looks down on the group (he thinks they are backwards and terrible musicians), but is also intrigued by their authenticity. These audacious kids are different from the pretentious wannabe-artists he's surrounded by, and ultimately he hopes to capitalize on their rawness to his own advantage -- ideally in the form of a photography show that will jumpstart his career.
What follows is an arrangement where Nate takes what he wants from his subjects (exploitative photos they haven't given permission to use), and then a sleazy art gallery owner in turn takes advantage of Nate. Talk of truth and beauty goes out the window when money and notoriety beckon, and soon enough everyone starts to show their ugly sides as tempers flare, friendships tangle, and egos get really, really big.
Though Hellaware is framed by the kinds of topics discussed by serious culture critics, it tackles them using the cover of satire and thankfully never takes itself too seriously. Be ready for over-the-top personalities and lots of jokes about hipster culture (brunch, ironic Boyz II Men appreciation, etc.) as well as merciless mocking of art scene snobs. Commited performances across the board (I especially enjoyed Takal and Wallace, who bring perfect clueless narcissism to their roles) strengthen the movie, and overall the narrative is kept admirably simple.
Bilandic's decision to keep things smirky and light rather than preachy helps Hellaware, his second feature, work in spite of its flaws. Some characters seem a little one-dimensional and the ending is almost too cute, but there is just enough originality and humor to keep things moving along swiftly and enjoyably. Fans of the kinds of films you've seen at Cinema East (this would be a great one for them to screen next year) will probably enjoy Hellaware, and indie devotees may want to keep an eye out for what Bilandic offers up next.