AFF Interview: Michael Bilandic, 'Hellaware'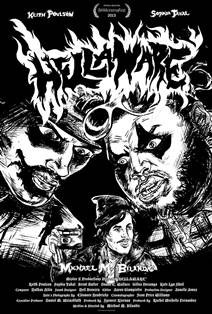 In Hellaware, a sly comedy written and directed by University of Texas graduate Michael M. Bilandic, a young New York City photographer stumbles upon a crude and downright terrible YouTube video made by a group of suburban Delaware rappers. Oddly intrigued, he tracks them down in the hopes they'll offer up enough perfectly edgy material to help him break into the fancy art world scene, but all he really ends up exposing is his own naivete.
Bilandic's second feature has already captured more attention than usual for an indie film thanks to a creative promotional strategy. Weeks before Hellaware's first screening, the filmmakers posted the music video featured in the movie (which they designed to be over-the-top and hilariously horrible), and sat back and watched as it amassed over 100,000 combined views. Commenters called it out for being vulgar and just plain bad, unaware they were critiquing something never meant to be taken seriously.
Hellaware stars Keith Poulson, Sophia Takal and Kate Lyn Sheil, and it will screen Friday, Oct. 25 (10:45 pm, Alamo Village) and Wednesday, Oct. 30 (9:45 pm, Hideout) during Austin Film Festival. Via email, I had the chance to ask Bilandic a few questions about the video experiment, his life as a filmmaker thus far, and what he's looking forward to seeing at AFF.
Slackerwood: Have you always wanted to be a filmmaker?
Michael Bilandic: Yeah, pretty much, but I didn't really know what that meant. I remember reading some quote from Madonna a million years ago where she accused Abel Ferrara of sitting in a corner drinking wine while everyone else made the movie (Dangerous Game). I remember thinking, "Shit, I could do that! If that's what being a filmmaker is, I could get into that!" I honestly thought it would be some easy career.
Unfortunately, it's a lot harder than lurking around getting drunk. I actually wound up being Abel's assistant for a while, and it turns out he's one of the busiest and hardest working people ever. So the job description I was working with turned out to be wrong. I blame Madonna for disseminating that false info.
How did you end up at UT Austin, and then how did you proceed from there?
Bilandic: I grew up in downtown Chicago, and after high school was looking for a radical change of scenery. My only real knowledge of Austin stemmed from being a huge Butthole Surfers fan. And, of course, Richard Linklater and Robert Rodriguez were the spokespeople for the local film community. UT was more or less the only school I got into, so that was that. I wound up having some awesome professors there, like Janet Staiger and Rachel Tsangari, and spent all my time at video stores like I Luv Video, Vulcan Video, etc. and going to every Austin Film Society and/or Alamo Drafthouse screening I could. After that I moved to New York, got an MFA from NYU, worked at Kim's Video and started making my own films.
Where did the idea for Hellaware originate?
Bilandic: The basic dramatic and comedic starting point was just envisioning this pretentious New York photographer trying to be "down" with some teenage rap rockers in the middle of nowhere and the resulting culture clash. I felt like I knew those worlds pretty well and the story just took shape from there. I was also looking for an excuse to make some obnoxious music.
Do you feel more comfortable as a writer or as a director? Was it always your plan to do both?
Bilandic: I love writing. It's the most liberating part of the process. It doesn't cost anything to do and you can develop the story however you want without obsessing over the harsh, nightmarish realities of how to actually get it made (you can worry about all that later). Directing is a way more social thing which I'm totally into, also. It's great to do both.
What were the biggest challenges you encountered while making the film?
Bilandic: Evil landlords asking for unrealistic amounts of money to shoot in their crappy spaces were a perpetual nuisance, but a lot of people were cool and generous with their locations so it balanced out. There's also a ton of secondary characters in the script, and most of them are very particular artsy types. Fortunately we know a lot of weirdos, so it worked out fine in the end, too. But it was a tricky coordinating job.
How did the idea for the commenter-fooling promo video come about? Do you think indie filmmakers feel more pressure these days to come up with creative marketing ideas like that?
Bilandic: Ha! That was a lot of fun. I've always admired filmmakers like William Castle or John Waters who could unabashedly pull off some kind of goofy stunt to get people to see their movies. Like taking out some idiotic insurance policy, or Smell-O-Vision, or whatever. The music video was the first thing we shot for the film and the idea to put it out was always floating around. We didn't see any reason not to do it. We were all literally dying reading some of the comments on WorldStarHipHop. These two angry hip hop dudes even made a response video talking about how disappointed they were that something could be so awful. I actually just directed a "real" rap video partially on account of making that consciously bad one -- still wrapping my head around how that happened.
Are you a regular attendee of Austin Film Festival, and does this being a writer-centric conference affect how you feel about presenting your film here?
Bilandic: I went when I was in college and remember hearing Oliver Stone talk. I always forget he wrote Conan the Barbarian! His writing career alone is so epic. Anyway, the idea of a writer-centric festival is excellent. People associate "indie" film so much with with improvisation, but honestly this film was probably 90 percent word-for-word scripted. I mean, it's the actors that do the real hard part and bring it all to life, but it's definitely cool to have a place where writing is respected.
What are you most excited to see and do at AFF?
Bilandic: I'd love to see Elaine May. It's also exciting to have my movie play at one of the Alamo Drafthouses, as I've seen so many great films there. I'm looking forward to it. I hope people come out!