What's Streaming: Buddy Stories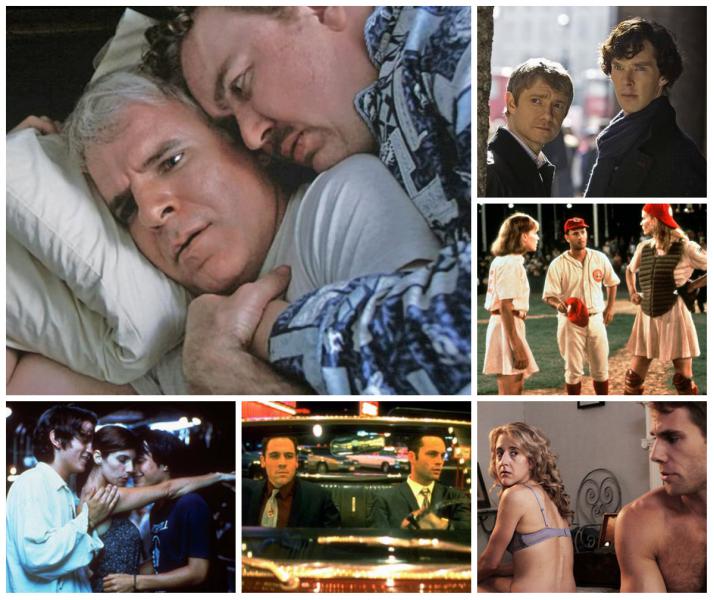 November is easily my favorite month of the year. Fall is usually upon us here in Texas, friends start coming home for the holidays, and you get to start making plans for the new year ahead of you. It's also that great time of year when Thanksgiving and Christmas movies get pulled off the shelf and popped into the DVD player.
As the time draws closer to spending time with family and friends, I always try to take the time to think of what I am most grateful for in my life. My family and career are always at the top of the list, but there is one other thing that many of us overlook during this time -- close friends. These are the people who are there for you when your family cannot be, who encourage you to keep moving forward even when your career is at a low point. It's the friendships in our lives that push us forward more often than not.
This month's film choices all have a strong friendship theme to them or, as I like to call them, a "buddy story." Take this month to thank your friends for being there for you -- maybe by watching one of these films together.
FILM:
Planes, Trains & Automobiles -- I believe this film to be the ultimate buddy comedy, not to mention a great Thanksgiving film. Uptight Neal (Steve Martin) is just trying to make it home for Thanksgiving. After his flight is cancelled, he finds himself inadvertently teamed up with Del (John Candy), an upbeat but slightly obnoxious shower curtain ring salesman. As they make their way cross-country, they endure a series of untimely events that test both their friendship and sanity. I once heard this film referred to as being a "male romantic comedy," and I think that's pretty accurate. The relationship between Neal and Del is similar to that of a budding romance in a screwball comedy, full of the same ups, downs and eventual connection. This is a great film to watch with family and friends, especially on Thanksgiving Day. Available on Amazon Instant and iTunes.
Swingers -- Almost everyone has that one friend who is always encouraging us. They might be a little overbearing or wild, but we still love them nonetheless. Such is the relationship between Mike (Jon Favreau) and Trent (Vince Vaughn). Mike has just gotten out of a six-year relationship, and Trent decides that the only thing to take his mind off of it is to go to Vegas and meet some new girls. As good as Trent's intentions are, Mike still struggles a bit to get back into the swing of things after several years of being off the market. Full of great swing music and some hilariously memorable quotes ("You're so money, baby!"), this film will make you appreciate all of the zany friends in your life. Available on Amazon Instant and iTunes.
Gayby -- Jenn and Matt have been best friends since college. Now in their early 30s, Jenn decides that she would like to have a baby with Matt since her biological clock is ticking. There's only one small roadblock: Matt is gay, and Jenn wants to have a baby "the old fashioned way." Based on writer/director (and former Austinite) Jonathan Lisecki's short film of the same name, what follows is a charming (and at times, confusing) tale about two friends who would do anything for each other -- even make a family together. I had heard such great things about this film from friends who went to SXSW 2012 (including Elizabeth's review), so I was thrilled to see it's now streaming online. Definitely not one to miss! Available on Netflix, Amazon Instant and iTunes.
Y Tu Mamá También -- This film is one I recall seeing when I was in high school. It was one of the first foreign films I ever saw, and I remember being struck by how much I took away from the story between Julio (Gael García Bernal) and Tenoch (Diego Luna). These two friends have stuck by each other through thick and thin, and decide to go on a road trip to get out of town. Things are turned upside down when they meet Luisa (Maribel Verdú), a beautiful older woman who tags along at the last minute on their journey. Although thick as thieves, Luisa's presence puts them at odds with each other, testing the boundaries of their friendship. They certainly get more than they bargained for by the end of their trip. This is perhaps one of my favorite works from writer/director Alfonso Cuarón (Gravity) and certainly worth checking out. Available on Netflix and Amazon Instant.
A League of Their Own -- I really, really am not one for sports movies. That said, this film is perhaps the only sports film I have ever adored. Set during World War II, sisters Dottie (Geena Davis) and Kit (Lori Petty) have a real talent for playing baseball. With the lack of men in the country, professional baseball team managers travel all over the U.S., eventually finding the two and offering them positions on one of the first all-women professional teams. The story not only follows the sisters' relationship through dealing with fame and competition, it also focuses on the friendship these teammates form with one another. The movie features a stellar cast of folks such as Tom Hanks (as the hilariously drunken team manager), Rosie O'Donnell, Megan Cavanagh and many others. It's also pretty great if you've ever wanted to see Madonna play baseball. Available on Amazon Instant and iTunes.
TELEVISION:
Sherlock -- I know what you're thinking -- another Sherlock Holmes remake? With a huge franchise already in existence, do we really need another rendition? I myself thought all of these things until I sat down and actually watched an episode of this BBC version of the 221B Baker Street duo. After that, I was hooked. What sets this version of Sir Arthur Conan Doyle's detective story apart from other versions is the focus on the friendship between Sherlock (Benedict Cumberbatch -- do you need another reason to watch?) and Watson (Martin Freeman). The writing in this series ties this theme into each plot point and episode so flawlessly, it feels as if you are watching a series about two friends rather than the famed Sherlock Holmes. And with a newly announced Season 3 right around the corner, there is still plenty of time to fall in love with these British detectives. Available on Netflix, Amazon Instant and iTunes.
[Images in the collage are stills from Planes, Trains & Automobiles, Sherlock, A League of Their Own, Gayby, Swingers and Y Tu Mama También.]