SXSW Review: Gayby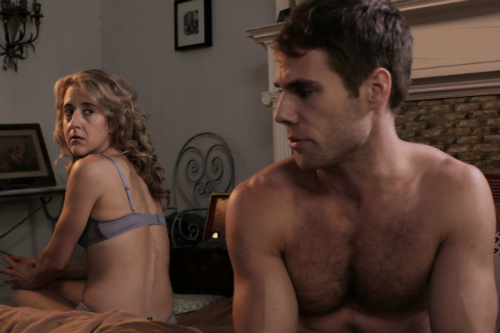 I had planned to see Mike Birbiglia's Sleepwalk with Me last Thursday afternoon, but it was playing the tiny theatre at Alamo Ritz and of course filled up with badges before we folks with passes or ticketbuyers could get in. I saw that Jonathan Lisecki's comedy Gayby was playing the State around the same time, and since my friend had caught an earlier screening of the film and loved it, I figured there was a good chance I would enjoy the movie. And did I!
The core relationship in Gayby is between thirtysomething single best friends Jenn and Matt. Jenn (Jenn Harris) loves her job teaching hot yoga and is supporting her married sis through her adoption process. After a conversation with her sister Kelly (Anna Margaret Hollyman), Jenn asks Matt (Matthew Wilkas) if he wants to have a baby with her. Matt, still feeling raw after a breakup months ago, has had a recent run of unsuccessful dates; we view one in the first scene, featuring Christian Coulson (aka Tom Marvolo Riddle from Harry Potter and the Chamber of Secrets). Matt is the kind of guy who rearranges his work schedule so he won't be at his own comic-book store when his ex comes in.
Matt agrees to help Jenn conceive a baby, and they get to work the old-fashioned way. Bedroom scenes that could have been painfully awkward between the two instead are somewhat awkward, yet congenial, as both Matt and Jenn are eager to have a baby. Their friends and co-workers are supportive. The whole enterprise leads to Jenn and Matt growing into themselves and becoming slightly more assertive about their true desires out of life.
Lisecki's script is witty throughout (even in the tenser moments), and his characters veer from stereotype. Jenn tends to stay focused and in control, until the day she drinks some special tea and loses inhibition. The scene of her and her coworker Jamie (Jack Ferver, Strangers with Candy) pole-dancing in the yoga studio had me almost busting a gut from laughing so hard. The supporting characters of Gayby represent the family that Matt and Jenn have created for themselves, including Matt's pal Nelson (played by Lisecki himself), gay yoga instructor Jamie, Jenn's sister Kelly, and more.
Matt and Jenn's relationship and their story goes beyond trope. I was slightly expecting something akin to The Object of My Affection, given the similar-sounding plotline. Thankfully, despite a few wonderfully over-the-top moments (see pole-dancing scene above), Lisecki and his cast keep things down to earth; there's never a hint of "maybe they will fall in love, even though he's gay!"
Gayby is refreshingly hilarious in its realistic depiction of a close friendship and how what seems a spur-of-the-moment decision can change your life. This film is one of my favorites of SXSW, and I sincerely hope it blasts beyond the festival circuit.
Austin/Texas connections: Director of Photography Clay Liford lives in Austin, as does Nick Derington, who designed the comic-book art used in the movie.
For more info about the film, read Jenn Brown's interview with Jonathan Lisecki.