AFF 2013 Dispatch: I'm Dating You Not, Drones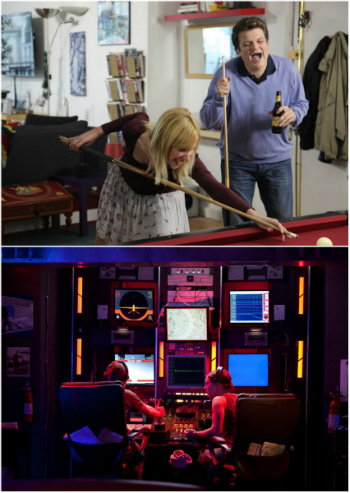 After the bleak shorts I attended on Saturday, I decided a light romance was what I needed Sunday afternoon. I went to the screening of My Man Godfrey (1936) at the Paramount, introduced by Shane Black, and then drove over to the Rollins.
Director Guillermo Fernández Groizard was there to introduce his film I'm Dating You Not, filmed in Madrid. The fast-paced comedy stars his wife Virginia Rodríguez as Paula, a woman whose coworker Roberto (Dario Frias) is besotted with her.
The director told us before the movie began that the budget for this work was in the hundred-thousands (!!), but I'm Dating You Not has the look of something with a larger budget. Rodríguez and Frias have a great will-they/won't-they chemistry and the script by Pablo Flores is silly without being stupid. The Spanish film was a perfect remedy.
In another vein entirely, I was able to view Rick Rosenthal's excellent thriller Drones. The movie is a fictional depiction of a lieutenant's first day on drone duty, but the problems Lt. Lawson (Eloise Mumford) and Jack (Matt O'Leary) confront are very real. How much collateral damage is too much?
Most of the movie has Lawson and Jack working in a stuffy trailer at a Nevada Air Force base, with a limited amount of time to control their aircraft thousands of miles away in Pakistan (before "bingo time" when the drone runs out of fuel). They are tracking the home of suspected terrorist Mahmoud Khalil (Amir Khalighi). We watch in real time as Lawson and Jack question each other and their higher-ups about the task they have been assigned.
This nail-biter of a film touches on sexism in the military, military suicide, and the more obvious question of the ethics of drone warfare. Thanks to the intense story and acting by Mumford and O'Leary, Drones is not a movie I'm likely to forget.
Drones plays again Thurs, Oct. 31 at 8:45 pm at the Hideout [Festival Genius].