AFF 2013 Dispatch: Callie Khouri's Inspiring Screenwriting Advice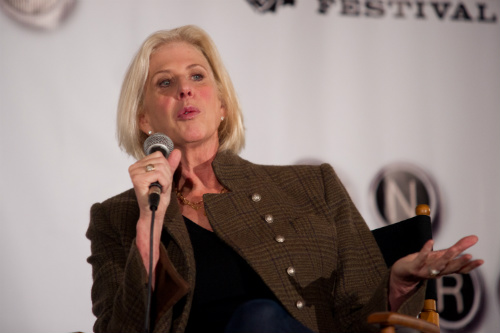 I never know how early to arrive to line up for an AFF panel; I tend to err on the side of caution and was downtown an hour before the first panels I wanted to attend. Before "A Conversation with Callie Khouri" began on Sunday morning, I actually saw her in the bathroom. Yes, I stopped myself from asking when Avery and Juliette will finally hook up on Nashville (but inquiring minds want to know!) -- and didn't even ask her about it during the panel itself.
Ben Blacker (creator of the Nerdist Writers Panel podcast) led the interview with Khouri, who told us about her childhood in Kentucky (after her birth in San Antonio). She read a lot for stimulation, but as for writing, "I never thought it was something I could do."
Khouri wrote Thelma and Louise in six months after living and working in L.A. for a time. This screenplay was the "greatest experience writing I've ever had... I felt like something had come to me... it consumed me." She didn't follow any guidelines for screenplay structure and didn't even use an outline, "I knew nothing about screenwriting." She began with the idea that two women go on a crime spree, and it took off from there. She said the whole feeling of the movie came to her at once, like "being punched in the heart."
She discussed writing visually and believes screenwriters are "writing pictures" and need to consider images and scope. She recommended that screenwriters think of a scene as if words couldn't be used.
Khouri's natural humor was evident, even when someone from the audience asked her a question about plot structure she had addressed earlier in her talk. Later in the Q&A, she called herself the opposite of a man-hater (although some media once upon a time referred to her as such), but announced, "I hate misogyny."
Needless to say, I left this panel feeling inspired. I may have only attended two panels this year (this one and Veronica Mars on Saturday), but both were entertaining and enlightening.
[Photo credit: Arnold Wells, courtesy of Austin Film Festival]