AFF 2013 Dispatch: Veronica Mars, Bird Watchers and Gay Best Friends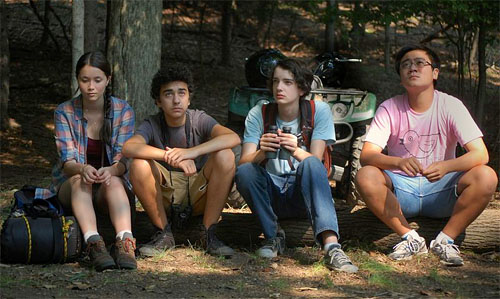 I started off my Saturday at the festival by sitting in on the "Veronica Mars: From Small Screen To Silver Screen" panel at the Driskill Hotel Ballroom. Ben Blacker (from the Nerdist Writers Panel) moderated this excellent conversation with Veronica Mars creator and Austin resident Rob Thomas and actor Chris Lowell ("Piz"). Over the course of 75+ minutes, Thomas spoke about the benefits and difficulties of crowdfunding the upcoming Veronica Mars feature film through Kickstarter, developing the screenplay, shooting the film itself and his post-production process (which has been going on for the past 11 weeks).
Over 90,000 people contributed to the Kickstarter campaign, which is the third highest-funded project in the site's history. While $5.7 million can create a decent indie film, this is a franchise that is controlled by Warner Bros., which means that the resources to make a full-length movie were still somewhat limited. In the end, Thomas calls it a "sprawling" movie with 60 speaking roles and lots of extras. They shot 115 script pages in just 23 days and were unable to shoot a lot of takes before moving on.
The final film is still being tweaked, but underwent a successful test screening this week. Thomas wrote the movie for the hardcore fans, but now is balancing the target audience with the awareness that there needs to be some "spoon-feeding" in the editing process to help the newbies catch up to the stories of characters established over three television seasons. When asked if a sequel could also be crowdsourced, Thomas didn't rule it out, mainly because of how rabid and excited the fanbase is to see this project come back to life: "If it's successful, maybe we can be the low-budget James Bond."
Saturday afternoon also brought me to a screening of The Birder's Guide To Everything (pictured at top). I want to bring this one to your attention because it plays again this afternoon and that will be your only other chance to catch this indie gem until it is released by Focus World next Spring. Director Rob Meyer's directorial debut introduces us to David (ParaNorman's Kodi Smit-McPhee), an awkward teenager who is obsessed with bird watching. His mother, who introduced him to the hobby, has died after a long illness, and he now uses birdwatching as a way to occupy his mind and keep her around in his daily life.
He's a member of the Young Birder's Society (YBS) at his school, which has seen its membership shrink to just three students. While riding his bike home one day, David becomes convinced that he's spotted an extinct species of duck, but he only has a blurry photo to substantiate his claim. The other two members of the YBS decide to take the matter up with local bird authority Lawrence Konrad (a brief, but memorable role for Sir Ben Kingsley). When he encourages the boys to set off in search of a potentially history-making find, they begin a road trip to follow the bird's potential migratory pattern along with a student photographer named Ellen (played by The Bling Ring's Katie Chang).
All of this happens on the eve of David's father getting remarried to the woman who nursed his mother before her death. He's not just running away from this painful betrayal by his dad, he's running after something that would make his mom proud. Developed at the Sundance Institute, I really admired the natural dialogue of the teenage characters and the gorgeous cinematography. This is a funny, well-crafted and touching story with a lot of heart. It's my favorite film of the festival so far and you should make it a priority to head to Alamo Drafthouse Village this afternoon for an encore screening at 3:15pm.
My last stop of the evening was the Paramount Theatre, where I queued up for G.B.F. All I knew going into the movie was that it was directed by Darren Stein, who hasn't made a full-length film since 1999's Jawbreaker. It's been a long time since I've seen a truly funny gay comedy and this one made me laugh far more than I ever expected. The acronym of the title stands for "Gay Best Friend." When the three most popular girls in a ritzy high school read that having a G.B.F. is the season's hottest accessory, they can't wait to get one for themselves. The only problem is that there are no out gay boys in the entire school.
Now, I had to suspend a little disbelief there because this is 2013 and we're living in a post-Glee world, but... just go with it. Tanner (Michael J. Willett from The United States Of Tara) is quiet, shy and doesn't have much in common with gay culture. He knows that he's into guys, but that's about as far as he's willing to go. His best friend Brent (Paul Iacono, who played the title character on MTV's short lived series The Hard Times Of RJ Berger) isn't ready to come out of the closet either, but he's a little more stereotypically gay. His own mother (Megan Mullally) knows, but is quietly waiting for him to tell her on his own terms.
Tanner and Brent are seemingly content with just being friends, but they want to get some experience before they graduate and go to college. After Tanner is outed by the well-intentioned, but hopelessly heterosexual members of the school's gay-straight alliance, the three "queen bees" of the school latch on to him and steadily increase his popularity while they fight to make him their exclusive G.B.F. There's nothing really groundbreaking here, but this is as close as I've seen to a modern gay version of a John Hughes movie. The movie succeeded in making me legitimately laugh out loud for the majority of its running time.
Xosha Roquemore has been a hilarious addition to The Mindy Project this season and she shines here as Caprice, one of the few black students at the school, who is fighting to be the school's first non-white prom queen. I'm also a massive fan of Molly Tarlov on MTV's Awkward and so I was excited to see her playing a less popular, but just as bitchy, girl. Throw in Natasha Lyonne, R&B singer JoJo and Jonathan Silverman for good measure and I'd say that the casting directors on the film deserve a bonus.
All in all, G.B.F. exceeded my expectations. It's highly quotable and has a strong rewatchability factor. It's not going to replace Mean Girls in your dvd collection, but it definitely belongs on the same shelf. Unfortunately last night's screening was the only scheduled showing at AFF, but upstart distributor Vertical Entertainment is expected to release the film next year.