AFF Review: Dear Sidewalk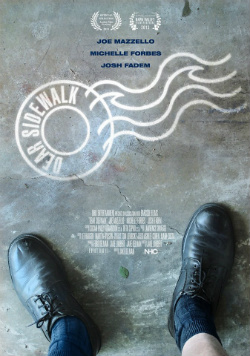 Gardner (Joseph Mazzello, Jurassic Park) is a socially awkward, 25-year-old mail carrier in the indie romantic comedy Dear Sidewalk. He keeps to a usual routine which includes a postal route walking through Austin neighborhoods, a daily chat with sarcastic retiree Trudy (Lana Dieterich) and weekly meetings with his small philatelic club. This stamp-collecting group is made up of his postal service co-workers (Davi Jay, Hugo Perez and C. K. McFarland) who encourage him to get out more. Meanwhile, he sleeps in a boat in front of his best pal Calvin's (Josh Fadem, 30 Rock) house.
Then fortysomething divorcee Paige (Michelle Forbes, True Blood) moves into a house on his route and disrupts his daily pattern. She flirts with him and takes him to the Cathedral of Junk. She throws his watch in Town Lake (or Lady Bird Lake, if you prefer). What does this mean for Gardner?
Mazzello at first appears uncertain of how he wants to portray Gardner, but grows into the role as Dear Sidewalk progresses (or maybe it just bothered me less as the film went on). The relationship between Gardner and brother-from-another-mother Calvin is sweet -- they are both odd birds -- and fits with the goofy vibe of the film. Indeed, their friendship seemed more believable than the idea of Paige and Gardner getting together.
The character of Paige comes off as incomplete. We're given some facts about her (she's recently divorced, used to be an artist and hates the blind dates her brother keeps setting her up on), but there is much left unknown about her and not as much depth to the role as I would like.
Sure, the plot is a smidge disjointed, but the writing made me laugh out loud more than once. The supporting characters (diverse in age and ethnicity, yay) were standouts of the movie. Trudy is fearless and flirty. Gardner's co-workers are quirky and full of advice for him. I can't neglect to mention Ashley Spillers, who injects some verve into Dear Sidewalk as a love interest for Calvin [see our interview with Ashley].
Dear Sidewalk is director Jake Oelman's first feature film, and shows Austin as a walkable city: Gardner doesn't own a car, and seems to take the path near Auditorium Shores daily. As the mail carrier traverses streets dense with trees, the film also features some colorful houses in town. The Austin in this movie has the feeling of a smaller suburban town -- with a great view of downtown easily available.
Austin connections: Dear Sidewalk was shot in Austin -- familiar landmarks include the Cathedral of Junk, Lady Bird Lake and the Austin skyline (including the Frost Bank building, natch). Some local actors might be familiar to you, such as Lana Dieterich (The Bounceback, Lovers of Hate), former Austinite Ashley Spillers (Saturday Morning Massacre/Mystery, Loves Her Gun) and Gary Teague.
Dear Sidewalk screens again Wed, Oct. 30 at Rollins Theatre [Festival Genius].