AFF Interview: Ashley Spillers of 'Dear Sidewalk' Remembers Her Sunscreen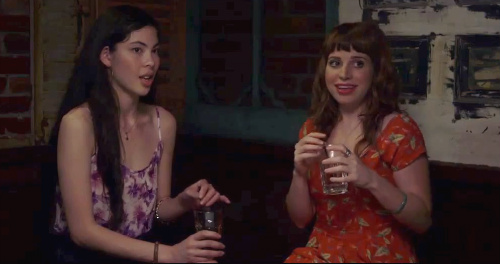 One of the made-in-Austin films having its premiere at this year's Austin Film Festival is Dear Sidewalk, a romantic comedy about a mail carrier (Joseph Mazzello, Jurassic Park, Justified) who falls for an older divorcee (Michelle Forbes, True Blood, The Killing). Also featured in the cast is one Ashley Spillers, who has acted in many buzzworthy local films of late (The Bounceback, Pit Stop, Loves Her Gun) and even appears in the viral short Hell No.
The former Austinite also stars in the horror-comedy Saturday Morning Massacre (aka Saturday Morning Mystery if you are buying it at Wal-Mart), which screens at the Housecore Horror Film Festival on, appropriately enough, Saturday morning.
Before Austin Film Festival started up, Spillers took part in this email interview for us.
Slackerwood: How did you come to be involved in Dear Sidewalk?
Ashley Spillers: Well, I auditioned! Beth Sepko was casting and she called me in to audition (while I was on set of Zero Charisma) for the role of the Barista, but Jake and Ford Oelman were in the room, and I guess they saw me more as a... Tracy! Which I was thrilled about, of course.
What can you tell us about your character, Tracy?
Spillers: I can tell you that Josh Fadem's character, Calvin, thought I (Tracy) was Russian. Which I thought was very funny.
As Tracy, I'm a gal working in a bar that meets these two very awkward fellas on my night off, and couldn't help but be intrigued (if not slightly baffled) by their very odd behavior. Haven't we all been in a situation where we just keep finding ourselves drawn to someone though we cannot explain why? But we know it's weird and curious and refreshing.
I'd say that's where Tracy is at when she meets Calvin and Gardner. Though she doesn't necessarily show it at first. Plus, who is not charmed by the hilarious Josh Fadem? if you're not yet, just look him up... you will be!
In which area of Austin were your scenes filmed?
Spillers: My scenes shot in downtown, at what I think was Betsy's Bar at the time. It might be something else now. [Editor's note: It appears to be Austin Ale House now.] Also in a house in south Austin and on the lake on a sailboat! That was great! Plenty of sunscreen was on hand. Very important, everyone!
2013 has been a busy year for you film-wise. Is there a role in one of your recent movies that you particularly enjoyed playing?
Spillers: I've been incredibly blessed this last year. It's been a busy and special year for me in so many ways.
Two films really stand out to me, one being super special as I got to work with the exceptionally gifted Robert De Niro, as Elizabeth, in Jon Turteltaub's Last Vegas. Working with both of them was such an honor, I don't even know what to say about it.
I do have to say that Jon Turteltaub is one of the kindest, most generous humans I've ever had the pleasure of working with. He understood what a big deal that was for me. And De Niro, is well, DE NIRO! Really sweet, so present, generous in his work, and just is. He doesn't try to do anything which is incredible to witness and a great lesson for any actor. I'm a lucky lady.
I also ventured back to Texas in July to work on Andy Irvine and Mark Smoot's movie. I don't know how much I'm supposed to say about it, but I can say it was by far my most challenging role to date -- in all the great ways. The movie, and my character, deals with sexuality in a very open and honest way, I think, and so that was cool and exciting and hard to explore! I just really had to dive in to that one, and luckily had incredible directors to help guide me -- all of us, really -- on that journey. It was a special experience for everyone involved.
[Editor's note: Smoot and Irvine's movie is The Love Inside Me, which recently had a Narratives-in-Progress screening at Austin Film Society.]
What are you most looking forward to at this year's Austin Film Festival?
To seeing all my friends and the people in the Austin community who are all so stinkin' creatively stimulated and bold in their work. I often feel unworthy to be in the company of so many talented, but more than that, brave, humans who are making incredible stuff.
Austin is a very special place, full of special people. So yeah, hanging with my pals and seeing good movies. And some food, too...
Dear Sidewalk screens Fri, Oct. 25 at Alamo Drafthouse Village and Wed, Oct. 30 at Rollins Theatre [Festival Genius].